Home
>
Adobe Help
>
Can't Import HEVC Videos to Premiere Elements
Posted by Jason Eatock - Oct. 21, 2020 | Contact Author

[Fixed] Premiere Elements Doesn't Work Well with HEVC Codec
Unable to import HEVC 4K Videos to Premiere Elements for further editing? Try the 3 Solutions.
Nowadays, more and more devices like GoPro Hero8/7, iPhone 8/X/11/11 Pro, DJI Phantom/Mavic drone, Canon XF 705 camera, etc, can capture videos using HEVC codec with 4K or 1080p resolution. HEVC codec is twice compressed than H.264 while keeping the same quality and it's getting increasingly popular and becomes the preferred codec to encode 4K recordings. However, the well-known Adobe Premiere Elements doesn't seem to keep up with this trend. When Adobe Premiere Elements users attempt to import HD/4K HEVC videos, you may encounter problems like these:
"I just bought Premiere Elemenst 2020. I wanted to edit some 4K videos I had made with my gopro Hero 7. First I couldn't play them but after downloading a HEVC extension, as Mircosoft calls it, I could play the videos. Then I tried to open them in Premiere Elements and all I get is the following error: "This type of file is not supported, or the required codec is not installed." Obviously the codec is installed because I downloaded it before and was able to view the videos, so what is the problem here? Why isn't "this type of file" supported?"
"I use an iphone X to shoot video in 4K at 60FPS. I have windows 10 all patched up with the HEVC and HEIF add ons and I'm having a strage issue when I try to import media into premiere elements 2020. It gives me an 'unable to import media error' that says "Your system needs to be configured to import HEVC or HEIF type of media. Click on 'learn more' to know how to enable these formats for import. And of course I do that and it takes me to a 404 error on the adobe site."
Note: The latest Premiere Elements 2020 is hard to read H.265/HEVC 10-bit Videos shot in Dlog-M according to a growing mass of user reports. This is actually a known issue cause by long-GOP codec. The common ways to fix it out is upgrading your PC/graphics card and transcoding the long-Gop souce video to MPEG-2, lossless ProRes or CinForm. Keep reading to find detailed solutions.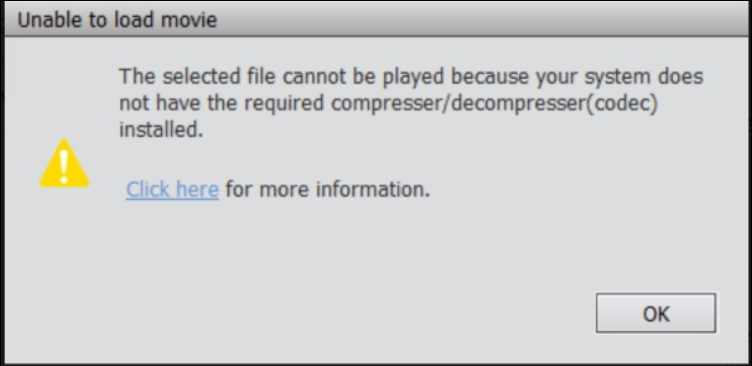 In fact, only licensed Adobe Creative Cloud members can use HEVC codec. If you're a licensed user but still can't import HEVC videos in 4K or 1080p, yo can try transcoding HEVC to MPEG-2, H.264 or other Premiere Elements supported formats. Adobe's official site also gives two possible solutions for what should I do if Premiere Elements 2020 fails to import HEVC media files. Below are the three solutions to solve HEVC codec not working in Premiere Elements.
3 Solutions to Solve HEVC Codec Not Working in Adobe Premiere Pro
Solution 1: Download and install HEVC codec for Premiere Elements
Before installing the HEVC extension, check if it is already installed in your machine. To check,
1. Go to Settings >Apps.
2. Search for HEVC Video Extension.
If the extension is not installed, use the link provided below to install it.
Note: Ensure not to install more than one HEVC video extension in your machine. If multiple HEVC extensions are installed, uninstall both the extensions and install only one.
https://www.microsoft.com/en-us/p/hevc-video-extensions/9nmzlz57r3t7?activetab=pivot:overviewtab (Price: $0.99)
After installation of the extensions, clear your Media Cache Files by following these steps:
1. Close Elements 2020 (includes Premiere Elements 2020, Photoshop Elements 2020, or Elements Organizer 2020).
2. Clean the Media Cache by deleting the files present at the location: %appdata%\Adobe\Common
3. Relaunch the application.
Recommended hardware for using HEVC media files in Premiere Elements:
Intel: Requirement: Kaby Lake or later
Nvidia: Accelerated HEVC decoding is supported on GTX750SE, GTX950, GTX960, GTX980Ti, GTX Titan X, and all 10xx and 20xx cards and newer.
AMD: Arctic Islands or newer is required since they have Radeon 4xx series. Specifically UVD 6.3 or newer.
Solution 2: Fix the permissions for the plug-in folder Premiere Elements 2020 HEVC media files in Windows 10
For the detailed process, you can refer to a video guide here.
Solution 3: Transcode HEVC to MPEG-2, H.264 for Premiere Elements The easiest and most effective solution
The reason varies for "HEVC video not working in Premiere Elements". HEVC is a non-performant format that is difficult to edit with and requires much computing power to process. Let's not to say some 10-bit HEVC videos shot in DLOG-M. Therefore, transcoding HEVC files becomes a highly recommended method, especially if your files are in 4K HEVC and you don't have a high-end computer.
To convert HEVC for Premiere Elements, you can turn to DumboFab Video Converter for help. This converter works fast while keeping high quality. With it, you can convert HEVC/H.265 MP4, HEVC MOV, 4K HEVC/H.265 to Adobe Premiere Elements/Pro friendly movie format like MPEG-2, MOV (Note: it applies to all kinds of Adobe Premiere Elements) keeping the original quality. Besides, you can also convert HEVC to H.264 or any other popular video formats for easier playback and editing.
Besides Adobe Premiere Elements/Pro, this software can also export various other professinal encoders - Apple Intermediate Codec, ProRes and DNxHD, DVCPRO, HDV, MPEG-2 - ensuring maximum editing quality and efficiency when working with iMovie, Final Cut Pro, Avid Media Composer, After Effects and more. If you're a Mac users, simply turn its alternative choice - DumboFab Video Converter for Mac.
3 Steps to Convert HEVC to Premiere Elements Supported Format
Step 1. Open DumboFab Video Converter, you can directly drag and drop source HEVC files to import, or click Add Video button on the toolbar to load HEVC files. You can also click "Add Folder" to load all HEVC videos to the program for batch conversion.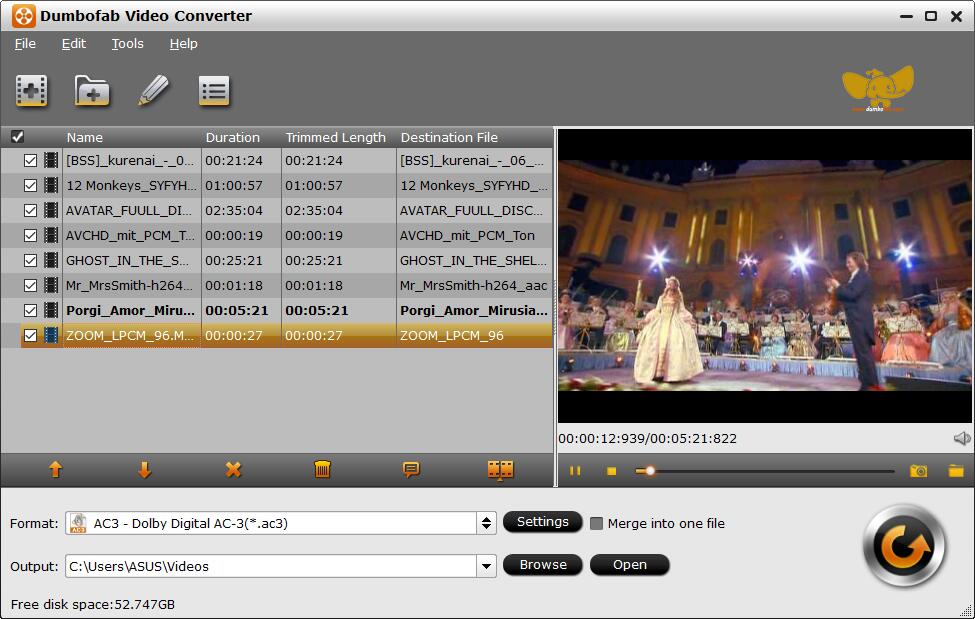 Step 2. Click Format pull down list to select MPEG-2(*.mpg) from Editing Software category as the best video format for Adobe Premiere Elements. You can also select Apple ProRes 422 (*.mov) as the output file, which can generate files with best image quality and better editing performance for Premiere Elements.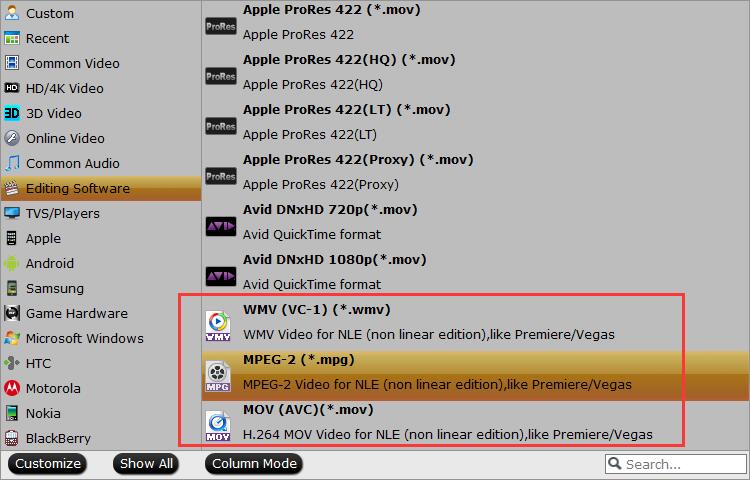 Step 3. Hit Convert button in the lower right corner and the conversion will begin in no time. Once done, Adobe Premiere Elements should be able to import the converted HEVC footage without any trouble.
Final Words:
HEVC is still not as popular as H.264, so it is inevitable to experience some errors such as codec missing on Premiere Elements or Premiere Pro because of incompatibility. This situation will be gradually improved. Currently, the most effective workaround is to transcode HEVC to another supported format with DumboFab or something else. VideoProc is worth a try. It is a piece of multifunctional video processing software integrated with video converting and video editing tools. Try it on your PC or Mac right now!