Home
>
Adobe Help
>
Fix "MP4 File Import Error" in Adobe Premiere Pro
Posted by Chris Ellison - May 17, 2023 | Contact Author

How to Fix Adobe Premiere Pro MP4 File Import Failure
Cannot import MP4 to Premiere Pro? Follow this article to learn the possible reasons and how to fix the 'Premiere Pro can't import MP4' failure for loading any videos taken with GoPro, DJI, or iPhone without errors.
"I have footage in a strange format; .mp4, but the MP4 file won't import into Premiere. Someone asked me if I had all the updates, etc, I do, and still no luck with it..."
"Some .MP4 files from my DJI drone and GoPro HERO7 failed in import to Premiere Pro on Windows 10. These same files are usable on all other video software I own, as well as a lower-end video editor. Any solutions?"
MP4 file format seems one of Adobe Premiere Pro supported native video formats for import. But the weird thing is the most widely used file format- MP4, sometimes still can't import to Premiere Pro (Adobe Premiere Pro CC 2022 included), one of most common used video editing software. The erro message goes like "File format not supported", "Unsupported format or damaged file", "The file has no audio or video streams", "Codec missing or unavailable". Or Premiere Pro only imports audio from MP4 files for you. Actually, there are various reasons for the failure of importing MP4 to Premiere Pro, you can check them in this article and fix the issue accordingly.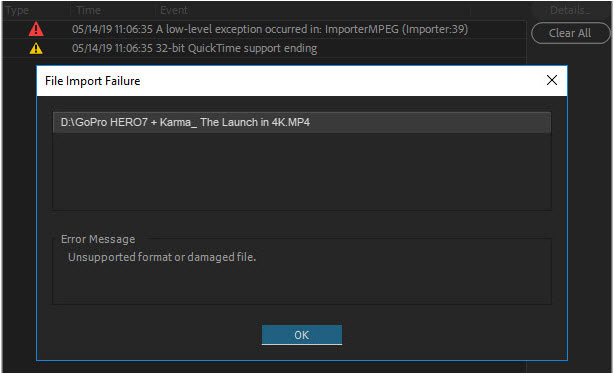 Part 1. Why Can't Import MP4 to Premiere Pro
Original video source, Premiere Pro software and running computer, all of them may cause file import error actually. Below step one by one troubleshooting are shared with you to solve the MP4 and Premiere Pro importing issues.
Reason 1. Make sure you are not importing a corrupted MP4 file to Premiere.
First test if any other video player play your MP4 file? If it could, then your file is not broke. If your MP4 file is not corrupt and the Premiere Pro can import any other MP4 files except for the very one, your MP4 file codec may not compatible with Adobe Premiere, go to the Solution 3 to re-encode MP4 to MPEG-2 video.
Reason 2. Wrong settings in Premiere Pro
In case all files with .mp4 extension can't be imported into Premiere Pro, while all others in MOV, MKV, AVI, etc load correctly, there might be setting mistakes in your Premiere Pro. To reset your Premiere Pro and fix MP4 import failure problem, please refer to Solution 1 or Solution 2.
Reason 3. Your computer got problems
As we know, Premiere Pro CC allows activation in two devices. Try to import MP4 file to Adobe Premiere Pro on another computer. If no import failure issue, something related to hardware like GPU needs to be checked. To solve the problem, try Solution 2 or Solution 3.
Part 2. How to Fix MP4 File Import Failure in Premiere Pro
Solution 1. Convert MP4 to Premiere Pro Compatible Format like MPEG-2, ProRes, etc.

- 100% Useful and Recommended
The major cause for Premiere Pro MP4 file import failure may be some required codec missing. Adobe Premiere Pro support MP4 files, but MP4 is a multimedia container format which contains various types of data encoded using one of several different codecs. A MP4 file can use MPEG-4, MJPEG, H.264, HEVC, GoPro CineForm, or other video codec for compression. To import MP4 files successfully, Adobe Premiere Pro needs to be compatible with the specific codecs used in the MP4 files. If not, you'll experience MP4 importing error.
If the MP4 file doesn't have a playback error, and all the troubleshooting steps above doesn't work, you can try to re-encode the MP4 files. Transcoding should be a very helpful method. If you have Adobe Media Encoder, you can use it to conduct video conversion. If you don't have that tool or can't manage to convert problematic MP4 files to desired format with Media Encoder, you might as well try an easier-to-use yet powerful video converter and decoder - DumboFab Video Converter. It is able to work with various MP4 files, no matter what codecs are wrapped in and no matter what devices record. To solve the MP4 or other incompatible issues, you're suggested to download and install the program on your PC or Mac computer first.
DumboFab Video Converter - The One-click Way to Convert Videos for Adobe and More.
• Accept MP4 videos from GoPro, DJI, iPhone, Canon camera, etc.
• Output media in file formats natively supported by Adobe Premiere Pro, Final Cut Pro, Sony Vegas, Avid, etc.
• Easy editing experience: cut, crop, merge, add subtitles/watermarek, apply effects...
• 30X faster conversion speed than any conventional converters
Follow the steps below to convert MP4 to Adobe Premiere Pro supported video format without damaging the original quality.
Step 1. Open DumboFab Video Converter, you can directly drag and drop source MP4 files, or click Add Video button on the toolbar to load MP4 video.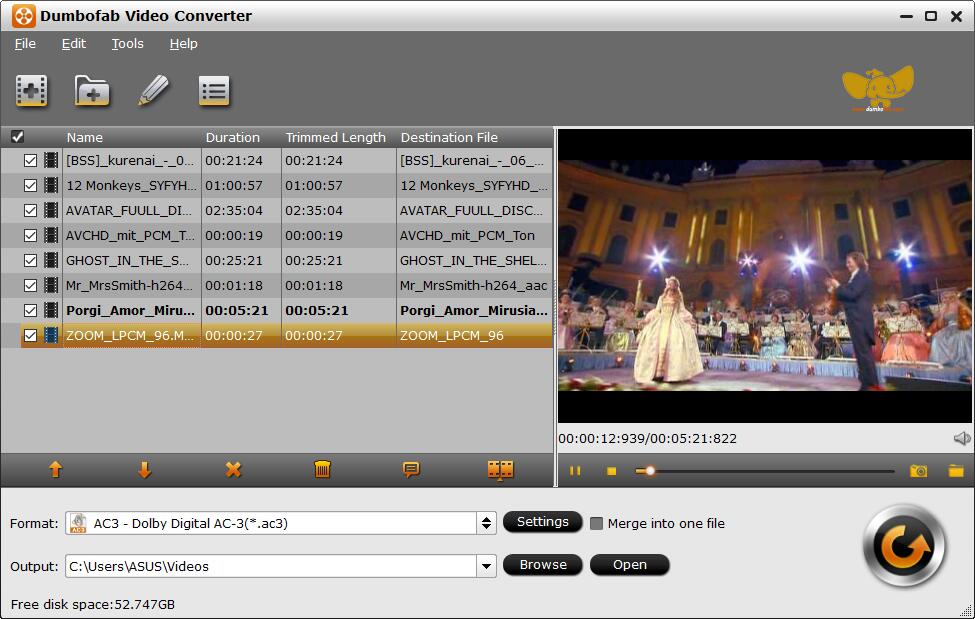 Step 2. Click Format pull down list, move mouse cursor to Editing Software and select MPEG-2 (*.mpg) or Apple ProRes 422 (*.mov) as the output format.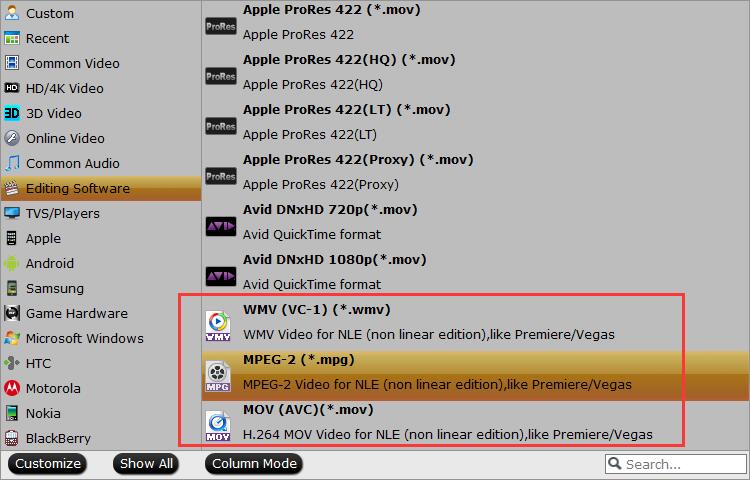 Step 3. Hit Convert button in the lower right corner and the conversion will begin in no time.
Once done, import the resulting file to Adobe Premiere Pro and see if it can be imported and recognized as a video file.
Solution 2. Try Restart Premiere Pro, Computer or Renderer.
Whatever the error is or you will encounter, take "Restart" always as your first troubleshooting step. It solves the vast majority of the problems of electronic devices.
1) Shut down and reopen Premiere Pro. Then create new project and try to import MP4 to Premiere Pro.
2) Save your other projects that are open currently, and restart the computer.
3) Turn off and turn on hardware acceleration. Or switch the renderer to Mercury Playback Engine Software Only. Or just uncheck "Enable accelerated Intel h264 decoding".
How to turn off the hardware acceleration support of Premiere Pro?
• Open Adobe Premiere Pro and move to Edit.
• Choose Media under Preferences.
• Uncheck "Enable accelerated Intel h264 decoding (requires restart)" here and then get back to import your MP4 file to Premiere Pro. The computer we use for test here doesn't support Nvidia GPU acceleration. Just Intel QSV.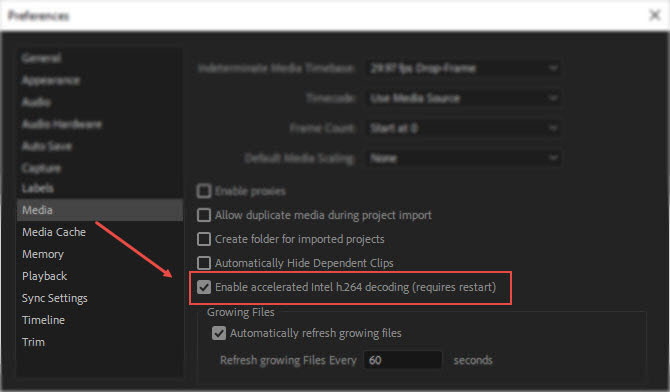 How to switch to software renderer only?
• Go to File > Project Settings > General.
• Then move to the Video Rendering and Playback section.
• Switch Renderer to Mercury Playback Engine Software Only and see if it can fix your MP4 file import failure in Premiere Pro.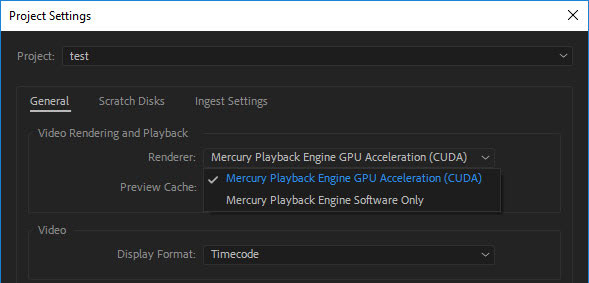 Solution 3. Update Premiere Pro or Graphics Drive to Have A Try.
Both updates to software and hardware may render potential errors. Follow the below 5 simple tricks to fix Premiere not importing MP4 file issue.
① If you are using Adobe Premiere Pro CS series or old Premiere Pro CC, like say 2018, update to its latest version - Premiere Pro CC 2019 to have a try. Besides, trial version may have effect on it sometimes.Besides, are you using a trial version? If yes, you are more suggested to cost USD239.88/year to purchase the paid version, or you will meet lots of errors when adding MP4, MOV, AVI and other video files to Premiere Pro.
② If Premiere Pro can't load your MP4 file even you are using the latest version, roll back to the old version and try again.
③ Adobe Premiere Pro CC 2019 requires the newest version of graphics drivers. So updating your GPU driver might solve file import failure problem.
④ Too much media cache may render you fail to import MP4 file to Premiere Pro. Go to Edit > Preferences > Meida Cache, and click Delete Unused to clean those unused media cache files. Then get back to test whether you can load the MP4 to Premiere Pro or not.
⑤ According to the feedback from some users, installing QuickTime could fix the MP4 importing issue temporarily. But 32-bit QuickTime support has been discontinued, download QuickTime 7.7.9 for Windows please.
Solution 4. Change File Name or File Extension
According to the feedback of some users in the Adobe forum, for certain video files, the MP4 won't import error can be fixed by changing file name or file extension.
File name containing a long string of words or letters from non-English alphabet could be problematic under certain circumstances.
As for file extension, if your MP4 video is from DJI devices, you can try to change its extension to .mpg and see if it works.
Final Words:
The major cause that Adobe Premiere Pro CC fails to import MP4 files is that some required codec is missing and the file format is not supported. Therefore, transocding MP4 file to Premiere Pro compatible format is the the most effective yet easiest solution recommended by us. Besides converting videos, DumboFab is also able to perform some video editing tasks, including cutting, trimming, merging, splitting, adding special effects, and more.