Home
>
Video Processing Tips
>
Top 6 Free Video Converters for Windows 11/10
Posted by Jason Eatock - Apr 18, 2023 | Contact Author

6 Best Free Video Converters for Windows (Windows 11/10) in 2023
Summary: We've comiple a list of the best free options to help you choose the best free Video Converter for Windows 11 and older. Also we have revealed what they have to offer. Read on to take the best pick!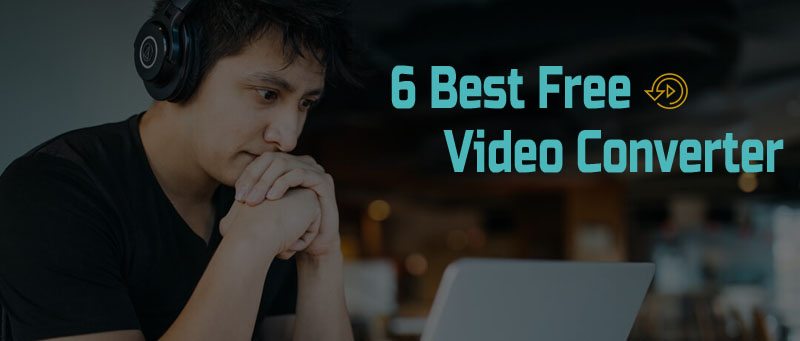 Videos for entertainment, interest, or education make up so much of the content in our daily life. And there are many comone and uncommon video file formats out there. There are many reasons that we need to convert videos from one format to another format. For instance, videos need to be converted when their original format does not play on a target device (e.g. a computer / smart phone) or work for a particular distribution channel (e.g. a website / social platform). And that's where a video converter comes in. Fortunately, there are tons of free video converters that can help you do the conversion job. And I've gathered together a collection of the 6 best free desktop video converter on Windows 10 for you. They can help you convert any video files. Just keep reading and pick a suitable one.
If you're a Mac user, you can head over to our article dedicated to the best free video converters for macOS Catalina.
Part 1. Top 6 Free Video Converters for Windows (Windows 10 included)
If you're in a rush and just want to know the top picks, here is the list:
1. Handbrake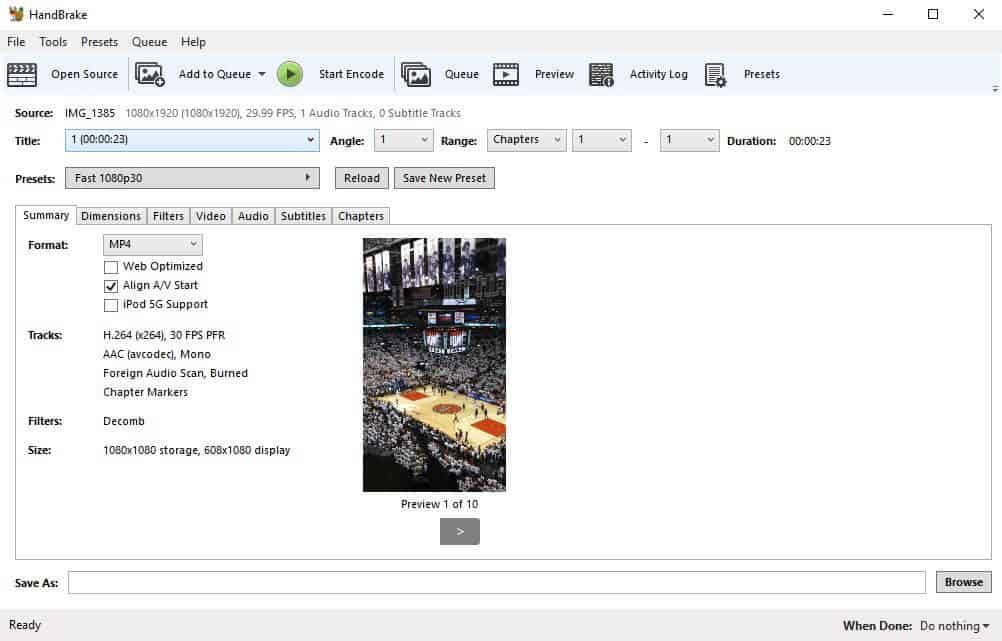 Handbrake is completely free and open source. While it's also available for Mac and Linux, the Windows version in particular has gained lots of loyal users over the years. Since it's open source and there is no pro version to upgrade to, you won't see any upsells or third-party ads. The trade-off here is you get a very basic interface and a less-than-beginner-friendly experience.
That being said, once you get over the dated look and find your way around, HandBrake can provide most of what you need for basic video conversion. Although conversion times are fairly slow, there's a decent selection of editing options and the quality of output video is very good.
Handbrake supports over a dozen output formats, including M4V, MPEG, MOV, and MP4, and has a multitude of preset device profile options. Combine this with the ability to squeeze 4K video down to incredibly small file sizes without much or any apparent loss in quality, and it's tough to beat.
Pros
• Completely free
• High-quality video
• Solid range of editing options
• No ads or upsells
Cons
• Could be easier to use
• Slow speeds
2. DivX Converter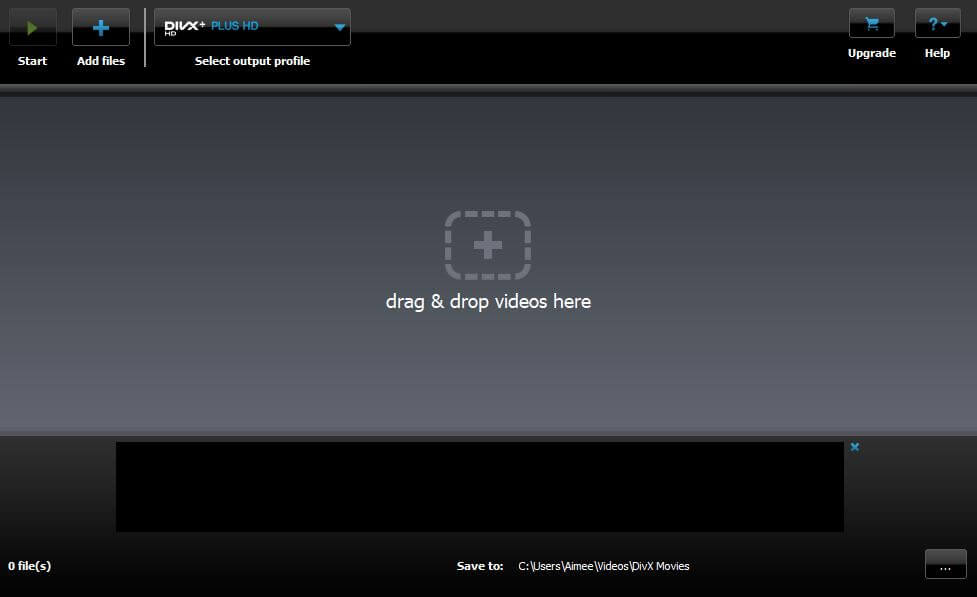 DivX Converter offers free and paid version. The free version of the software offers decent conversion speeds, high-quality output, and the option of 4K. There are more than a dozen format options, including MP4, MOV, AVI, and more. Unlike many other freemium options out there, the free version of DivX is very usable. It's easy to get started with, although you don't get as many format options as with other tools unless you pay to upgrade. Other features of the Pro version include faster speeds, more profiles, and more options for custom settings.
When you first install the free version of the software, it asks you to agree to install multiple other pieces of software: Divx Player, Media Server, and DivX Web Player, as well as Avast Antivirus. However, if you're paying attention, you can simply uncheck the box next to each and continue with the installation process. At one point, you're also asked for your email address. It looks like you need to enter this, but you don't. Instead, you can simply click Finish.
Pros
• Free version is decent
• Pro version has lots of options
• Solid conversion speeds
• High quality video output
• Paid version is inexpensive
• 4K video available
Cons
• Ads and upsells in the free version
• Tries to get you to install additional software
3. Freemake Video Converter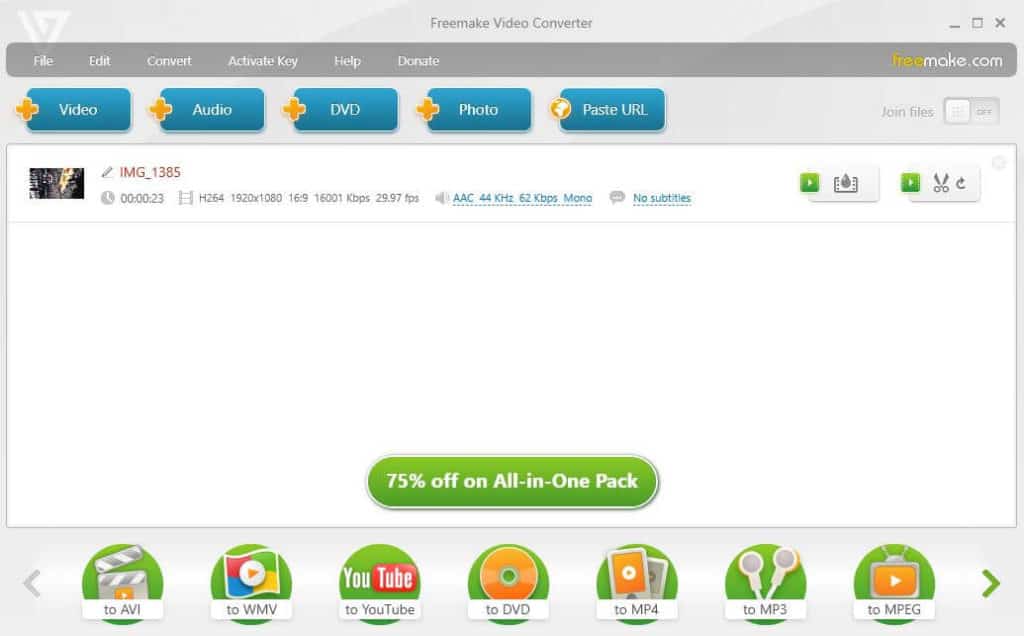 Freemake has a straight forward and instructive interface. It supports 17 video formats including AVI, MP4, and MOV. You get plenty of options when it comes to editing and preset profiles. Output quality is great, you can opt for 4K if needed. Freemake is quick in the free version, but adding the logo and saving seems to be intentionally slow, so the whole process takes a long time. You can burn to DVD with either version, but you'll have the Freemake branding on it with the free version.
It's a shame that Freemake isn't more upfront about pricing and what you get because this will no doubt put off many users. The paid version is actually really good, but the road to get there is a struggle. Freemake is only available for Windows.
Pros
• 4K possible
• Good output quality
• Fast conversions with paid version
• Lots of preset profiles
• Burn to DVD
Cons
• Free version is unusable
• Pricing is confusing (and it's expensive)
4. MediaCoder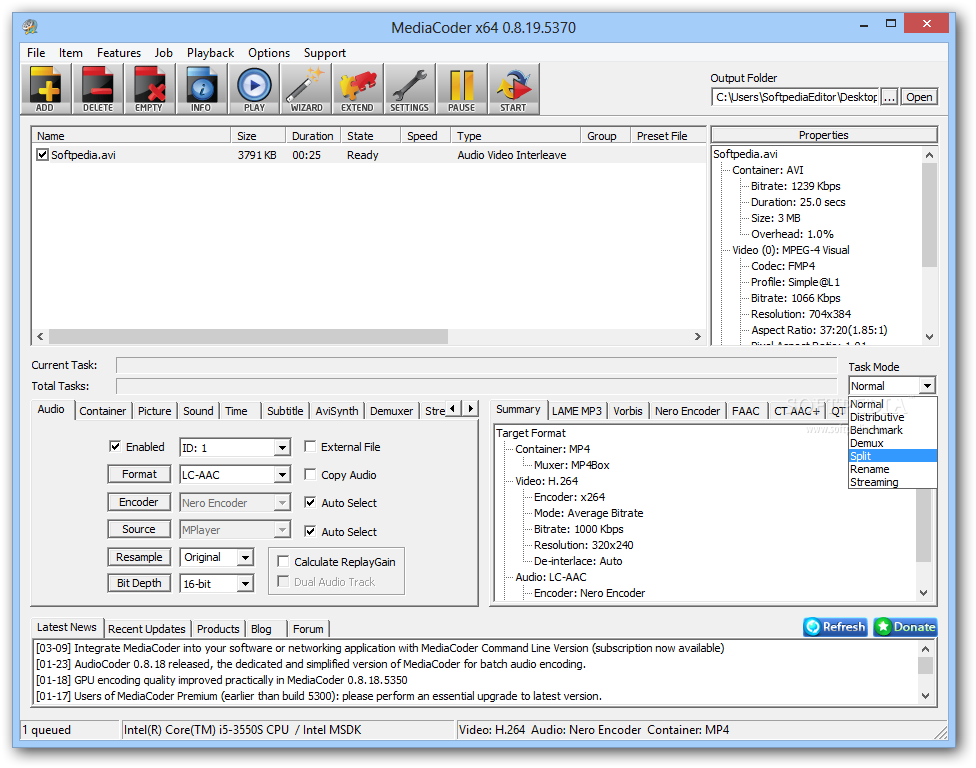 MediaCoder is a very easy to use Windows 11/10 Video Converter for free. Their site referred to it as a media transcoder, but to understand it clearly it simply means a video converter. This is an awesome tool to use for all file conversions that you have such as, MP4, AVI, MOV, WAV, and many more. It is considered by many as one of the top video converter program that is out in the market. For it can be used by everyone, however it takes a little bit effort for those first timers. To learn more about this tool here are some of its Pros and Cons that this converter has.
Pros
• It is free.
• Support many media formats.
Cons
• It requires software download and installation prior to converting your media files.
• Its platform is somewhat perplexed for newbie.
• Only support Windows OS.
• Slow file conversion rate.
5. FormatFactory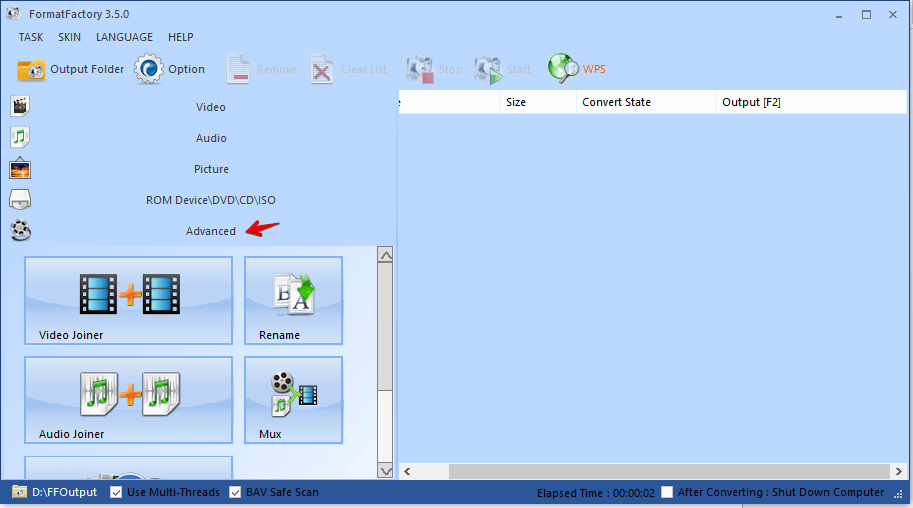 FormatFactory allows the user to covert video files to MP4, 3GP, MPG, AVI, WMV, FLV and SWF. Audio files can be converted to MP3, WMA, AMR, OGG, AAC and WAV. Finally, image files can be converted to JPG, BMP, PNG, TIF, ICO, GIF and TGA. The software also has the ability to RIP DVDs to any of the above video file formats, and audio CDs can be ripped to any of the aforementioned audio file formats. The software's MP4 files can be played on iPod, PSP, iPhone and BlackBerry devices. The program's user interface is simple and has big, easy to read buttons so even novice computer users can understand it. The total download size for the software is 51 megabytes and it can be downloaded on the PcFreeTime site, Download.com, Chip Pick, Clubic, Malavida or BT Download.
Pros
• It is widely known.
• Supports audio and video file conversion.
• It is compatible with any portable devices.
Cons
• It utilizes huge CPU usage during conversion process.
• The conversion speed is low.
• Only support Windows operating system.
• It has a little bit confusing platform.
• It has a bunch of ad-ons that is shown during installation, which some considers to be spyware.
6. VLC Media Player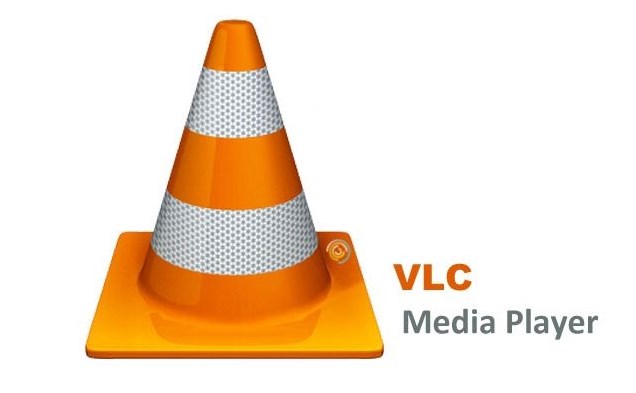 VLC is an open source free media player developed by VideoLan. Besides being used as a powerful media player, VLC can be used as a free Windows 10 video converter which covers input and output formats of almost all the popular video and audio under the sun - MPEG-4, HEVC, VP8, FLAC… VP9 is not supported.
Since VLC is mainly a media player software that moonlights as a workable video converter, in comparison with those professional converters, VLC has a limited format support and limited format presets. Sometimes you will find VLC not converting and other VLC not working issues happen every now and then. And when that happens, you might want to find help from other converters.
Pros
• It is widely known.
• Supports audio and video file conversion.
• It is supported by Windows, Mac, Linux, Android, iOS and other systems
Cons
• The conversion speed is low.
• Limited output formats
• Poor output quality
Part 2. Advanced & Professional Video Converter for Windows 11/10
Recommended: DumboFab Video Converter
If you are seeking for the best video output quality, fastest video conversion speed, and the most formats supported, DumboFab Video Converter will be a great video converter tool for Windows 11/10 or earlier version. You can download a free trial version of this software, but you'll have to pay an annual subscription fee to use it for any video longer than three minutes.
Having to pay for conversion software isn't all bad though. It means you don't have to contend with in-app ads and upsells, and you get advanced features you wouldn't find in free converters. Plus, DumboFab's price tag is fairly low, and we definitely think it's worth it.
Although DumboFab Video Converter is lightweight, it doesn't hold back on performance. GPU Hardware acceleration means you get fast conversion speeds, plus video quality is excellent. This converter is especially popular with GoPro users as it has a few features that specifically enhance the GoPro conversion process. Additional tools include split, trim, split, merge, subtitles, and snapshot, among others.
Although DumboFab Video Converter feature has plenty of options, it's very straightforward to navigate, making it suitable for beginners and advanced users. It can handle over 60 input formats and offers a huge choice of pre-configured profiles. Need 4K conversions? No problem. In fact, DumboFab Video Converter can even handle 8K resolution. This software also comes in a Mac version (macOS Catalina compatible).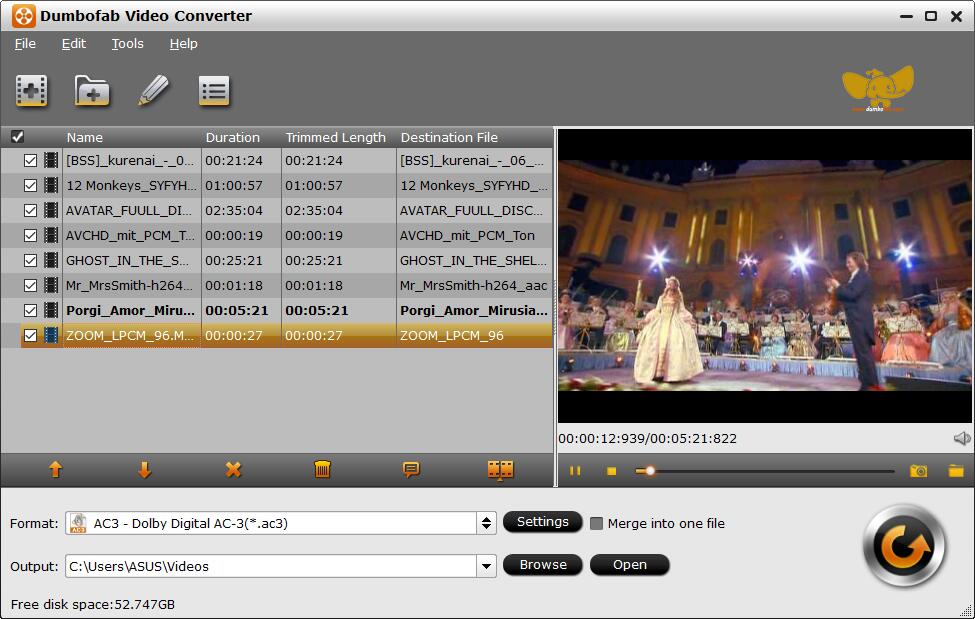 Pros
• Excellent speeds and output quality
• Convert 8K/4K/Full HD video
• Easy-to-use application
• No annoying ads
• Simple but powerful video editing functions
Cons
• Free trial is limited to 3-minute videos
Final Words: Why Not Choose Online Video Converter?
The reason why we do not list free online video converters is that we all know online video converters are unstable and disposable tools for one/two time usage. Those online free tools have too many limitations regarding uploading file size, upload/transcode/download speed, network requirement, and have hidden risks of file corruption. Whereas the above listed free video converters for Windows 10 are all local applications, stable and fast, they are all excellent picks for varied users who might want to go through a test themselves.