Home
>
Video Processing Tips
>
Best Free Video Converters for macOS Catalina
Posted by Jason Eatock - Feb 25, 2021 | Contact Author

3 Best Free Video Converters for Mac (macOS Ventura incl.) Review
Videos are everywhere these days, whether they are entertainment, interest, or education. Although they're in abundance, it's hardly a seamless experience to play video files on multiple devices. The demand for a video converter increases especially when you reach out to other platforms, beyond the Apple's ecosystem. If you're eager to find a trustworthy converter tool to help transcode incompatible video/audio formats on Big Sur/macOS Catalina, you've come to the right place. In this article, we will list three free video converters for you to use on Big Sur/macOS Catalina.
There are lots of video converters out there. These differ in various aspects, including ease of use and features. When deciding on the best free video converters for Big Sur/macOS Catalina, we looked for tools that met most of the following criteria.
• FREE of charge
• Fast & stable file conversion
• Perfect compatibility
• Abundant input codec support
• Large selection of output formats
• Lightweight (intuitive and easy for beginners to handle)
• Instant tech support
• Bonus features
Strapped for time? Click one of the links below to jump straight to your most interested part.
If you're a Windows user, you can head over to our article dedicated to the best free video converters for Windows 11/10.
Part 1: Top 3 Free Video Converter for Mac (macOS Ventura incl.)
HandBrake 1.2.2 or later - Open source, free video converter for macOS Ventura
On macOS Catalina, you should never miss out HandBrake! It is a versatile, cross-platform and free transcoder for Mac, Windows and Linux, Windows for ripping and converting practically any type of video source for you to manage your video library. Handbrake provides an easy to use GUI while borrowing the exact libavcodec, libavformat and libvpx developed by FFmpeg team. So, you can enjoy both the efficiency - batch converting video formats/converting to target devices – and the powerful transcoding engine. And you may like HandBrake for another reason - tweak HandBrake into a DRM remover and Blu-ray Discs decrypter.
Pros: Powerful and efficient
Cons: Malware alert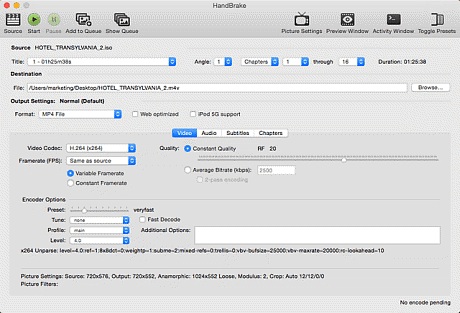 FFmpeg 4.2.1 - Open source, free transcoder for macOS Catalina
FFmpeg is an open-source free project widely used for formats transcoding, very powerful and developer-driven. "It supports the most obscure ancient formats like Indeo, up to the cutting edge HEVC videos." Many multimedia projects adopt FFmpeg as their key component so that they can provide format transcoding features along with other utilities.
However, without a GUI, users are still afraid of using it, seeing it as a tool totally for tech nerds. Using FFmpeg generally requires users to be familiar with command lines, but to convert a media format, one only need to remember or copy the same one simple command line:
– $ ffmpeg -i input.mp4 output.avi
Pros: Cover old legacy formats, weird formats and corrupted files
Cons: Not very user-friendly, something of a long learning curve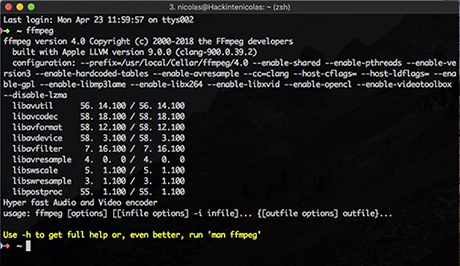 Smart Converter 3.0.1 - Freeware converter for macOS Ventura
Simple and focused. I would say that this Smart Converter 3.0 new version is a real doer. It's lightweight, device targeted and totally idiot-proof, especially in comparison with FFmpeg and HandBrake. With a self-illustrative user interface, this Converter for Mac clearly squeezes all the key functions and needed media info on its cute small panel.
Pros:
1. Opt for low-demand users.
2. Convert only the incompatible track of a file.
Cons:
1. You have to rate before use.
2. Does not support batch transcoding.
3. Advanced users may find this tool a bit shabby.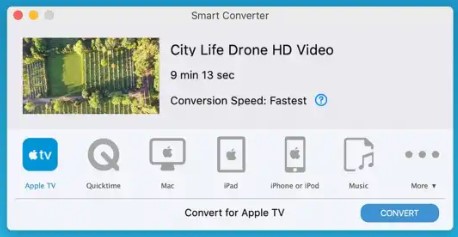 Part 2: Advanced & Professional Video Converter for Mac (Recommended)
After introducing top 3 free video converter programs, here I'd love to recommend a more advanced and professional video converrter for Big Sur and macOS Catalina - DumboFab Video Converter for Mac. You can download a free trial version of this software, but you'll have to pay an annual subscription fee to use it for any video longer than three minutes.
Having to pay for conversion software isn't all bad though. It means you don't have to contend with in-app ads and upsells, and you get advanced features you wouldn't find in free converters. Plus, DumboFab's price tag is fairly low, and we definitely think it's worth it.
Although DumboFab Video Converter for macOS (macOS Ventura incl.) is lightweight, it doesn't hold back on performance. GPU Hardware acceleration means you get fast conversion speeds, plus video quality is excellent. Additional tools include split, trim, slip, merge, subtitles, and snapshot, among others.
Although the macOS Catalina video converter feature has plenty of options, it's very straightforward to navigate, making it suitable for beginners and advanced users. It can handle over 70 input formats and provides video preview with self-explained media info listed beside its thumbnail. To choose the target format, one can decide the output type by codecs, formats, or devices if one is not so familiar with the specs. One can even select the output profile for specific applications like to iMovie, Final Cut pro, or ProRes etc. This software also comes in a Windows version.
Pros:
1. Very fast encoding/decoding speed
2. Loads of profiles
3. Easy-to-use and stable
4. No annoying ads
5. Contains an video editor
6. Excellent customer service
Cons:
1. Although the interface is easy to understant, it need to be improved.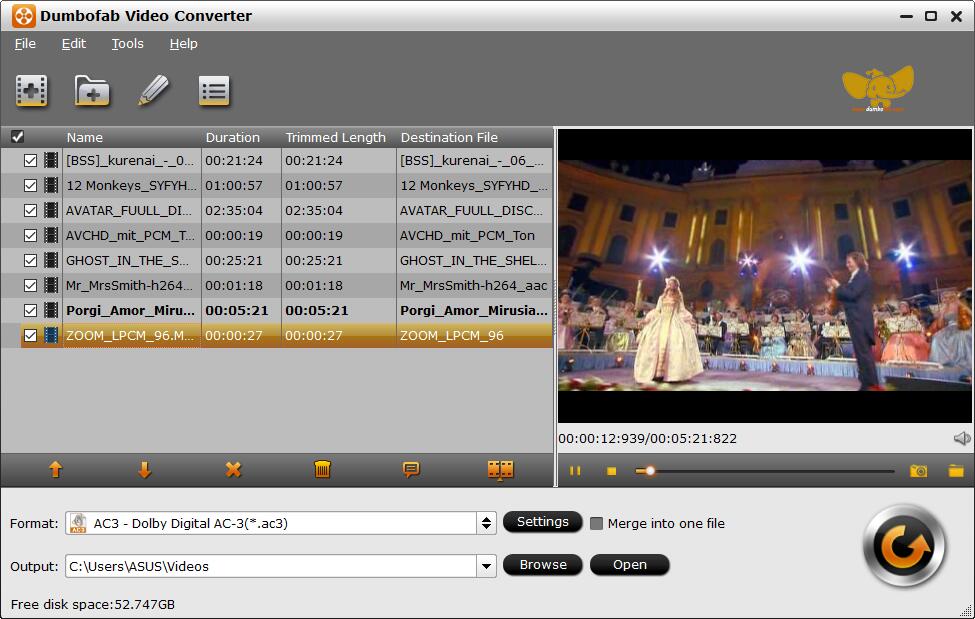 Part 3: Comparision Chart of the best free Video Converters for macOS (Ventura incl.)
| | | | | |
| --- | --- | --- | --- | --- |
| Criteria | HandBrake | FFmpeg | Smart Converter | DumboFab Video Converter |
| FREE of charge | √ | √ | √ | X |
| Fast & stable file conversion | No. 3 | No. 2 | No.4 | No.1 |
| Abundant input codec support | √ | √ | √ | √ |
| Large selection of output formats | Only MKV, MP4 | √ | √ | √ |
| Lightweight | No. 3 | No. 4 | No. 2 | No.1 |
| Instant tech support | X | X | X | √ |
| Bonus features | √ | √ | X | √ |
Final Words - Why Not Choose Online Video Converter?
The reason why we do not list free online video converters is that we all know online video converters are unstable and disposable tools for one/two time usage. Those online free tools have too many limitations regarding uploading file size, upload/transcode/download speed, network requirement, and have hidden risks of file corruption. Whereas the above listed free video converters for macOS Ventura are all local applications, stable and fast, they are all excellent picks for varied users who might want to go through a test themselves.
Other Useful How-to Guides
This article explains the possible reasons and solutions to help you fix 4K UHD videos not playing on playing on PC (Windows 10) or Mac.
We've got you covered with the best 6 free options for you choice. Keep reading to find a suitable one.
In this article, you'll get clear understanding about Variable Frame Rate, and how to check if your video is VFR. Also I will look more closely at how it might impact our workflow.
Get failure or error message when you try importing HEVC/H.265 videos from iPhone, DJI, GoPro, etc. to Adobe Premiere Pro? Here are 3 solutions to solve HEVC codec doesn't work in Premiere Pro.