Home
>
Video Processing Tips
>
Fix Plex MKV Playback Issues
Posted by Jason Eatock - July 10, 2022 | Contact Author

[Solved] Plex Won't Detect or Play Some MKV Files
If you want to access movies or TV shows from your computer, NAS or other storage media on a mobile phone or tablet, Plex is a great tool for you. Unlike other media software supporting limited media formats, Plex accepts almost any file format you can add to it, with the exception of DRMed sources, ISO, IMG, VIDEO_TS, or other disk image formats. Though MKV is in the Plex supported format lists, the MKV playback issues on Plex still come from time to time.
"Why does Plex have so many issues with MKV files? I know Plex is not the only one with this issue, Emby and JellyFin do the same sometimes. But plex has gotten bad, every MKV file now randomly freezes for no reason and forget trying to go forward or reverse. When I look thru the logs on the server there are no errors, no nothing about the file stopping. Is there something I should be looking at?"
"Plex not direct playing some h265 mkv files - I have a plex server (latest stable from the site) running on a synology ds1515+ and most movies play fine. But there are some h265 mkv main 10 hdr files that don't want to start on any device (android one plus 8 pro or plex app windows)."

What MKV Metadata Does Plex Support? Why Plex Transcodes Your MKV File?
Plex does support MKV. But according to the plex.tv, only the MKV file with the following video and audio encoding is natively supported by Plex.
Video encoding: H.264, hevc (H.265), mpeg4, msmpeg4v2, msmpeg4v3, vc1, vp9, wmv3
Audio encoding: aac, ac3, alac, e-ac3,flac, mp3
Given this, if your MKV file is encoded with the above video and audio codecs, then it should be able to direct play on Plex. Despite of this, there are still a number of potential scenarios how Plex not working with MKV:
1. You have turned off the Direct Play and Direct Stream option in Plex by accident.
2. The MKV video is supported by Plex but not compatible with devices that installed Plex media server.
3. Your MKV file is pcked with soft subtitle streams (subtitles need to be burned on the video)
4. The bitrate of the MKV is higher than Plex request.
5. Your MKV files are TV shows or series, which will not show in Plex library if you haven't renamed them correctly.
In such situations, the Plex's built-in transcoders will convert your MKV file to a compatible format while streaming media to a client device. However, Plex transcoding is really a CPU intensive process. It may be at 100% CPU utilization and give you stuttering, buffering problems, especially when you're trying to play MKV on Plex from NAS. Most NAS media are based on ARM CPU, which is not powerful enough to transcode 1080p, 4K MKV videos. And many of you many encounter Plex transcoding errors like "Playback Error Conversion failed. The transcoder exited due to an error", "Playback Error - Conversion failed. The transcoder failed to start up" or "Conversion failed. The transcoder crashed or failed to start up."
Easiest Solution to Fix MKV Playback Issues on Plex
⇒ Batch Convert MKV to MP4 (with subtitles) in Advance for Better Compatibility with Plex
If you encounter MKV file not playing errors on Plex like skipping/dropping frames, stuttering, video lags, grainy image quality and even MKV not showing in Plex librar, you can convert your MKV files with a third-party video converter program in advance, and then add MKV to Plex for smoothly playback.
To encode MKV for Plex, DumboFab Video Converter is highly recommended. This tool supports 400+ formats, so it can read virtually all MKV and other videos you import to it. With it, you can batch convert MKV files to Plex highly-compatible MP4 format in HEVC, H.264 with fast encoding speed and zero quality loss. Besides encoding, it also allows you to remux video (such as converting MKV to MP4 without changing codecs), change resolution (e.g., 4K to 1080p), and adjust frame rate, bitrate, trim video length, crop video frame size and more. What's more, you can burn soft SRT/SSA/AAS subtitles to your video easily. And it supports GPU hardware accelerated transcoding, thereby offload this tough work from CPU.
[Tutorial] How to transcode MKV to MP4 (With Subtitles) for Plex
To begin with, you should download and install DumboFab Video Converter on your computer. Windows and Mac OS are supported.
Once done, open this video converter and follow the steps below to transcode your MKV video for Direct Playing on Plex.
Step 1. Add MKV Videos
Click "Add Video" button to load the Plex unrecognized MKV files. You can load many MKV files to this program to convert at a time.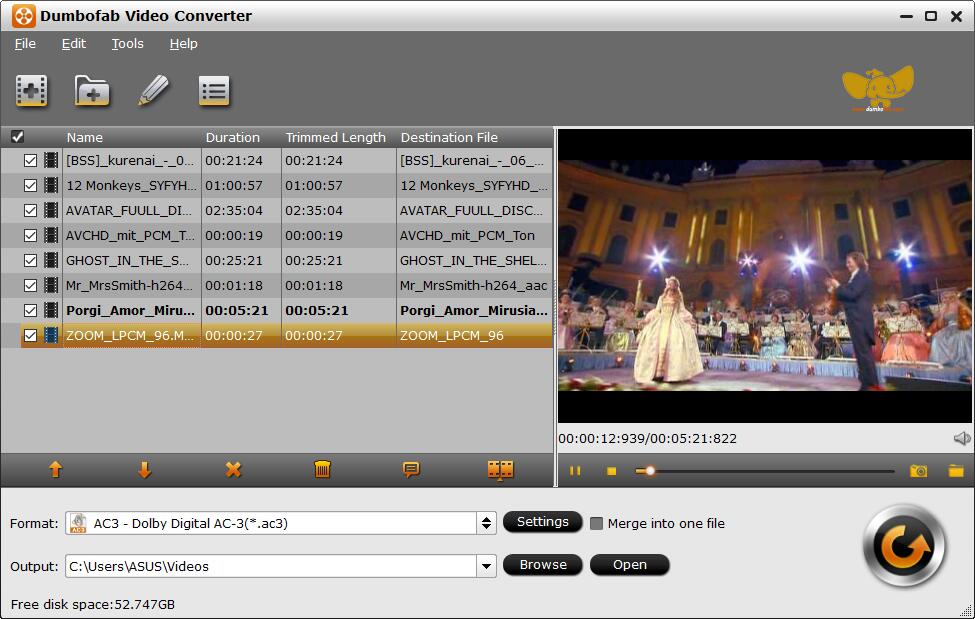 Step 2. Choose MP4 as output file
From Fomrat drop-down list, you're recommended to choose H.264 encoded MP4 from Common Video category as the output format because H264 MP4 is is the most popular video format for Plex, other mobile deivces and media players. Of course, H.265 Video(*.mp4) is also a nice choice if your device support it.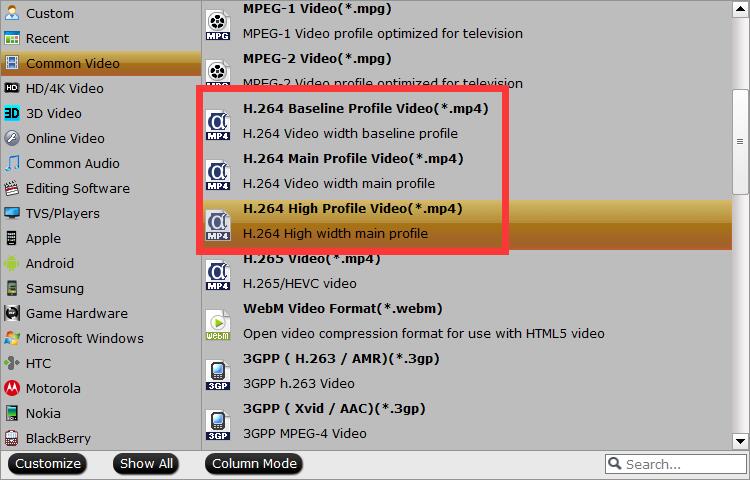 Step 3. Burn subtitles to video (Optional)
Click "Edit" button to open Video Editor window, under Subtitle tab, check Enable, and then you can browse and add *.srt or *.ass/*.ssa subtitle-files to the MP4 video as hard subtitles.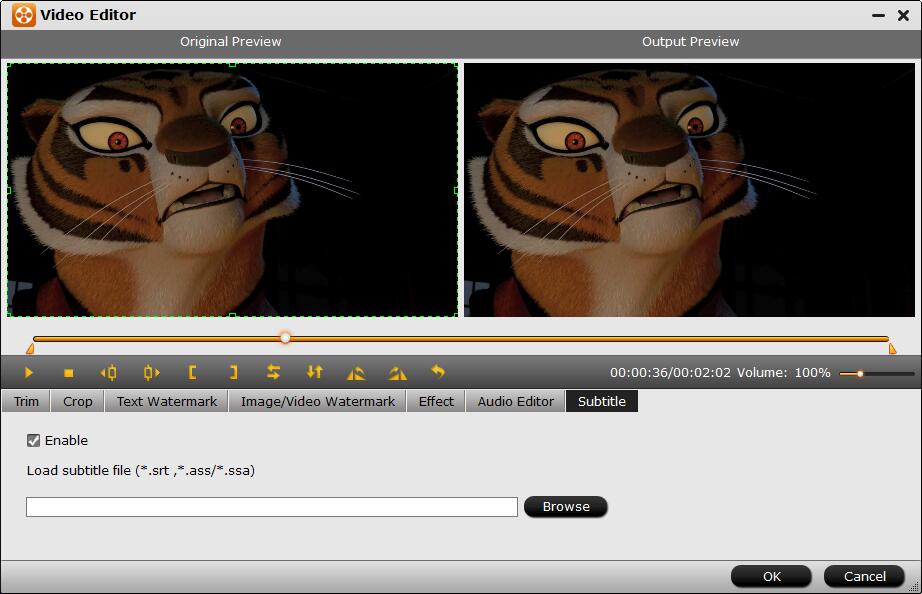 Step 4. Start the conversion.
When everything is OK, you can click the big "Convert" button to start MKV to MP4 conversion for Plex. If your computer configuration is high enough, Intel/NVIDIA/AMD hardware accelerator will be auto enabled to boost decoding and encoding speed. Once done, you can load the transcoded MKV files to Plex library for Direct Play without buffering/freezing.
Tips: Recommended Video Quality-Size settings for Transcoding MKV to MP4 for Plex
Flexible options are offered to further reduce the size of the output MP4 video. Click the Settings button beside the profile bar and enter into the Profile Settings window. A slew of other variables such the video/audio codecs, pixel dimensions, frame rate, bit rate, audio sampel rate, etc. will help compress large MKV file to a smaller MP4 file.
Recommended format settings for reference:
◈ You're not suggested to adjust the frame rate and aspect ratio, if not necessary.
◈ Lower the bitrate to a lower level. For example, adjusting the original medium quality to bitrates of around 1500-2000 is acceptable without noticeable pixellation.
◈ Lower the resolution. Adjust the resolution to lower won't make any quality difference.