Home
>
Video Processing Tips
>
MKV Not Supported in VEGAS Pro
Posted by Jason Eatock - Oct 15, 2021 | Contact Author

MKV Not Supported in VEGAS Pro? Let's Fix It Now
Many people use the MKV format extensively. MKV files may be high quality Blu-Ray rips, OBS captured footages, or something else. However, many Magix (formerly Sony) VEGAS Pro users are getting trouble when they try to import MKV files to VEGAS Pro, the file import failure window will pop up an error message "the error could not be determined" or you can import audio only with no video.
Luckily enough, Vegas Pro 17 and above version add an that can be used to natively import MKV files directly into the timeline. The new feature is disabled by default, but can be activated from the main menu by going to Options > Preferences > File I/O. Despite of this, many users are still MKV file import failure in VEGAS Pro, let alone those who are using VEGAS Pro 16 or lower version.
"So, I wanted to work with a file in MKV, but it needs some editing, I saw a tutorial that teached me how to enable experimental MKV support via "Preferences" - "File I/O" - "Enable MKV Reader". Did this and still can't work with MKV files. I saw some people had the same problem but no solution."
"when I try to import a file into Sony Vegas pro 18 it says the error could not be determined, it is an .mkv file if that matter"
Why VEGAS Pro Can't Play Well with MKV Files?
In fact, till now, MKV hasn't been added to the official supported format lists of VEGAS Pro. MKV is a container file. What are they? Well, MKV, MOV, MP4, AVI and more are all container files. Think of them like ZIP files. Inside them are video and audio streams. It's those streams that are in formats like AVC/h.264 or ACC, etc.
MKVs are a particularly flexible form of container file. They can contain multiple video streams, multiple audio streams, multiple subtitle files and a whole host of other things. Because of this, they're quite hard to work with. Most video software doesn't support them at all and Vegas PRO only has an experimental MKV handler. Accordingly Vegas Pro can open some MKV files and not others.
MKV files aren't really a file type that anyone should be using for editing. They're very much a final/consumer format. In other words, when you've completely finished with your project, you might make an MKV as the final playback version.
In short - don't try to edit MKV files in VEGAS Pro. They are not well-supported and you often end up with unexpected errors like you have.
So what can you do? To use MKV files in VEGAS Pro, the most efficient and easiest solution is to convert the MKV file to VEGAS Pro edit-friendly codec/format. And transcoding is also an 100% working solution. Besides encoding, you can also try to rename file extension or remux MKV to MP4 or any other format to solve VEGAS Pro and MKV incompatible issue. Below we will show the 3 simple and workable ways in details for you.
3 Simple Fixes for Importing & Editing MKV Files to VEGAS Pro Smoothly
Some people may suggest you to try installing the K-Lite Codec Pack to fix MKV import failure. However, we don't recommend this because this has been known to cause issues with your Vegas, such as crashes, slowdowns and other issues.
Method 1. Convert MKV to VEGAS Pro Supported Format (100% Working Solution)
If your MKV file can play fine but can't be imported to VEGAS Pro, then file import failure should be due to incompatible file format or codec missing instead of file corruption. It means your VEGAS Pro doesn't support the video and audio codecs in your MKV video. In such situation, you may have to transcode MKV to an editing-friendly format that VEGAS Pro supports.
To do this, you can adopt DumboFab Video Converter for help. The program support all HD/4K MKV files, no matter what video and audio codes are used. WIth it, you can easily and fast convert MKV to MPEG-2, MP4, AVI, H264 and more VEGAS Pro supported formats without compromising quality of the original MKV video. Batch conversion is supported and it also support compressing, editing, merge multiple videos.
Codec correction (or conversion) is just the tip of the iceberg that it can handle. In terms of the compute-intensive 4K MKV files, it's also a decent performer, letting you downscale 4K to 1080p, lower 60FPS to 30FPS, adjust bit rate, etc. to better suit your computer hardware configurations and to ensure a smooth MKV importing and latter editing.
To begin with, download and install DumboFab Video Converter windows version on your PC. After that, you can follow the guide below to encode MKV to VEGAS Pro supported codec/format.
Step 1. Open DumboFab Video Converter, and click Add Video button to browse and open target MKV file. Alternatively, you can simply drag and drop the source MKV file into this converter. Batch conversion is supported so you can load multiple videos to convert at the same time.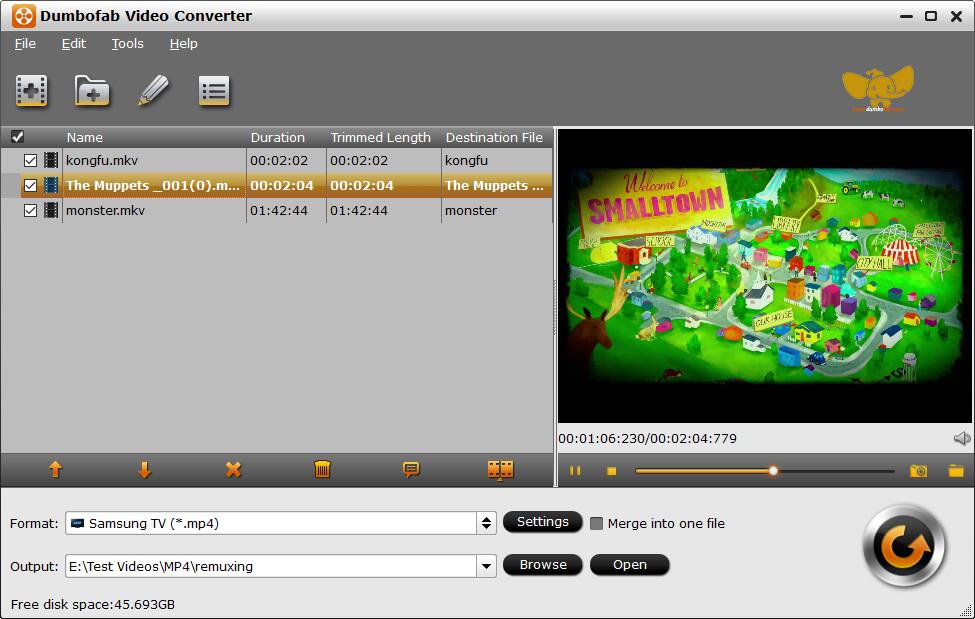 Step 2. Click Format pull down list, move mouse cursor to Editing Software and select MPEG-2 (*.mpg) as the output format. The MPEG-2 format can be well compatible with VEGAS Pro 19/18/17/16/15 or lower version. You can also select WMV, MOV as the output format.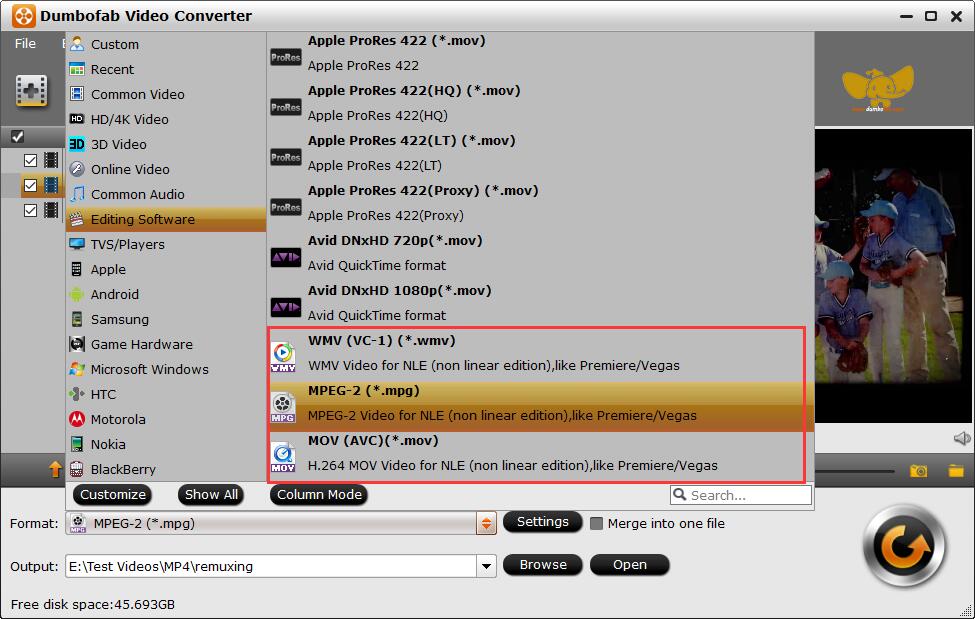 Step 3. Hit Convert button to begin converting MKV to VEGAS Pro supported format.
Method 2. Rename MKV File Extension to MP4 or Other Format (Might Not Work)
Sometimes, we simply need to change the file extension from mkv to one that VEGAS supports and then we can get rid of file import failure.
Right click on your .mkv file, and choose Rename. Then, change the file extension from mkv to mp4, avi, or something that VEGAS Pro can recognize. Then click Yes when a warning pops up. Once done, put the file into VEGAS Pro and see if it can be imported without error now.
Method 3. Remux MKV to MP4, AVI or Other Container (Might Not Work)
Sometimes, VEGAS Pro an support the video and audio codecs in your MKV video but just doesn't support the MKV container format. In this case, you can simply remux the MKV file to an MP4 container or AVI without changing the video stream inside. This can also be easily done with DumboFab Video Converter. It can remux files quickly and help you import MKV to VEGAS Pro without converting.
Step 1. Download, install and run DumboFab Video Converter and load the source MKV file.
Step 2. Click Format bar, move mouse to Remux category, here you can select MP4, AVI, MOV or MPEG as the remuxing format.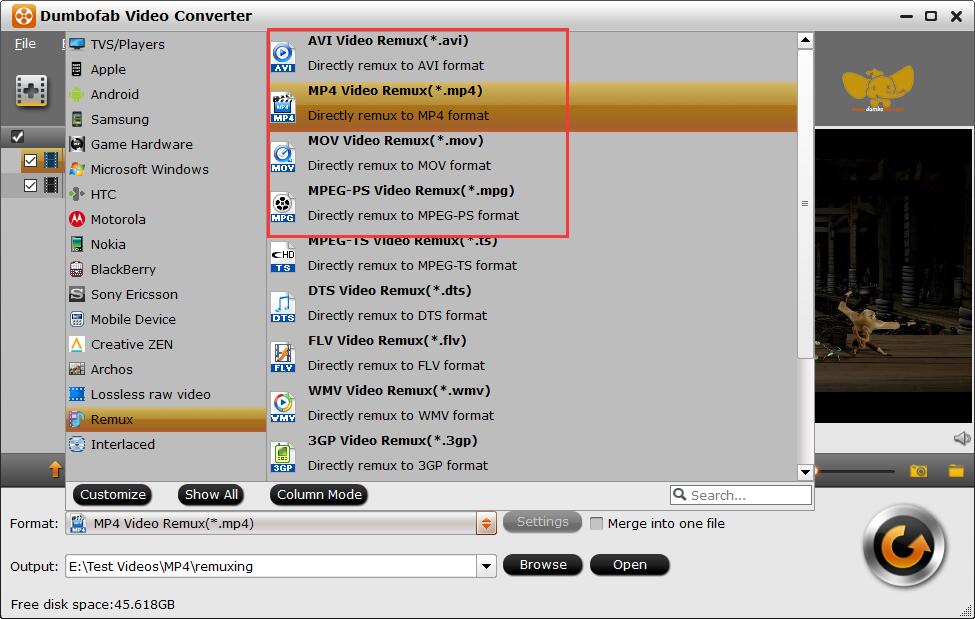 Step 3. Hit Convert. DumboFab Video Converter will put your video and audio files into MP4 container without recoding and re-encoding. No quality will lose. It is 10X faster than transcoding.
Final Words:
MKV is very much an end user format. No camera outputs MKV files, no editing software uses it as an intermediate or editing format, so there's no good reason for any editing software to ever be able to open an MKV file. I was surprised when Vegas started to introduce MKV support in VEGAS Pro 17, but there it is. It's buggy and incomplete and I wouldn't recommend ever relying on it. When you get MKV file import failure error in VEGAS Pro, you can change file extension, remux file, and convert MKV to fix it.