Home
>
Resource
>
DVD Ripping Tips
>
Can Plex Play ISO Image Files
Posted by Chris Ellison - Aug 17, 2021 | Contact Author

How to Stream and Play ISO Files using Plex Media Server
"Why is Infuse 5 able to play ISO files,but Plex isnt??How difficult can that be to just implement that function? Or am i missing something?"
Plex is a nifty streaming media server capable of storing users' movies, videos, TV shows, songs, photos, and more on a central server. It allows users to access media content on all devices they love to watch anytime and anywhere. Plex supports pretty much media formats, however, ISO file format is not supported in Plex due to the fact that this format doesn't fit into the idea behind the Plex ecosystem. According to the suggestion from Plex, we can convert ISO file to a Plex compatible format for further streaming.
In this article, we will show you an easy and quick way to transcode ISO to Plex supported video format so that you can stream and play ISO files through Plex Media Server without any trouble. Also we will share with you why Plex refuses to play any ISO file and something you gotta known about plex transcoding.
Why Plex Refuses to Play Any ISO File
The fact is, Plex doesn't support disk image formats including ISO, IMG, VIDEO_TS folder, and BDMV. Why these formats are not supported? According to Plex's official supported article, these formats just don't fit into the idea behind the Plex ecosystem. They hide content behind built-in menu systems. Not only would the menus add extra UI that a user would need to wade through to get to the content, but there also simply isn't any good way that they could be presented in the myriad different Plex apps that are available – from iOS to Android, from the web browser to the Roku. It just isn't feasible to try and present a DVD menu type interface in some of the devices.
For an ISO file of TV series, it will contain many episodes. As a result, it is difficult for users to jump directly to specific episode to watch. No one would like to fast-forward through 9 episodes if he or she just wants to watch the tenth episode.
How to Stream and Play ISO files via Plex? Converting ISO Is The Only Way
Though Plex transcoding process will be automatically enabled when necessary, ISO files cannot be transcoded. Therefore, you have to convert ISO to Plex supported media files for further accessing. To do this, you're recommended to adopt DumboFab DVD Ripper for help. This program can easily transcode ISO file to Plex compatible media files like MP4 with fast encoding speed and excellent output quality.
Besides ISO image files, DumboFab DVD Ripper can also convert all types of DVD discs, DVD Video_TS folder to MKV, MPEG2, HEVC, MOV, M4V, AVI, iPhone, iPad and more. There're more than 350 output presets for you so that you can save your DVD discs in different media formats. More copy mode options are also available, including 1:1 clone DVD to MPEG-2 file, backup DVD with main/full titles.
Somethig you gotta known about Plex transcoding
Plex supports pretty much media formats. However, not all content can be Direct Played on your client device because your device always has special requirements for media encoding format, container format, and resolution. Some content needs Direct Stream or Transcode. Direct Stream is enabled when Plex client can support the video and audio codec formats but can't support the container format. Transcoding is used when Plex client can't read either the video or audio format or can't support the resolution, bitrate, etc.
How to avoid transcoding as much as possible?
To avoid Plex transcoding, you need to know the client devices that are connected to your Plex Media Server, including your devices and others outside your home. The following specs should allow you to play media without transcoding within your network. For outside your network, you should reduce the bitrate to a lower value than the bandwidths limits of your server, or the upload speed of you Internet connection.
Container: mp4
Resolution: 1920x1080 or lower
Video codec: H.264 (level 4.0 or lower)
Framerate: 30 fps (bit depth: 8)
Audio Codec: AAC (2 channels)
Bitrate: 20 Mbps or lower
In conclusion, if your video or disk contents don't meet the above requirements, you're recommended to transcode it to H.264 encoded MP4 in advance. And when it comes to cope with disk formats like ISO, Video_TS folder and DVD discs, DumboFab DVD Ripper is a great choice.
Tutorial: How to Convert ISO to Plex Compatible MP4 file
To begin with, free download and install DumboFab DVD Ripper on your PC or Mac, then follow the step-by-step instruction below:
Step 1: Install and launch DumboFab DVD Ripper, click "Load disc" button and then click "Load ISO/ISO" button to load ISO image files you want to convert to Plex MP4. This software will auto detect the main title for movie ISO file. For ISO files stored with TV shows, it will select one title only by default. You need to check other titles (episodes) manually if you want to convert all of them for playing with Plex.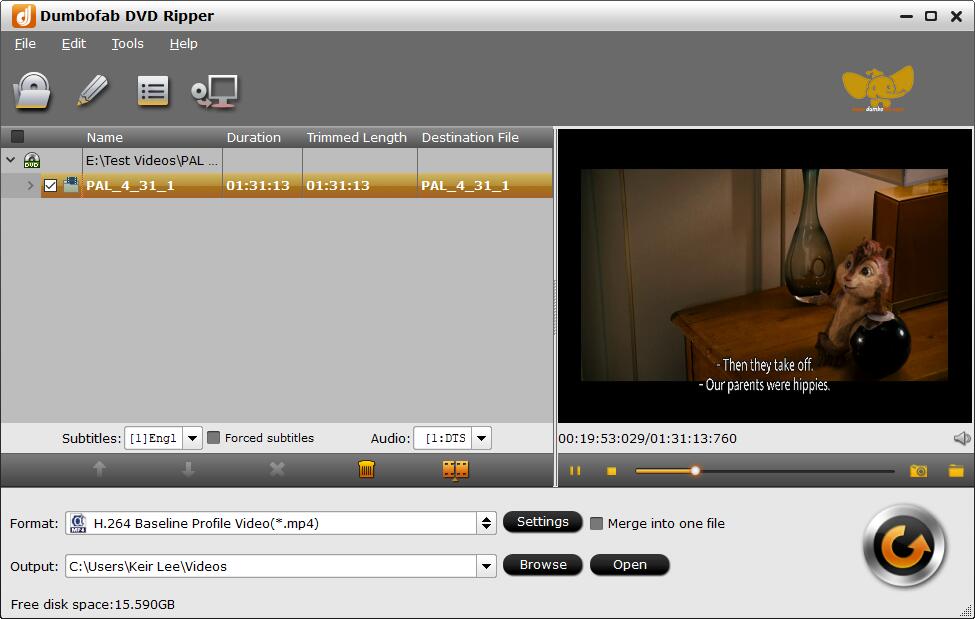 Step 2: Click "Format" bar and then select an H.264 MP4 profile from "Common Video" category. In addition, there are 300+ video, audio formats and devices here. If you need to convert ISO image file for streaming via Plex to iPhone, Android device, TV, etc devices, you can also find and select a profile for your device.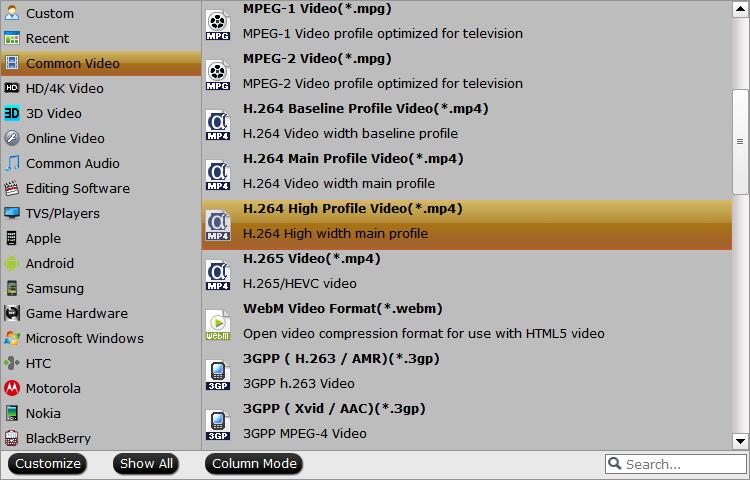 Step 3: Click the "Browse" button at the bottom to specify a destination folder and hit "Convert" button to begin converting ISO file to Plex playable format.
How to Add Encoded ISO movies to Plex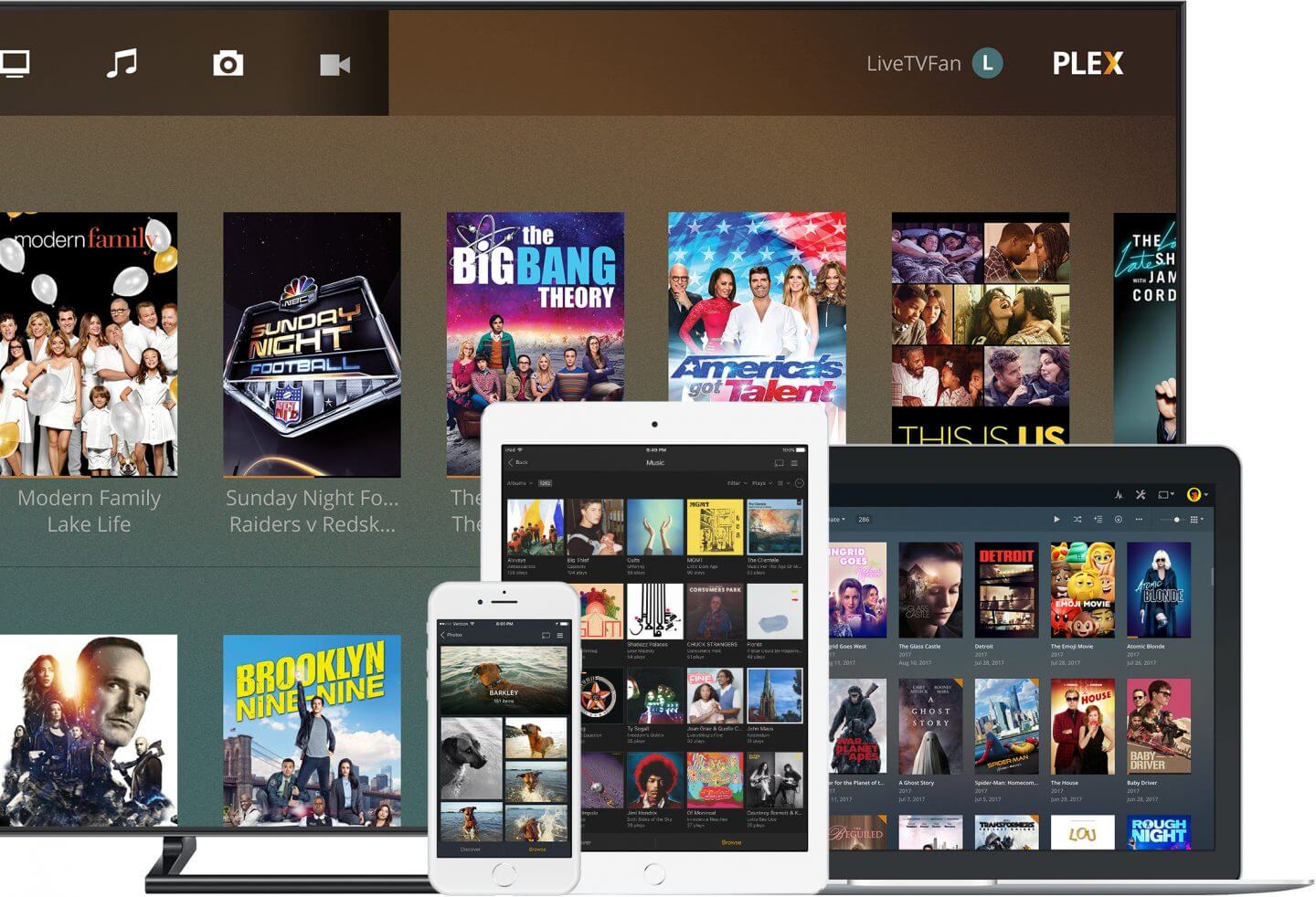 Step 1. Download and install Plex Media Server. When the installation is finished or when the server is run for the first time, a browser will pop up and ask you to either sign in or sign up.
Step 2. Run Plex and click "Add Selection" and "Movies" to add the converted ISO digital MP4 video to Plex.
Step 3. Install Plex app on any of your devices to stream and watch the ISO movie video anytime and anywhere you want.
Tips: In the Plex server you can set Plex to scan your library automatically when Plex detects changes in the directory . This way, when you save new ISO encoded files in the source location, Plex library will be automatically scanned and updated. That is to say, with this function you don't need to add ISO movies to Plex manually in the future.