Home
>
Video Processing Tips
>
WebM Not Supported in Vegas Pro
Posted by Jason Eatock - July 6, 2023 | Contact Author

How to Import WebM File to Vegas Pro without Error
Safari finally lines up that experience in macOS Big Sur and iOS 15 after Google Chrome, Firefox, Opera, and IE support WebM video playback. This makes it easier to play the web-optimized and royalty-free WebM video directly in your web browser, when you head over the streaming services like YouTube, Vimeo, Netflix and the like. However, when you try to import WebM file into Vegas Pro, the file import failure window will pop up with an error message "The file is an unsupported format".

Does Vegas Pro support WebM? Actually, WebM isn't in the list of Vegas Pro supported file formats. Namely, you cannot directly open WebM file in Vegas Pro, including Vegas Pro 20, 19, etc. To import WebM files to Vegas Pro without errors, the easiest workaround is to convert WebM to an edit-friendly format/codec that is natively supported by Vegas Pro. Visit the page below to learn details.
What You Need to Know About Vegas Pro's Compatibility with WebM Format/Codec?
For a WebM video, it normally includes video streams compressed with either VP8, VP9 or even the newest standards AV1, and audio streams compressed with Vorbis or Opus audio codec.
Vegas Pro, including the latest version Vegas 20, doesn't support the VP8 or VP9 codec. Therefore, the mere file extension change from WebM to MP4 cannot solve the WebM video editing ompatibilities in Vegas Pro at all, since the codec or other data information isn't converted at all. You need to reply on third-party video converters or online tools to encode/re-encode WebM to Vegas Pro supported format and codec.
How to Convert WebM files for Editing in Vegas Pro Smoothly
If you need a 100% working solution to import WebM to Vegas Pro without error, turning WebM to Vegas Pro compatible formats via DumboFab Video Converter is the answer. This amazing video converter lets you convert WebM to MP4, MPEG-2, WMV, AVI, ProRes, MOV, and hundreds of other formats in one click without losing the original picture quality.
Batch conversion is allowed. This means you cann transcode multiple HD/4K/8K WebM files at one time to Vegas Pro supported formats and codecs. And thanks to the support for Intel/NVIDIA/AMD hardware acceleration, it can boast the conversion speed up to 30x faster. And it also comes with easy bulit-in video editor tool which allows you to cut, crop, apple effects, add subtitles, remove/add audio files, etc. to stylish your video footage.
Now download and install DumboFab Video Converter on your PC and then follow the simple steps below to convert WebM to Vegas Pro natively supported format.
[Tutorial] How to decode WebM to Vegas Pro compatible format/codec
Step 1. Load WebM video
Run the WebM file converter on your PC, then click Load Video button to add WebM file. You can add multiple clips at once.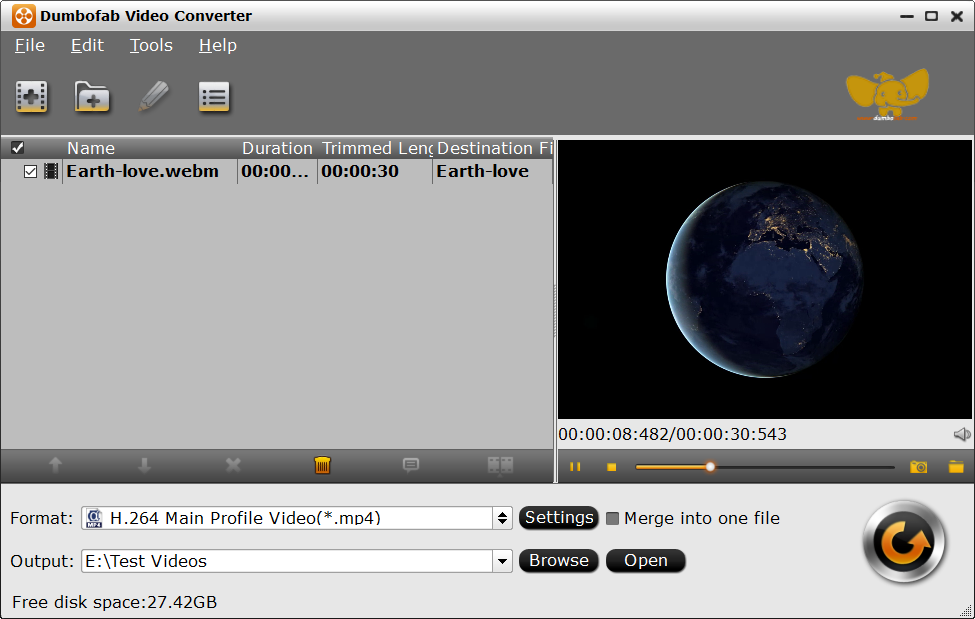 Step 2. Select Vegas Pro compatible output format
Click Format pull down list, move mouse cursor to Editing Software and select MPEG-2 (*.mpg) as the output format. The MPEG-2 format can be well compatible with VEGAS Pro 19/18/17/16/15 or lower version. You can also select WMV, MOV as the output format.
You can also go to Common Video category and select H.264 Baseline Profile Video(*.mp4), which is also compatible with Vegas Pro.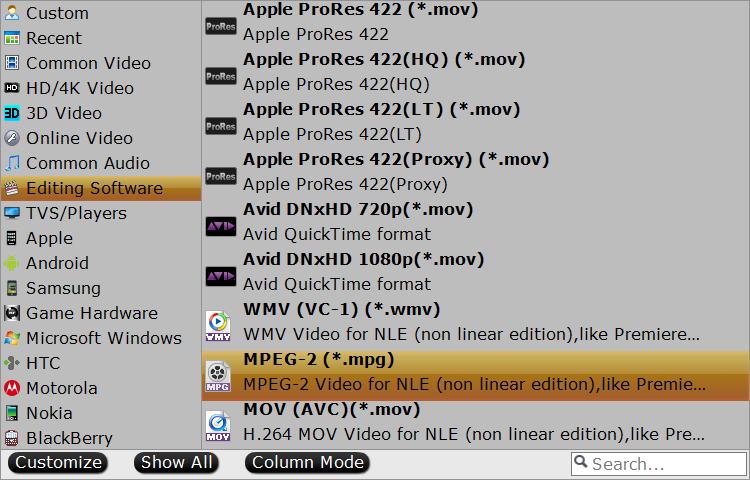 Step 3. Start the conversion
Finally, you can hig the big Convert button to begin the WebM to Vegas Pro conversion.
Once the conversion finished, you can then import the converted WebM files to Vegas Pro without any issue.
Final Words
WebM is not a supported format in Vegas Pro 20/19 and its lower versions. Someone may suggest you to try installing VP9 video codec and the Opus audio codec to fix the WebM import failure error. However, we don't recommend this because this has been known to cause issues with your Vegas, such as crashes, slowdowns and other issues.
Remuxing WebM to MP4 or changing the container format can't solve the problem either because this two methods doesn't transcode the VP9/VP8 codecs at all.
To import WebM to Vegas Pro successfully, you're suggested to convert WebM to Vegas Pro supported format and codecs. And the process is very easy with a third-party video converting tool like DumboFab Video Converter.