Home
>
Resources
>
What is H.265
Posted by Jason Eatock - Apr 27, 2021 | Contact Author

What Is HEVC/H.265 Format?
Learn What Is H.265 Format, the advantages/disadvantages and How to Play HEVC videos on PC/Mac.
What's HEVC/H.265?
HEVC (also known as H.265 and MPEG-H Part 2, short for High Efficiency Video Coding) has earned its reputation since 2014 when Apple, Nvidia, and Microsoft announced HEVC support for their products in succession. It's the successor of MPEG's H.264, which inherited all specifications of H.264 and expanded its efficiency on data save domain and upscale the maximum resolution to 7680 x 4320, also the algorithm has been optimized that better fulfilled the needs of online video streaming. With larger sized video presentation & better transmission reliability, a higher hardware requirement is in return for its high performance.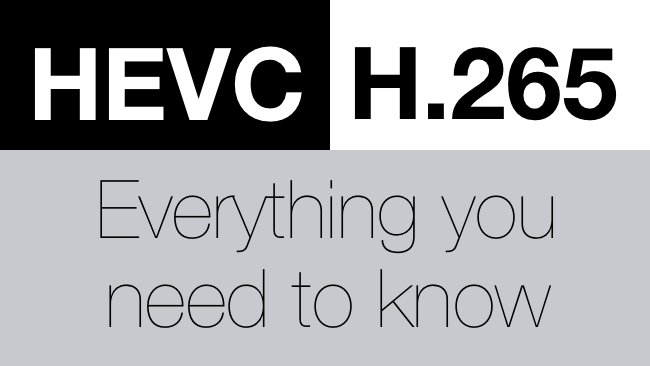 H.265 vs H.264: Differences between H.265 and H.264
To know more differences between H.265 and H.264 codec formats, check the list below. The list include H.265 and H.264 formats' launch date, bandwidth requirement for 4K transmission, storage, max resolution, frame rate support, and key improvements compared to predecessor.
H.265/HEVC

H.264/AVC

Launch Date

2013

2003

Basic bandwidth requirement for 4K transmission (Lower means better)

14mbps

32mbps

Storage Needs for same quality video

Take only 1/2 of the storage space needed by H.264

Massive waste to storage space compare to H.265

Video block unit size optimization

Combination of Coding Unit/ Prediction Unit and Transition Unit

Fixed block size partitioning & inter partitions of blocks

Deblocking Filter

Sample Adaptive Offset (SAO)

Loop filter(LPF)

Maximum resolution (in pixel)

7680 x 4320

4096 × 2048(only in 30 or below frames)

Key improvement (compare to their predecessor)

* 40-50% bit rate reduction compared with H.264 at the same visual quality
* It is likely to implement Ultra HD, 2K, 4K for Broadcast and Online (OTT)

* 40-50% bit rate reduction compared with MPEG-2 Part
* Available to deliver HD sources for Broadcast and Online

Support up to 300 fps

Yes

No. support up to 59.94 fps only.
Advantages of H.265 over H.264
1. H.265 is superior to H.264 in regards to video quality, size and compression rate. Namely, to achieve the same visual quality, H.265 encodes a more compressed video that is about half the size of H.264, at only half the bit rate.
2. Two key improved features of H.265 (HEVC) compared with H.264 (AVC) are the support for higher resolution videos like 4K/8K UHD resolution and improved parallel processing. H.265 will save much bandwidth when compressing and streaming 4K/8K videos online.
Disadvantages of H.265 compared with H.264
1. H.265 is not that compatible as H.264. For instance, GoPro 4K HEVC videos are not friendly to many editor apps. Namely, H.265/HEVC is not widely applied in many product fields so far, except a few devices and media players like iPhone 6/later, Windows 10, 5KPlayer, etc.
2. H.265 may be superior to H.264 in the next 5 or 10 years along with the popular application and streaming of 4K UHD resolution, but right now if your gadget's resolution is up to 720p/1080p, H.264 is more suitable.
HEVC is highly acclaimed esp. in the era of 4K 8K Ultra HD while H.264 still dominates now, which makes H.265 to H.264 conversion sensible. Online video converters may be an option, but not the best one owing to the strict size limit (<20MB), unstability, poor output quality and even malware/adware. Thus you need a solid clean and easy-to-use HEVC converter, like DumboFab Video Converter and HandBrake.
How to Play HEVC/H.265 Videos on PC/Mac
H.265/HEVC is an advanced and efficient video codec, especially suitable for streaming 4K/8K video. Higher efficiency is often accompanied by complexity, which is why h.265 conversion is difficult to perform. Hence, it is worth noting that not all mainstream devices support the h.265 format, which makes it impossible to play HEVC videos on incompatible devices unless you have a professional h.265 player. But you don't have to worry too much about this issue, here we already picked out the top 3 free X265/HEVC players for you to make the right choice.
1. VLC media Player (Free)
Operating System: Windows, Linux, Mac OS X, Unix, iOS, Android
If VLC is your favorite media player, then you're in luck already. From version 3.0 and above, you can play H.265 codec without any extra support packs. Surprisingly, they forgot to update this important fact on their official website. There are tons of websites offering you H.265 support for VLC, which adds to the confusion. Therefore, if you simply download the latest version of VLC, you can play H.265 videos as shown below. You can download VLC 3.0 for Windows, macOS, iOS, Apple TV, GNU/Linux, Android and Chrome OS.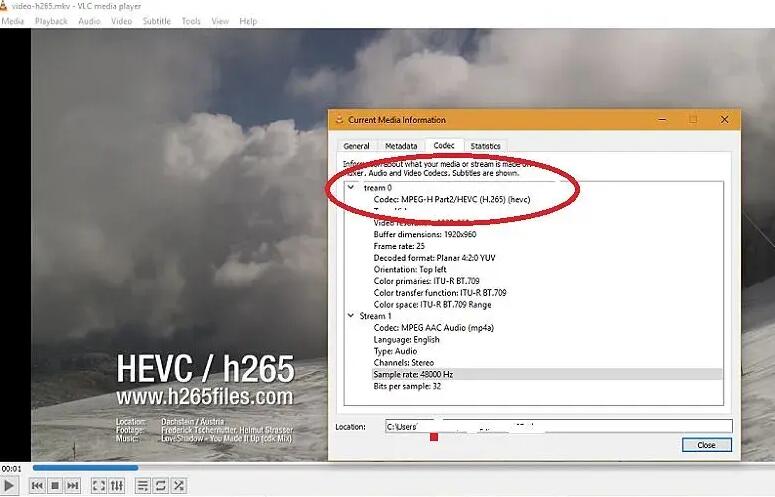 Generally speaking, if your computer is running on the latest Windows 10 or macOS Catalina and features high-level hardware configurations (CPU, GPU & RAM), then there is high likelihood for you to successfully play HEVC video in 720p, 1080p or 4K without downloading extra HEVC codec packs. That's because Win 10 and macOS 10.13 natively support hardware decoding HEVC codec. Therefore, it doesn't matter a lot even if VLC player software is weak in decoding HEVC codec. If not, sorry to inform you that you might need to spend more time and energy to download HEVC codec packs like x265 (free library for encoding video into the HEVC), libde265 via PPA for your Ubuntu, K-Lite codec pack, etc. before playing H265 using VLC.
2. 5K Player
Operating System: Windows, Mac OS
5K Player might be the newest kid on this block but is already considered among the best to playback HEVC videos. It is compatible with the UHD format, which makes it HEVC ready as well. It is simple and efficient too, with the ability to play back HVEC videos really fast.
It is lightweight as well, meaning its impact on the hardware is minimum. Further, there is no need to download any codec or plug-in as the player comes with all the resources needed for it to read HVEC video files. It supports 4K, 5K, and 8K formats as well, besides H.265, MP4, MKV, AVI video files. Saving the best for the last, 5K Player comes completely free.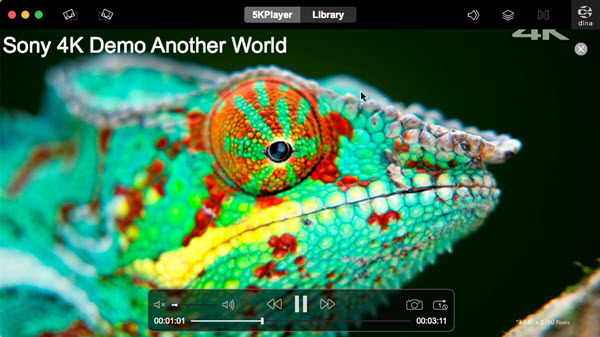 3. Potplayer (Free)
Operating System: Windows 8.1/8/7/Vista/XP
That sure might be a strange name for a HEVC player but it does its job really well. It is another great free player software that can play back HVEC files with the greatest of ease. Besides, it is equally comfortable with several other media formats like H.264, MP4, FLV, MKV, AVI, MOV, to name a few.
So there you have it, a brief introduction of the new HVEC format followed by a compilation of the best players for reading HVEC video files. Adopting any of these might require ditching one you have been hanging on with all this while but it could be worth it after all.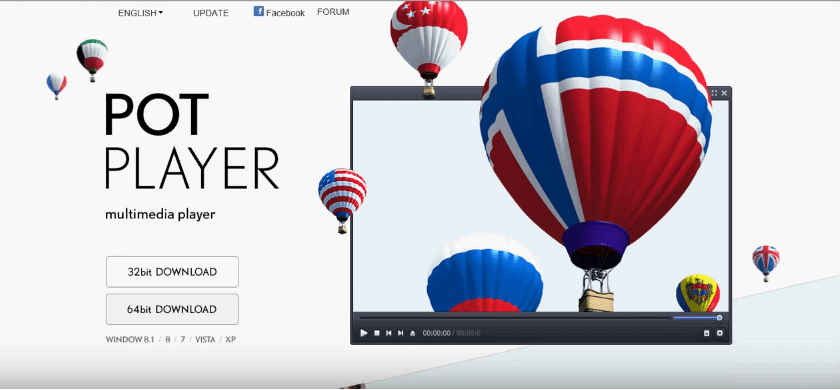 Conclusion
In general, as the successor of H.264 codec, H.265 is taking advantages in almost all aspects, better graphic displaying, delicate image and bandwidth saving. But H.265 has slower encoding, giving problems when playing back on many devices and players. It's CPU intensive and requires much better hardware for processing. H.264 is a current video standard, it has good quality, much faster encoding and plays smoothly on most devices and players. H.264 has better compatibility.
Simply put, H.265 is the codec of the future. So, do you want to convert videos files to H.265? In this way, you can downsize HD videos without damaging the quality to free up space, and also convert SD videos to H.265 for better visual effects. So, how to convert videos to H.265? All you need is a H.265 converter to convert videos to H.265.