Home
>
Video Processing Tips
>
Top 3 Ways to Play HEVC Codec 4K Videos
Posted by Jason Eatock - Dec. 01, 2020 | Contact Author

Top 3 Ways to Play HEVC Codec 4K Videos Smoothly
HEVC or High Efficiency Video Coding (aka H.265) is being a popular codec used by companies around the world. It supports 25 to 50% data compression at the same video quality leading to a higher coding efficiency. Without a doubt, H.265 enjoys the attention of many, including online streaming artistes, gamers, and software developers. If your video library are rich in HEVC video files and want to find a way to play HEVC/H.265 files on your Windows or MacOS, you've come to the right place. In this post, we would like to show you 3 ways to play HEVC 4K videos on your PC without any trouble. Also we will talk about some faqs about HEVC video decoding and playback and the solutions to fix them.
Click the links below to jump to the method you are most interested in.
Solution 1: Install HEVC Codec to Play HEVC 4K Videos
A video codec pack could be an all-inclusive solution for you to play all videos in different formats on your computer. The only problem is that you need to take use of the right codec pack. This happens to HEVC/H.265 video playback as well. You could download and install H.265 player codec for your media player so as to turn your media player into a H.264 file format player and play H.265 files with ease.
There are some HEVC player codec pack tools you could use for turning your player for H.265 format like Media Player Codec Pack Plus, HEVC Video Extension could help you decode H.265 videos and make it possible to play H.265 format on your computer's default media player.
The only thing you need to attention is that you should choose an ads-free HEVC player codec pack, and pay attention to the computer security.
Solution 2: Install HEVC/H265 Video Player to Play HEVC 4K Videos
HEVC players are in high demand to play H.265 videos in 4K on PC/Mac. Here lists out top 3 free HEVC players without HEVC codec pack downloads.
1. VLC media Player (Free)
If VLC is your favorite media player, then you're in luck already. From version 3.0 and above, you can play H.265 codec without any extra support packs. Surprisingly, they forgot to update this important fact on their official website. There are tons of websites offering you H.265 support for VLC, which adds to the confusion. Therefore, if you simply download the latest version of VLC, you can play H.265 videos as shown below. You can download VLC 3.0 for Windows, macOS, iOS, Apple TV, GNU/Linux, Android and Chrome OS.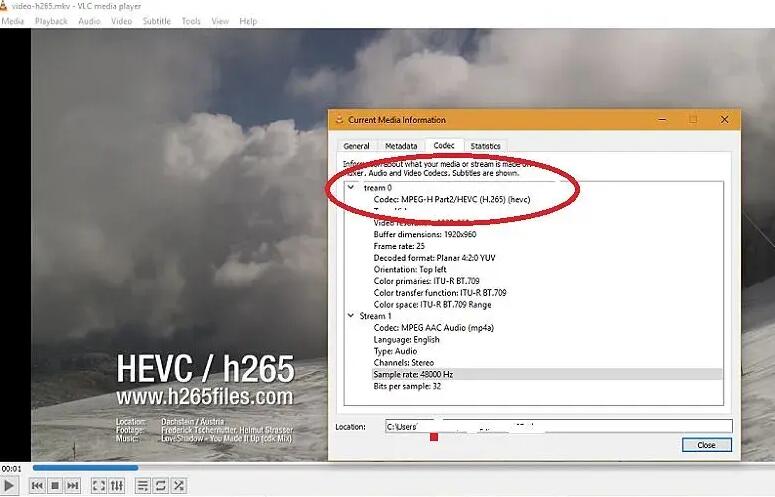 Generally speaking, if your computer is running on the latest Windows 10 or macOS Catalina and features high-level hardware configurations (CPU, GPU & RAM), then there is high likelihood for you to successfully play HEVC video in 720p, 1080p or 4K without downloading extra HEVC codec packs. That's because Win 10 and macOS 10.13 natively support hardware decoding HEVC codec. Therefore, it doesn't matter a lot even if VLC player software is weak in decoding HEVC codec. If not, sorry to inform you that you might need to spend more time and energy to download HEVC codec packs like x265 (free library for encoding video into the HEVC), libde265 via PPA for your Ubuntu, K-Lite codec pack, etc. before playing H265 using VLC.
2. 5K Player
5K Player might be the newest kid on this block but is already considered among the best to playback HEVC videos. It is compatible with the UHD format, which makes it HEVC ready as well. It is simple and efficient too, with the ability to play back HVEC videos really fast.
It is lightweight as well, meaning its impact on the hardware is minimum. Further, there is no need to download any codec or plug-in as the player comes with all the resources needed for it to read HVEC video files. It supports 4K, 5K, and 8K formats as well, besides H.265, MP4, MKV, AVI video files. Saving the best for the last, 5K Player comes completely free.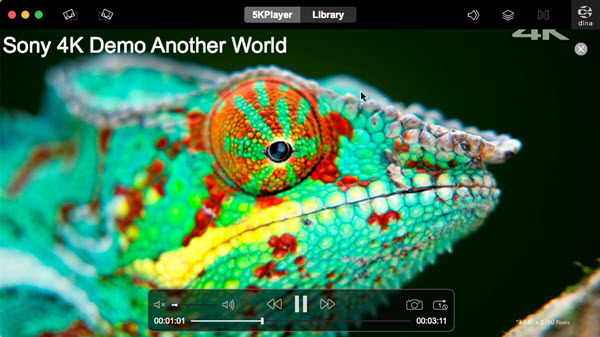 3. Potplayer (Free)
That sure might be a strange name for a HEVC player but it does its job really well. It is another great free player software that can play back HVEC files with the greatest of ease. Besides, it is equally comfortable with several other media formats like H.264, MP4, FLV, MKV, AVI, MOV, to name a few.
So there you have it, a brief introduction of the new HVEC format followed by a compilation of the best players for reading HVEC video files. Adopting any of these might require ditching one you have been hanging on with all this while but it could be worth it after all.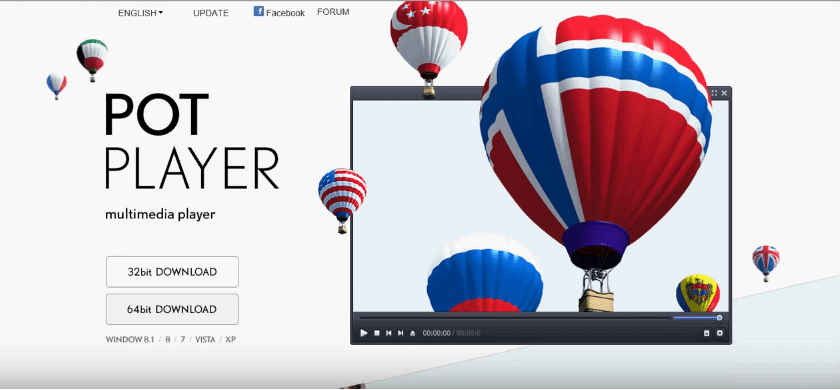 Solution 3: Re-encode HEVC Video to Play HEVC 4K Videos Anywhere
H.265 may be superior to H.264 in the next five or ten years along with the popular application and streaming of 4K UHD resolution, but right now if your gadget's resolution is up to 720p/1080p, H.264 is more suitable. Moreover, H.265 is not that compatible as H.264. For instance, GoPro 4K HEVC videos are not friendly to many editor apps. In another words, H.265/HEVC is not widely applied in many products fields so far, except a few devices and media players like iPhone 6/later, Windows 10, macOS Catalina, etc.
If you failed to play or edit HEVC codec 4K videos, then re-encoding HEVC videos to H.264 or other common video formats is not a bad idea. There are some great decoders and converters available. DumboFab Video Converter is integrated with HEVC H.265 encoding and decoding. No matter you are looking for converting video to HEVC/H.265 480p, 720p, 1080p, 4K UHD 4320p, or decode HEVC/H.265 video to other video formats, the professional HEVC Converter will fulfill your task fast and easily. As a professional HEVC decoder, HEVC H.265 converter can decode and convert HEVC H.265 video in various resolution like 4K UHD 4320p, 8k to all most video formats such as convert HEVC to H264 MP4, MOV, AVI, 3GP, FLV, H.264, MKV, WMV, RM, Avid, DivX, MXF, ASF, WebM, Pores, WTV, etc., and can extract audio, music from HEVC and save as MP3, M4A, OGG, FLAC, Apple Lossless ALAC, AAC, AC3, WAV, WMA, etc.
Best of all, this HEVC converter works on both Mac and Windows operating systems. Because of its versatility, and the fact that it is completely compatible with almost any conversation you wish, this is, hands down, the best converter available.
3 Steps to Convert H.265/HEVC to H.264 Without Quality Loss
Step 1: Launch DumboFab Video Converter and click Add Video button to locate and load source HEVC videos.
Step 2: Click the Format bar and move mouse cursor to Common Video category and select H.264 High Profile Video(*.mp4) as the output. This program provides many other output video formats, you can feel free to choose according to your own needs.
Step 3: Finally, simply click the Convert button to start re-rencoding HEVC/H.264 videos to H.264 or other video formats.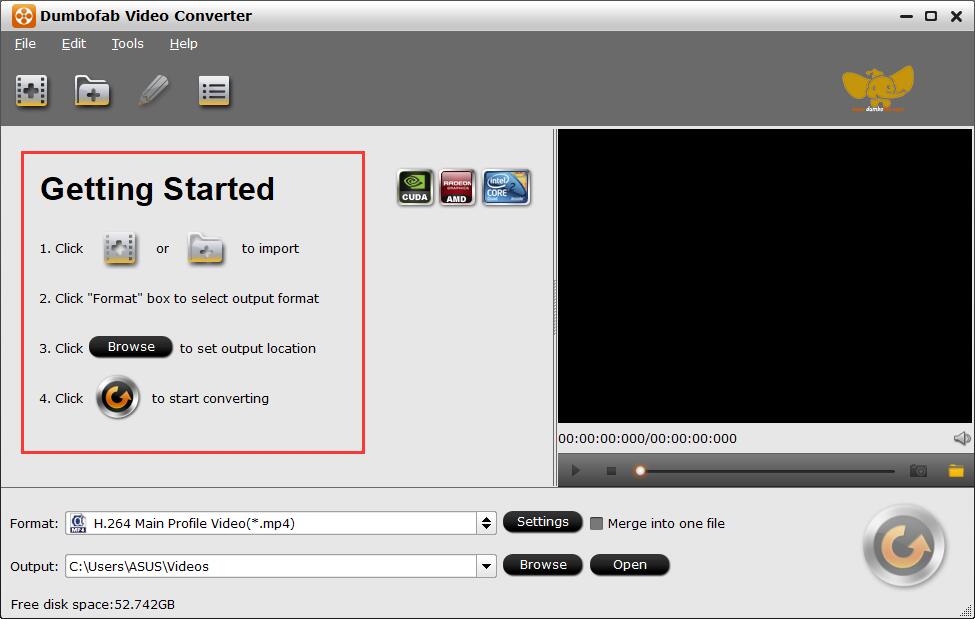 ◉ FAQs about Playing HEVC/H.265 Videos
Question 1: I've tried almost all the recommended HEVC players and HEVC codecs but my computer still cannot play the H.265 video, is there a basic HEVC supported hardware requirement?
Answer: Below lists out the current hardware configurations that support HEVC video decoding and playback. Check if your hardware meets the requirements.

Don't feel gloomy if your hardware configuration doesn't address the above needs, for this doesn't mean you're 100% unable to decode HEVC video. Nothing is absolute. Though some computers sport with entry-level CPUs, they might have no problem to decode HEVC video under certain circumstances. Of course, in general, if your computer is "too slow" like snail speed, the chance to decode H265/HEVC video might be slim to zero.
Question 2: Trouble playing 4K, 1080p HEVC video on VLC, Potplayer. There is no big problem to play HEVC video on VLC and Potplayer in 720p. But who doesn't they support h265 1080p and 4K playback?
Answer: As is know to all, 4K and 1080p video playback are much higher demanding on both software and hardware than 720p playback. Like mentioned above, if your computer hardware configurations are not strong enough, it's not surprising that VLC and Potplayer fail to play HEVC video in 1080p or 4K 2160p although both players support 1080p/4K resolution. Luckily, here are two effective solutions for your consideration. 1. Upload these videos to cloud services like Google Drive to let cloud services do the heavy work of decompression and decoding. 2. Convert 4K/1080p HEVC to 720p HEVC using a HEVC converter like DumboFab Video Converter, Handbrake or online Video Converter, etc. Thus, you can easily play HEVC/H265 video on Mac/PC in 720p without choppy image, video audio out of sync problems.
Question 3: Why the latest version of VLC plays HEVC video so choppy, skipping frames, unwatchable?
Answer: HEVC file is a heavily compressed video (about double the compression ratio compared with AVC/H264) so that your computer needs to do far more work per frame to uncompress file data. In other words, HEVC video decoding and playback is much more processor intensive than others like H264. If your system is too old to support hardware HEVC/H265 decoding, your computer CPU processor doesn't provide fast enough speed to decode HEVC and your intel memory (RAM) is too small (e.g., only 2GB), then you are in high likelihood to meet the HEVC video choppy playback or stuttering problem. Hence, the simple solution is to use a high-level computer to play HEVC, along with the latest operating system.
Question 4: Just wonder how to play hevc videos on my Xbox 360 and other devices?
Answer: Back in 2016, Windows 10 gets native support for High Efficiency Video Coding (HEVC), making it easier to deal with 4K media. But there are still a large number of popular media player services do not support HEVC, such as Chromecast, Apple TV, 3rd Roku, Xbox 360, etc. So how to play H.264/HEVC videos smoothly? Here 3 solutions are offered.
1. Free download H265/HEVC codec. HEVC codec will help to compress/decompress videos in HEVC and makes HEVC playback possible. Right now, there are many choices available, such as x265, DivX HEVC, K-Lite Mega codec park, etc.
2. Install HEVC player. There are many media player adding support for HEVC, such as VLC, 5Kplayer, Potplayer, etc mentioned above, which are built-in many codecs, including H.265, so that you can play various videos of any resolution or format.
3. Take advantages of HEVC decoder. Video decoder helps to decode video into a format recognized by your computers, media players, game consoles, mobiles and tablets. And an HEVC/H.265 decoder also helps to decode HEVC/H.265 videos playable on your wide-screen mobiles. Famous HEVC decoders include Handbrake, DumboFab Video Converter, etc, which work as both HEVC encoder and decoder to convert videos to/from H265 smoothly.