Home
>
Resource
>
DVD Ripping Tips
>
How to Use Handbrake to Rip DVDs
Posted by Chris Ellison - May 17, 2023 | Contact Author

How to Rip Protected DVDs with Handbrake on Windows & Mac
Summary: This is the complete guide on how to use Handbrake to rip DVDs, including how to install libdvdcss on Windows and Mac to help handbrake rip copy-protected DVDs. Also we share you some solutions to help fix Handbrake won't rip DVD errors.
You have got a shelf full of DVDs and the disks just sit there until they're needed but only found the movies are hard to find or even can't be read anymore. If you're in this situation, the best way againt DVD damage or for convenient management is converting DVD to digital. When it comes to ripping DVDs, Handbrake is often recommended to people who are looking for the best free open-source DVD ripper for Windows, Mac and Linux. Well, how to use Handbrake to rip DVDs? How to rip copy-protected DVDs with Handbrake on Mac and Windows? If you've no idea about these, you've come to the right place. Keep reading to find the the most comprehensive guide below.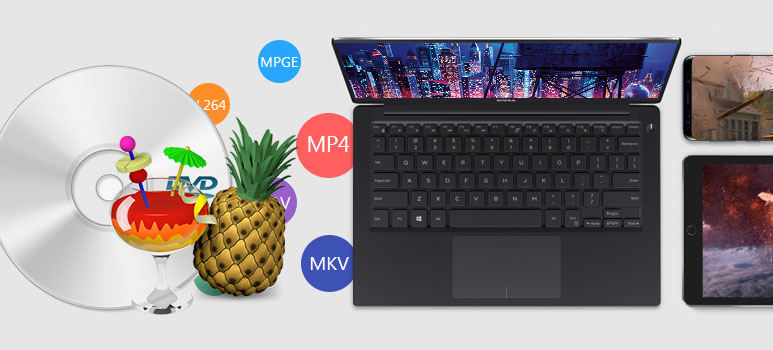 How to Rip Copy-Protected DVDs with Handbrake on PC/Mac
Step 1. Install Handbrake and libdvdcss - Preparation
Out of the box, Handbrake can rip any DVD that isn't copy protected…but almost all DVDs you purchase in the store are copy protected. And that's why an alert box with "HandBrake does not support the removal of copy-protection from DVD discs" will show up if it is a commercial DVD. Luckily, it's easy to get Handbrake deal with encrypted DVDs and rip them to your computer if you download and install the free DVD playback library called libdvdcss.
The process is a little different for Windows and Mac users, so we'll go through each one individually. Note that you don't have to do this every time you rip a DVD - once libdvdcss is installed, you can skip to Step One each time you rip a new disc.
How to Install libdvdcss on Mac
The security protocols on macOS prevent you from installing the library file using an installer. Thankfully, there is a very easy way to do it using Terminal and an add-on called Homebrew.
1. Open Terminal on the Mac.
2. Copy and paste the text below into the Terminal window and press Return
/usr/bin/ruby -e "$(curl -fsSL https://raw.githubusercontent.com/Homebrew/install/master/install)"
3. You will be prompted to click Return and type in your administrator password.
4. The process will also download and install some portions of Apple's Xcode developer software. Approve this when the pop-up prompts you to do so.
5. Once the process is complete and you see the normal prompt, copy and paste the code below into the Terminal window and press Return .
6. Once complete, close the Terminal window and you're ready to begin.
brew install libdvdcss
How to Install libdvdcss on Windows
Download the library file from here, then navigate to your downloads folder and copy and paste the file into your C:/Program Files/Handbrake directory. It should look like the image below.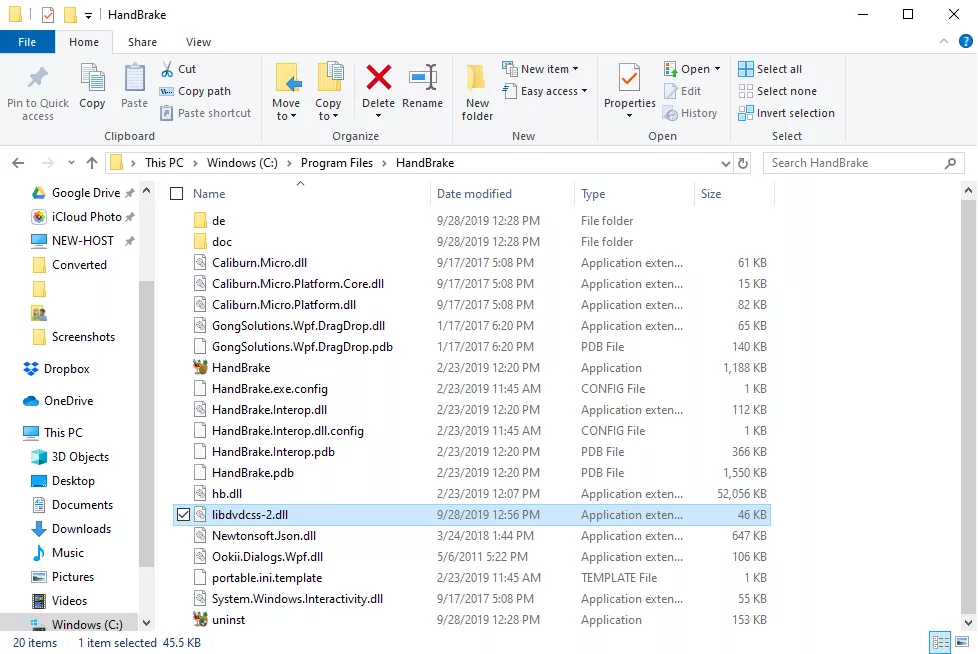 After this, Handbrake will be able to read your encrypted DVDs.
Note: The process for ripping a DVD on Windows and Mac is virtually the same. Here I will take the Windows process for example to show you how to decrypt and rip DVDs using Handbrake.
Step 2. Load the DVD you want to rip into HandBrake
Insert the DVD into the DVD drive on your computer. Open Handbrake and choose your DVD drive from the sidebar that appears.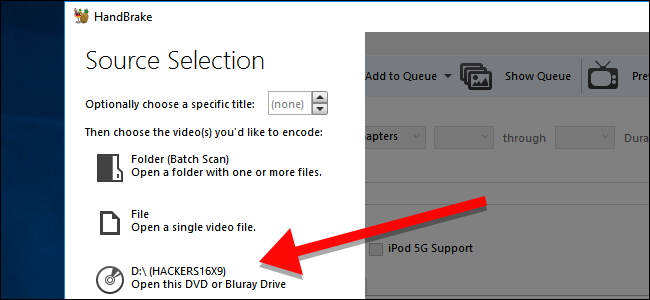 Handbrake will take a moment to scan the titles on your DVD. Wait until this process is finished. It should only take a moment. If libdvdcss wasn't installed incorrectly, you'll see an error saying that the disc can't be read here instead.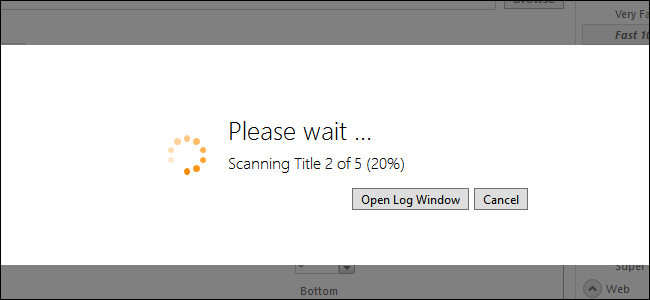 Step 3. Choose the DVD title and chapter you want to rip
HandBrake will select a title for you automatically, but you can click the Title drop-down menu to choose a different DVD title. All chapters of the selected title will be covered, but you can also specify it as needed.
Generally speaking, if it is a movie DVD, main movie part should be the one with the longest duration. But this rule doesn't apply to 99-title movie DVDs and HandBrake can't deal with such kind of disc. If it is a TV series DVD, simply select your favorite title/episode - each usually being 20 - 44 minutes. But in most cases we want to select all episodes to rip.
Well, how to select multiple titles in HandBrake?
After you select a title, choose a preset, and then you can click the drop-down arrow of Add to Queue. There're three options: Add Current, Add All and Add Selection.

● When you click Add Current, HandBrake will add currently selected title to the queue.
● When you click Add All, HandBrake will add all DVD titles to the queue simultaneously.
● When you choose Add Selection, HandBrake will pop up a window where you can specify which titles to add to queue.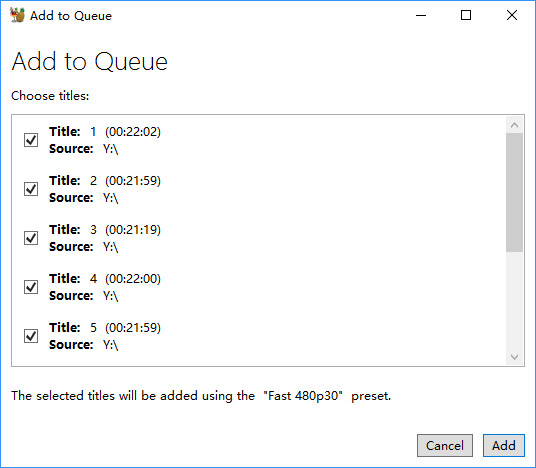 So that's how to rip multiple titles off DVD or copy several/all episodes of TV show DVD.
Step 4. Select an output format to rip DVD with Handbrake
Handbrake allows users to rip DVD to MP4, MKV and WebM format. Besides that, it offers dozens of output presets, grouped under General (1080p, 720p, 576p, 480p), Web (Gmail, YouTube, Vimeo, Discord), Devices (Android, Apple, Chromecast, Playstation, Amazon Fire, Roku, Xbox), Matroska (H.264, H.265, VP8, VP9), and Production. You can choose any one at will, or add personalized preset by clicking Save New Preset.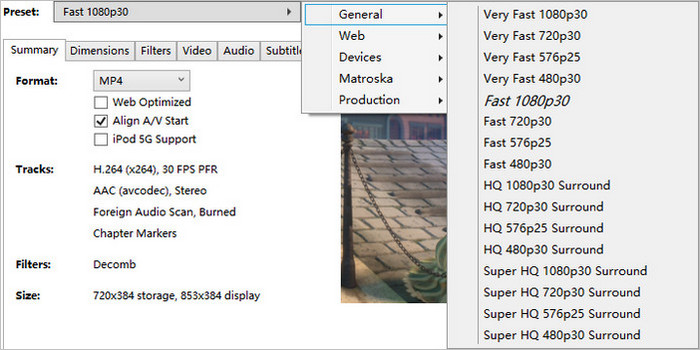 When choosing a preset, don't choose 720p and 1080p presets for DVDs. The resolution for PAL DVD is 720 x 576 (576p), while the resolution for NTSC DVD is 720 x 480 (480p). Choosing a larger preset won't make the output look better but bigger.
One more thing, "Fast" and "Very Fast" presets will sacrifice some output quality, while "HQ" and "Super HQ" presets will slow the DVD ripping speed and increase output file size.
Besides container format and preset, HandBrake also allows you to select subtitle, specify audio track, tweak video parameters like codec and framerate, set quality, and do so much more. But if you know little about those features, just keep the default settings untouched.
Step 5. Specify the destination to save your DVD rip file
Navigate to Save As section and then click Browse to choose the location for storing the resulting file. HandBrake allows you to rip DVD to computer hard drive or external storage devices.

Step 6. Start to rip DVD with Handbrake
If you have nothing to modify, simply click Start Encode button at the top menu bar to start ripping video/audio from DVD with HandBrake.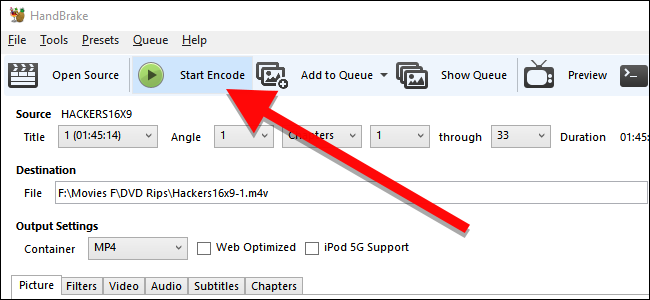 You'll see a progress bar along the bottom that will let you know how much time you have left in the rip. Higher quality rips will take longer, so you'll want to let your computer run for a while.
Why HandBrake won't Rip DVDs? How to Fix It?
There is no more DVD decryption feature built-in Handbrake since version 0.9.3. But you can still rip some protected discs to MP4, MKV, or WebM, if with VLC libdvdcss installed. However, Even with libdvdcss installed, various problems may occur when we use HandBrake to rip DVDs. Common issues like "No valid source or titles found", "HandBrake only rip part of DVD" "HandBrake distorted video when ripping DVD on Windows 10", etc. may come from time to time.
Why Handbrake won't rip your DVDs? In fact, here are several reasons to consider. The DVD may be damaged or dirty and there is a bad sector that result in Handbrake won't rip DVD errors. High CPU usage, unsupported subtitles, and wrong Handbrake settings may also cause Handbrake not ripping DVDs. However, the most common reason is that Handbrake cannot handle the copy protection in your DVD. Before finding an alternative to Handbrake, first check and try:
● Check if your DVD is damaged, outdated, or otherwise unplayable.
● Disable any third-party software in the background when ripping DVDs with Handbrake to avoid high CPU usage.
● If you're using an old computer, try the Handbrake hardware encoder for the DVD ripping.
● Under the Subtitles tab, disable subtitles and try again.
If Handbrake still won't rip DVDs after the above solutions, you can try an alternative tool. One of the best tools that specifically target encrypted DVDs is DumboFab DVD Ripper. You don't need to download libdvdcss or other additional tools to access copy-protected DVDs. It can handle this kind of protected DVDs on its own and can auto check the right DVD main title to rip.
● Support removing all DVD copy-protections including DVD CSS, region code, RCE, Sony ArccOS, UOPs, Disney X-project DRM, etc.;
● Easily rip (protected) DVD to MP4, AVI, WMV, MOV, H.264, MPEG, FLV, iPhone, iPad, Android, and 500+ preset profiles;
● Flexibily select the subtitle/audio tracks, add subtitles, crop, trim, and edit the ripped video;
● Make 1:1 DVD copy to Video_TS Folder or single VOB file, back up full title, main title, rip and convert as you need;
● Finish DVD ripping at ultra-fast speed with support for Intel/NVIDIA hardware acceleration, multi-core CPU, and Hyper-threading tech.
How to Fix Handbrake Not Ripping DVD Errors with this Handbrake alternative
Step 1: Input the DVD disc to DVD-ROM. Launch DumboFab DVD Ripper and click the Load DVD button to import the original DVDs you want to put into Plex.
Step 2: From "Fomrat" drop-down list, you can select the output video format for the ripping DVD movie. Numerous video/audio formats and 400+ optimized device profiles are provided.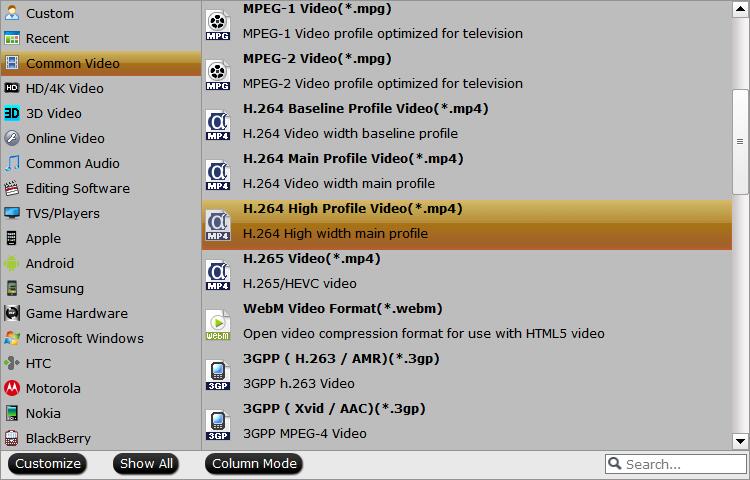 Step 3: Click "Browse" to set a destination folder to store the ripped DVD movie video, and hit "Convert" button to start converting DVD to digital copy at a superfast speed with best Handbrake alternative.