Home
>
Resource
>
DVD Ripping Tips
>
Rip a Copy-Protected DVD on Windows 11/10/8/7
Posted by Chris Ellison - Oct 17, 2022 | Contact Author

Best 4 Ways to Rip a Copyright Protected DVD on Windows 11/10
Nowadays many DVD owners are fond of digitizing and ripping their DVD collection for personal backup or for more convenient playback. As most DVDs you purchased from stores are armed with one or more copy protection schemes, you'll need a third-party utility that can remove the copy protection that prevent straight-up copying. Fortunately, there are many programs on the market that can help you get the job done. In this article you will find 4 popular ways to rip copy protected DVDs to MP4, MKV, MOV, Video_TS folder and other formats for saving to computer, USB flash drive, external hard drive, mobile and anywhere you like.
General Knowledge About DVD Copy Protections
DVD copy protection is an umbrella term for a variety of different copy protection methods for DVDs. It refers to methods that are applied on DVDs for preventing DVDs from being copied, duplicated, or even played back on some devices. Now almost all DVD movies and TV shows are restricted with DVD region codes, Content Scramble System (CSS), etc. Movie DVDs are commonly protected with Analog Protection System (APS), Sony ARccOS Protection, Playlist Obfuscation and DVD Disc Corruption. And there also comes with Burst Cutting Area, DVD-Cops, ProtectDISC Software, ProtectDISC Video, DRMs and more copy protections.
These encryption measures are purposedly applied to stop piracy, but they prevent moviegoers from ripping copy-protected DVDs for personal use. As a result, a professional DVD ripper is required to bypass DVD copy protection schemes.
Way 1. How to Rip Any Protected DVD with DumboFab DVD Ripper
If you're interested in backing up your DVD collection and don't want to be held back by copright protections, time restrictions and slow processing, DumboFab DVD Ripper will be your best choice. It can cope with any commercial DVDs protected by region code, CSS, Disney 99 titles, corrupt sector, fake title, or any other encryption measures on Windows 11/10/8/7 and Mac (macOS Monterey or lower).
Designed with more than 450 output profiles, DumboFab DVD Ripper can rip copy protected DVDs to MP4(HEVC, H.264), AVI, MOV, MPEG, WMV, MP3, MOV, iPhone, iPad, Apple TV, Samsung, Xbox, PSP, etc. You can also make 1:1 DVD Copy to DVD Folder or Single VOB file losslessly and keep 100% original videos/audios/subtitles within only 5 mins.
Overall, DumboFab DVD Ripper is skilled in removing copy protections, and making discs region free. With it, you can easily and fast extract the content out of a DVD and save it in any popular video formats which can be saved to external hard drive HDD, SSD, USB, NAS, thumb drive, Cloud, media servers and the like for easier access and streaming anywhere you want.
Click the download button to free download DumboFab DVD Ripper to have a try! Then, install it and follow the guide below to rip protected DVDs.
Step 1. Load the copy-protected DVD.
Insert the DVD into your computer's DVD drive or an external DVD drive. Launch DumboFab DVD Ripper, click the "Load DVD" button, then this program will begin loading and analyzing the DVD info, and will auto check the right DVD main title to save you a lot of trouble. You can also import the DVD folder and DVD ISO image from your computer hard drive.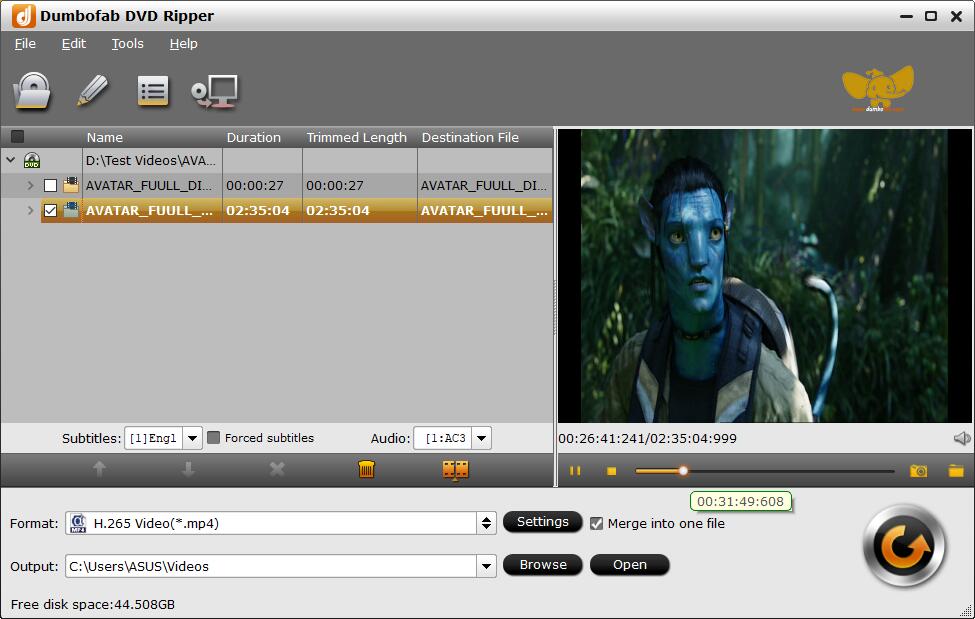 Step 2. Select the output format.
In the pop-up output profile window, you can see all popular formats devices divided into various categories. You can choose any digital video format based on your own needs.
Which is the best format for ripping protected DVDs?
● To save protected DVDs on the computer, you can backup DVD disc to MP4, AVI, WMV, MKV (Windows 11/10 already supported);
● To play DVD movies on on Apple TV/iPhone/iPad/Mac and other Apple devices, choose to digitize DVD to MP4, MOV, M4V, or corresponding device profile;
● To watch DVDs on Android/Xbox/PS4, convert DVD to MP4, H.264, 3GP, WebM, MKV;
● To copy protected DVDs to hard drive or storage medium with all intact DVD videos/audios/subtitles, copy DVD to VIDEO_TS folder or a single VOB file;
● To convert protected DVD to digital copy freely for Windows Media Player or other Windows-oriented platforms, you can select AVI or MP4;
● To have the perfect balance between size and quality, select H.264 MP4.
The most commonly-used DVD movie digital format is MP4, owing to its wide compatibility, good compression and excellent quality. So here we take ripping protected DVD to MP4 as an example. Click under the directory: Common Video - H.264 High Profile Video(*.mp4).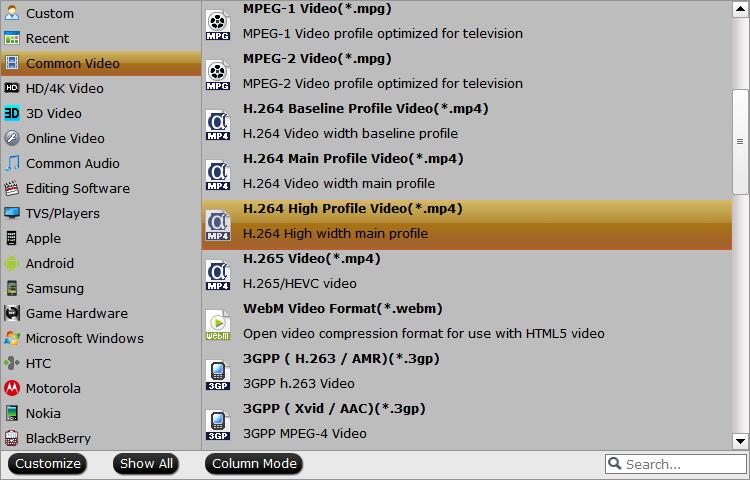 Step 3. Start ripping protected DVD.
Click "Browse" to set a folder to store the digital copy extracted from the protected DVD, click "Convert" button to begin digitizing, ripping or copying the protected DVD. The hardware acceleration will speed up the digitizing and finish the task in minutes (its fast speed is the ideal choice for digitizing a large DVD library).
Tips: Before converting protected DVD to digital files, you can click "Settings" button to adjust the video/audio settings, for instance, adjust output file bit rate, aspect ratio, frame rate, sample rate, etc.. You can also click "Edit" to add subtitles, adjust the volume, crop & expand the video to remove black bars, trim the video to rip episode from DVD if the TV series are combined into a single file.
Way 2. Rip Copy-protected DVD Free with Handbrake
HandBrake is a free open-source video transcoder for Windows, Mac, and Linux. It can not only transcode videos, but also convert DVD and Bluray discs and files to MP4, MKV, and WebM. Handbrake can't handle DVD copy protection schemes on its own. But with a help of a third-party program libdvdcss, we can use Handbrake to rip some encrypted DVDs.
Note that even with the help of libdvdcss, HandBrake is still unable to handle all copyright DVDs because libdvdcss is designed to access and unscramble DVDs encrypted with the Content Scramble System (CSS) only. For some strictly encrypted DVDs like Disney DVDs, you'll need a powerful alternative like DumboFab DVD Ripper.
If you insit on ripping protected DVDs using Handbrake, you can follow the steps below.
Step 1. Get Handbrake.
Download and install HandBrake on your computer.
Step 2. Install libdvdcss for HandBrake.
Download libdvdcss.dll 32-bit/64-bit version through the VLC website. Next, you need to move the libdvdcss.dll into the installation folder of HandBrake. This is a prerequisite to rip protected DVD.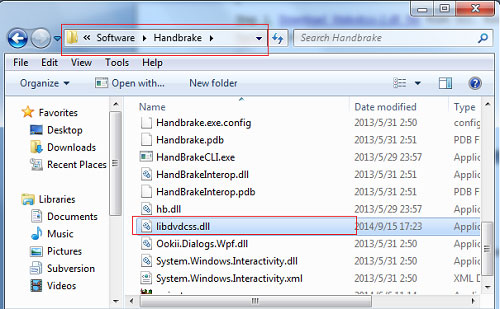 On Mac OS X Yosemite or older, you can download the libdvdcss package file and double click it to install. But if you use Mac OS X El Capitan or later, you need to install libdvdcss via Homebrew.
1. Open Terminal window and enter command line ruby -e "$(curl -fsSL https://raw.githubusercontent.com/Homebrew/install/master/install)" to install Homebrew. Then, you are required to enter Admin password to install Homebrew.
2. After you finish Homebrew installation, run the command brew install libdvdcss in Terminal window. Moments later, the libdvdcss will be installed on El Capitan or later.
With libdvdcss installed, HandBrake now can rip DVD with CSS copy protection.
Step 3. Load your protected DVD.
Open Handbrake, load the DVD from the Source Selection. It will take some time to scan the DVD titles. If the DVD has 99 titles or is protected with RCE, Disney X-project DRM or Sony ARccOS, you are likely to get an error message like "No valid source or titles found". In this case, I'm afraid that you'll have to resort to other professional DVD decrypters for help.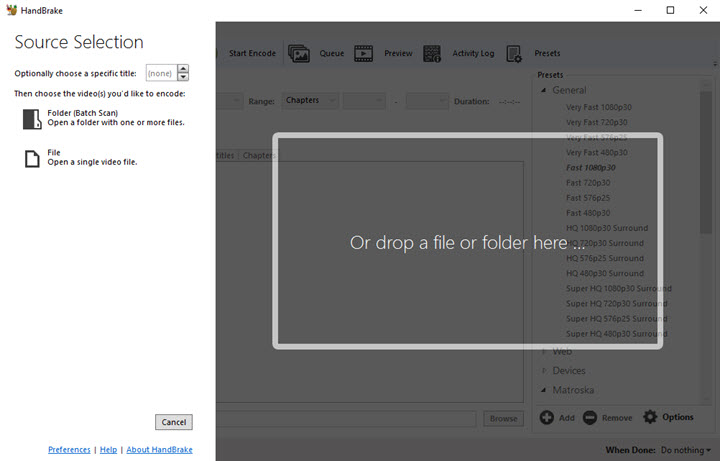 Step 4. Specify DVD title and choose the output.
Choose a title that you want to rip. Change the Destination if you like. Choose a profile under Output Settings, or under Presets on the right.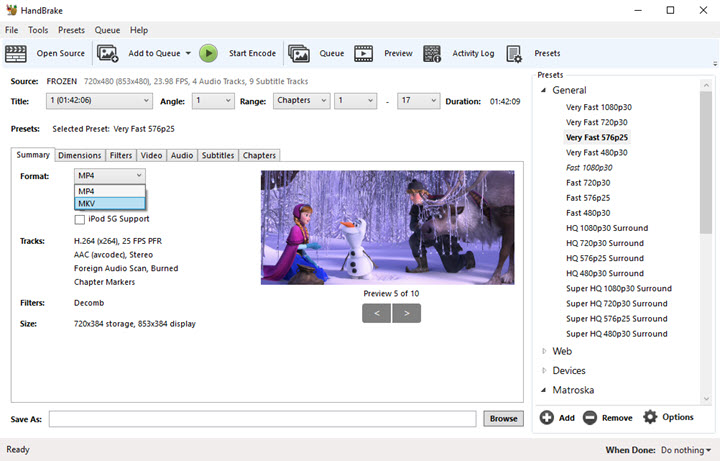 Step 5. Try to rip the protected DVD.
After finishing all the necessary settings provided by HandBrake, you are good to go. Hit Start Encode on the upper part and try your luck. On most occasions, it can rip DVDs successfully. But if HandBrake won't rip your DVD, you should go for another method mentioned in this article!
Way 3. Rip Protected DVDs to MKV with MakeMKV
MakeMKV is the first choice of many users when it comes to extracting MKV from a protected DVD without quality loss. This tool is specially designed to convert Blu-ray and DVD disc to MKV format. It will preserver all video and audio tracks, chapters information, and all meta information. It works fast because it doesn't transcode video, just extract. Of course the disadvantage is that it will export a super large MKV file. Moreover, MakeMKV cannot all DVD copy protection schemes.
Now let's download MakeMKV and learn how to rip a copyrighted DVD free with MakeMKV.
Step 1. Donwload and install MakeMKV on your Windows, Mac or Linux computer.
Step 2. Insert target copy-protected DVD in your optical drive. Open MakeMKV, when MakeMKV detects your DVD, click the Open DVD disk button to let MakeMKV access your DVD.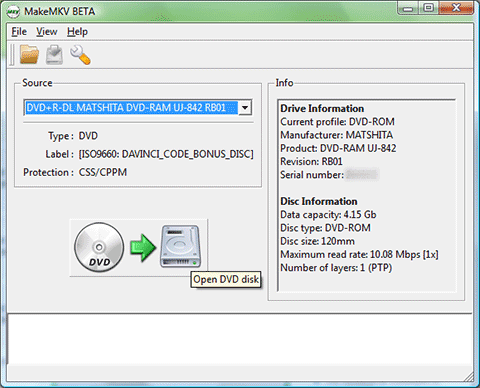 Step 3. When you see a tree structure with your titles, video tracks, audios, and subtitles, just choose which titles or tracks you want to convert.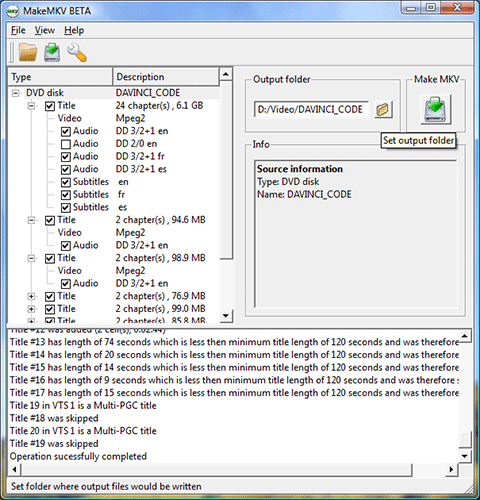 Step 4. Click Set output folder button to specify where you want to save the digital copy.
Step 5. Click the Make MKV button to begin converting protected DVD to MKV. You can see the progress, the elapsed time, and remaining time.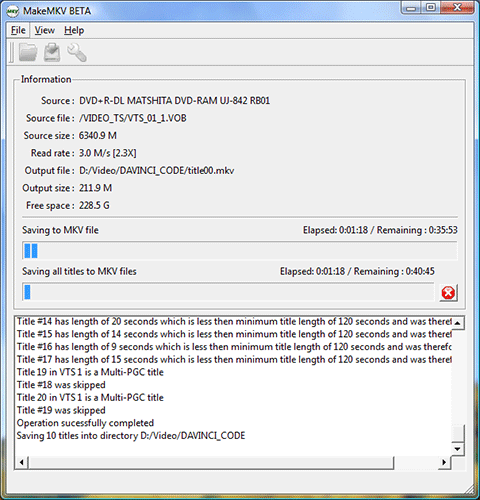 Way 4. Rip A Copy-Protected DVD Free with VLC
In spite of its name, VLC is not just a media player. It has a remarkably long list of features including media playback, online streaming, and DVD digitization. It can convert some encrypted DVD discs to a dozen of formats. The disadvantage is that it takes as long as the movie length to finish ripping DVD. If you don't mind this, just follow the steps below to use VLC to rip protected DVDs for a try.
For a detailed guide, you can refer to "How to use VLC to convert DVD to MP4 on Windows/Mac" to learn more.
Step 1. Download and install VLC if you don't have this tool on your computer. Then, open it.
Step 2. Click Media and then select Convert/Save.
Step 3. Click Disc tab and choose disc device, title, chapter, audio, and subtitle track. Then hit Convert/Save.
Step 4. Choose profile.
Step 5. Click Browse to specify destination file.
Step 6. Hit Start to begin converting your protected DVDs with VLC.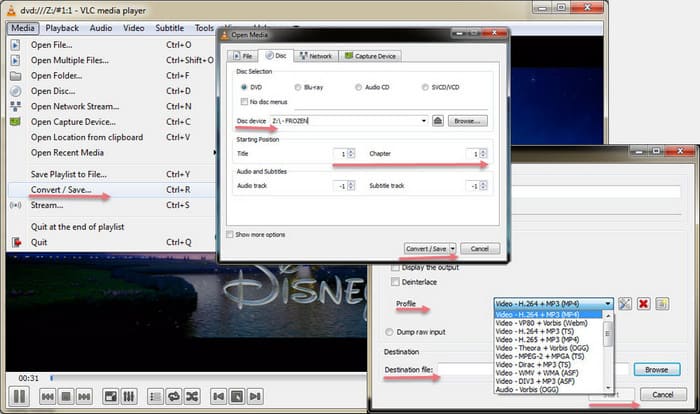 Frequently Asked Questions about Ripping Protected DVDs
1. Can Handbrake rip copy-protected DVDs?
Yes or No. HandBrake can't handle copy-protected DVDs on its own. You need to install libdvdcss to help HandBrake recognize encrypted discs. Even with libdvdcss, you can only use Handbrake unscramble DVDs encrypted with the Content Scramble System (CSS) only.
2. How to determine if a DVD is copy-protected?
Almost all store-bought DVDs are protected with DRM (Digital Rights Management). Some copy-protected DVDs have a symbol in a red circle with a red diagonal line through it and the text THIS DVD IS COPY PROTECTED.
And some discs don't say in plain text that it is encrypted. Some programs will tell you that your DVD is copy-protected when try to make a copy of it. And some don't give you a prompt but just give some strange errors or unplayable output. If you fail to replicate a DVD with HandBrake or something else, then it is probably due to copy protection.
3. Is it legal to rip a protected DVD for personal use?
Ripping DVD with copyright is still considered as illegal in the United States and some other areas. But there are groups working to make it legal to copy protected DVDs purchased legally for personal use. Will you be sued for copying protected DVDs? No. All the copy process happens on your local computer. As long as you don't use the copy otherwise, you are safe.
4. Will Nero rip copy-protected DVDs?
No. Although Nero can copy (burn) a DVD to another DVD, it does not rip a DVD, let alone ripping a copy-protected DVD.
5. Can VLC rip copy-protected DVDs?
Yes, partially. Although it mainly works as a media player, it can rip DVDs, including some copy-protected discs, to digital files. But if VLC can't rip the entire DVD, delivers a resulting file with audio missing, or encounters other technical issues, there may be a kind of copy protection mechanism that VLC cannot handle.