Home
>
DVD Ripping Tips
>
2021 Best DVD Ripper for Windows 11/10
Posted by Chris Ellison - Apr 18, 2023 | Contact Author

[Updated 2023] Best 5 DVD Rippers for Windows 11/10 (Free & Paid)
Summary: Here we've reviewed the top 5 free and paid DVD rippers for Windows 11/10 of 2023. They can help you rip DVD to MP4, MOV, M4V, MKV, etc so that you can play DVD on disc-less Windows PCs, Android,, iPhone, iPad, and other mobile devices on the go.
A DVD Ripper is a software application which is used to rip the content of a copyrighted or protected DVD onto a hard disk, or rip it to any video formats. Here in this article we are going to discuss about the top 5 DVD ripper software (including free and paid) available on the market. Have a look at together.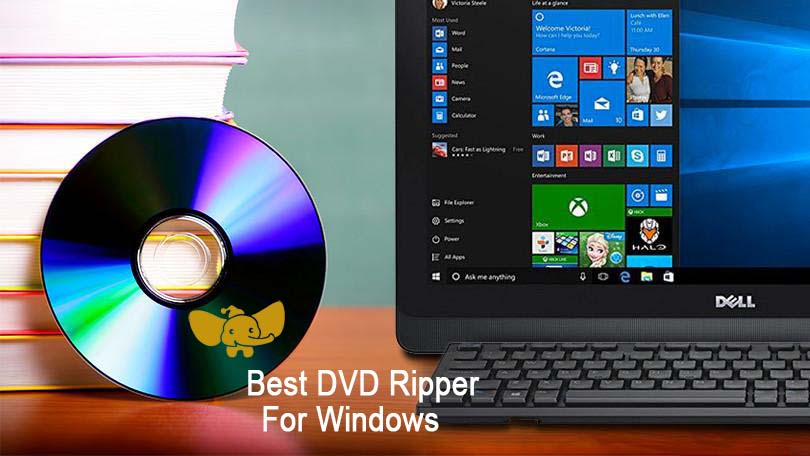 Part 1: What will we benefit from ripping DVDs?
As fun as it might be to build a collection of your favorite movies on DVD, these collections can also be inconvenient to haul around. Not to mention, some DVDs might not last forever. One solution is to rip your DVDs into digital files that you can edit or simply access and play without having to rely on the discs. There are a host of DVD ripping tools available that can help you in this endeavor, some free and some paid. And this is what we will mainly talk about in this article. But before that, let's see some great reasons why ripping DVDs is attractive.
1. Protects old and classic DVDs against kids' scratches, disc rot, damages, etc.
2. Costs less - DVD ripping/digitizing costs less than buying again. You save time by not having to search online for your titles (if available), and wait for them to finish downloading!
3. De-Clutter Clear your shelves, cupboards, and sideboards of discs. As soon as you're digital, you room will be more tidy and more space.
4. Convenience If you copy DVDs to a hard drive you will win a chance to manage your movie library by genre or year.
5. DRM free Multi-brand device viewing becomes possible. You may be loyal to one brand now, but what about tomorrow? Or perhaps your home is already multi-branded.
...
Of course, there are many more reasons why we need a DVD ripper software to extract all data from a DVD and save them to our computer hard drive for backup or convert it to another file format for playback on mobile devices.
Part 2: What makes a good DVD ripper software
Choosing a DVD ripper for Windows 10 should be easier and faster now as there are so many choices for you in the market no matter free or premium. But the fact is, without a set standard, we are still at sea picking an ideal DVD ripper for Windows 10 for daily use. There are lots of free and paid tools out there that allow you to rip and convert DVDs, as well as edit the resulting files, but they vary greatly in terms of performance, features, and price. When deciding on the best DVD ripper for Windows (Windows 10 included), we looked for tools that met most of the following criteria.
Pros:

• Access all commercial DVDs
• The compatibility with different types of DVD
• Output high-quality video and sound, basically losslessly
• Large selection of output formats and conversion choices
• Advanced customization tools
• Reasonably priced
• Instant tech support
Is it legal to rip DVDs? You can certainly legally rip your own personal videos, but what about commercial, copyrighted, copy-protected videos? Ripping such DVDs with the purpose of reselling or sharing the copies with other people is illegal and definitely discouraged. Ripping copy-protected DVDs for personal use to back them up or view them on your PC or mobile device is still technically illegal, at least in the United States, as you're bypassing the copy protection. But the feds aren't likely to come knocking on your door if you restrict the copies to your own personal use. Now, let's check out some best Windows-based DVD rippers in 2020.
Part 3: The 5 best DVD rippers for Windows 11/10 (Free and Paid)
Here's our list of the best DVD rippers for Windows:
1. DumboFab DVD Ripper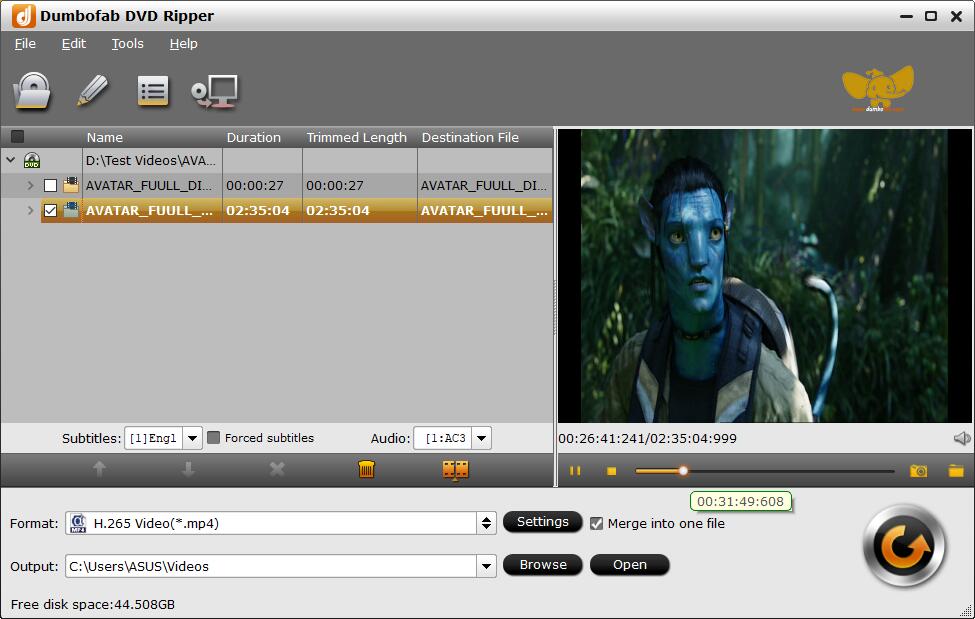 DumboFab DVD Ripper is a piece of professional DVD ripping software for Windows 11/10/8/7 and later. It will easily rip any protected DVDs, old and new titles, homemade/burned discs, other DVDs. With 350+ built-in formats and devices, you can convert DVDs to PC, Windows/Android tablets and phones, media players, etc specific video audio formats with beset quality, like H.265, H.264 MP4, MOV, MPEG, WMV, FLV, MP3, etc.
With the embedded DVD decryption technology, this DVD ripper is able to remove DVD copy protection like CSS, Region Code, Sony ARccOS, Disney X-Project, and more on Windows 11/10. New decryption technologies will be updated continuously for new released DVDs.
There really isn't much more to it, and DumboFab DVD Ripper is one of the best DVD ripping programs for this reason. The advanced NVIDIA CUDA, AMD APP and Intel Quick Sync GPU accelerating technology guarantee the 6X quicker DVD ripping process compared to other DVD ripping software on the market. Moreover, you can rip a feature-length DVD movie to MP4 (H.264) in 5 minutes at 300-500 FPS.
Besides ripping DVD to video files, this top-ranked DVD Ripper for Windows 10 also offers enough freedom for all movie lovers like you to back up your favorite DVD movies in a personalized way. You can backup the whole content of your DVD disc or just copy main movie without extras. Either of the two backup methods can help you backup your DVD movies in less than 5 minutes! Moreover, you can use the DVD ripping tool to do simple editing the DVD content. Various customer support channels are available.
Pros:

+ Very fast rips
+ Various output formats
+ Easy-to-use application
+ No annoying ads
+ Contains an editor
+ Excellent customer service

Cons:

- Although the interface is easy to understand, it need to be improved.
2. Handbrake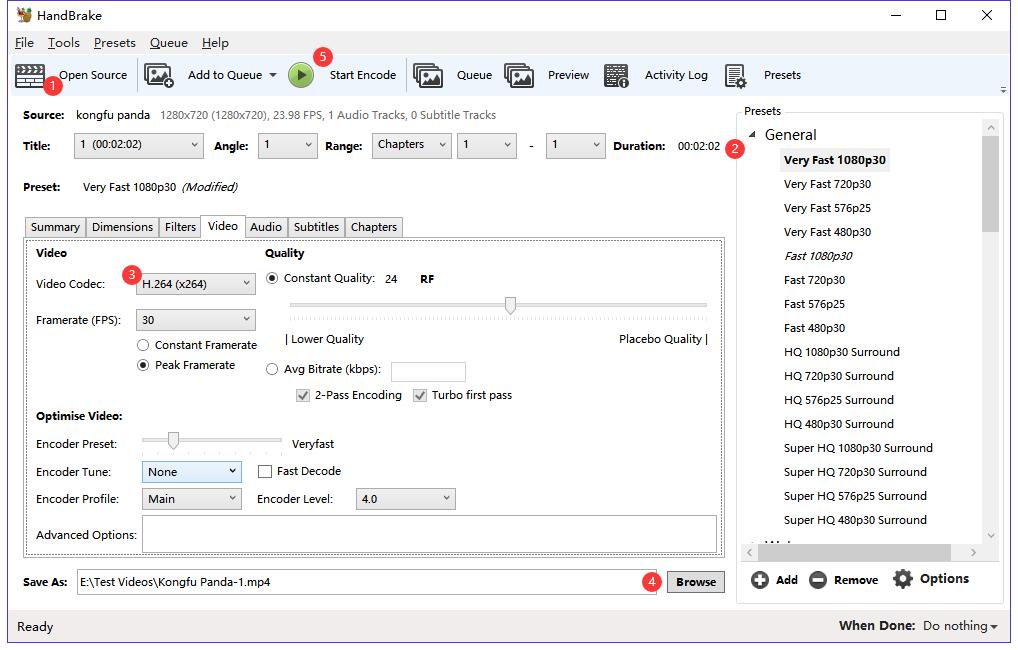 Handbrake is a top free option in DVD ripping. It is a powerful video transcoding application that can also rip unprotected DVDs. If you know what you're doing, you can use Handbrake to de-interlace, sharpen, rotate, add subtitles, remove subtitles, down-mix audio tracks, add chapter markers, fiddle with framerates, and just about anything else you can think of. Its comprehensive video quality controls allow you to manage compression so that you hit a target file size, while a vast number of presets mean you can tailor your video file for any number of devices, as well as saving your own.
Handbrake can rip your personal, unprotected videos. By itself, it can't rip commercial videos, as it doesn't support the removal of copy protection. There is a way around that, though. Search the web for a file called libdvdcss-2.dll. You should be able to find it at a few different websites, such as the VideoLAN download index. VideoLAN offers the excellent VLC Media Player software. The libdvdcss-2.dll can decrypt DVDs encrypted with a type of copy protection called Content Scramble System (CSS). For the detailed steps, you can refer to our article "How to rip protected DVD with Handbrake".
Pros:

+ Support a large number of output formats.
+ Full features to use for advanced computer users.
+ Support batch conversion and chapter markers.

Cons:

- Not easy to use
- Sophisticated for newbies in many detailed parts.
3. MakeMKV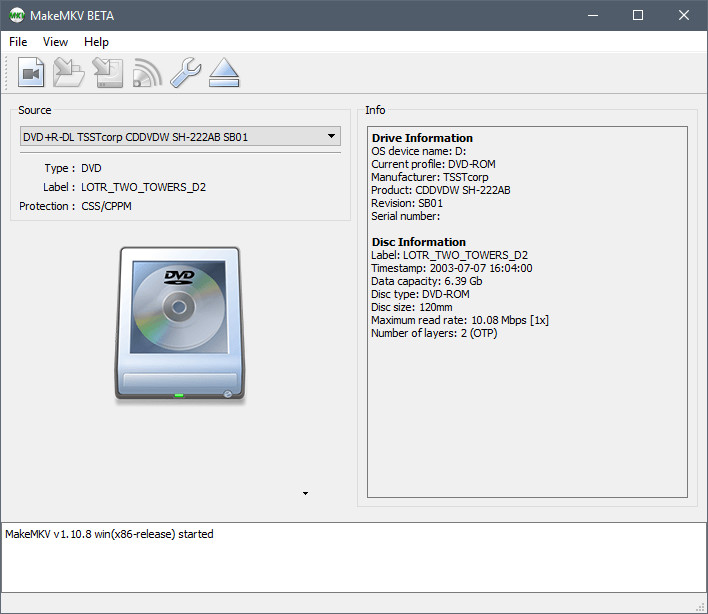 MakeMKV is good free DVD ripper software for Windows. It rips both Blu-ray and DVD to MKV, and can cope with DVD copy protection AACS. Common functions like preserving chapters information and track languages are included. Sadly, you can tell from its name that this free DVD ripping tool will only allow you to output an MKV file.
Another thing you need to know is that MakeMKV doesn't compress video while ripping, so your output will be a very large file. You need to use an extra video compressor to reduce file size if you have limited storage space.
Pros:

+ Simple to use
+ Rips DVDs

Cons:

- Not easy to use
- Lack of personalization in editing and clipping.
- Overall process is slow
- Lacks compression
4. Aimersoft DVD Ripper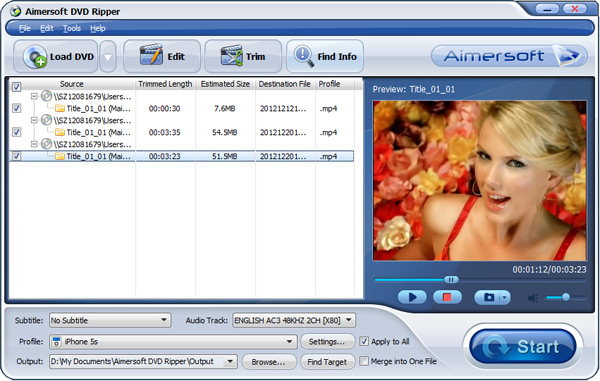 Aimersoft provides a modern, intuitive interface that's ideal for beginners. While it's on the pricier side, it does provide very high-quality output and fast DVD file conversion. As with most of these converters, you get what you pay for.
That being said, the selection of editing tools don't match up to the offerings of some competitors. Features include dozens of video formats (including MP4, AVI, MOV, MPEG), up to 4K resolution, and more than 125 preset profiles. Aimersoft is also available for Windows.
As with most paid options, you won't have to deal with ads, upsells, or prompts to install additional software.
Pros:

+ Lots of preset profiles
+ Great quality video
+ Beginner-friendly
+ Excellent speeds

Cons:

- Price is quite high
- Free version isn't really usable
5. VLC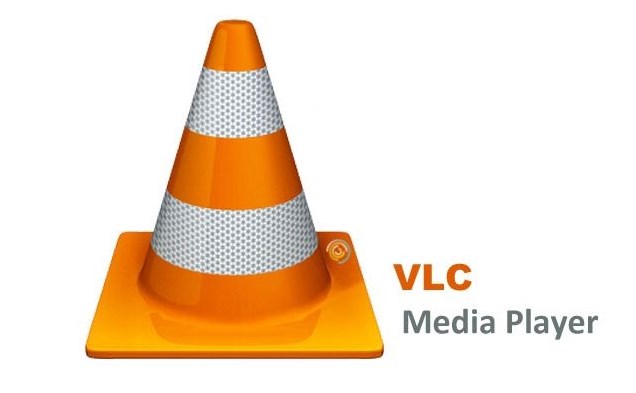 VLC Media Player is among the popularly used players as it is portable and works on all types of platforms. This open-source player supports an array of video and audio formats and compression methods. The player also works as a decent DVD ripper for Windows 10 and allows converting DVD to MP4 format. 
For your Windows 10 PC, VLC works as a decent disc ripping tool as it facilitates converting DVD contents into for MP4 format. Once converted, the files can be played on a wide range of devices and players without any need for a DVD player.
Pros:

+ Freeware
+ Rip and play DVD and videos

Cons:

- Rip non-copy protected DVD only
Final Words:
We've evaluated the best five feature-packed DVD ripping program based on functionalities and features that each software owns. Of course, which DVD ripper utility you employ to rip and convert DVD movies on Windows PC is mostly determined by your actual needs, the platform of your machine and basically your budget. And we put emphasis on best Windows 11/10 DVD rippers of 2023, for DVD encryption tech keeps changing and only software constantly updating as well as fast DVD ripping speed could really meet users' needs.