Home
>
Resources
>
What is MP4 format? Understand the definition of MP4 video
Posted by Jason Eatock - Nov. 06, 2020 | Contact Author

What is MP4? How to Play or Convert MP4 Video on Computer?
When you download or capture video files, often times the files will have .mp4 extensions. As a matter of fact, it seems that MP4 is the dominant file type where ever you look. In this article, we will talk about what they are and how you can use them on your computer.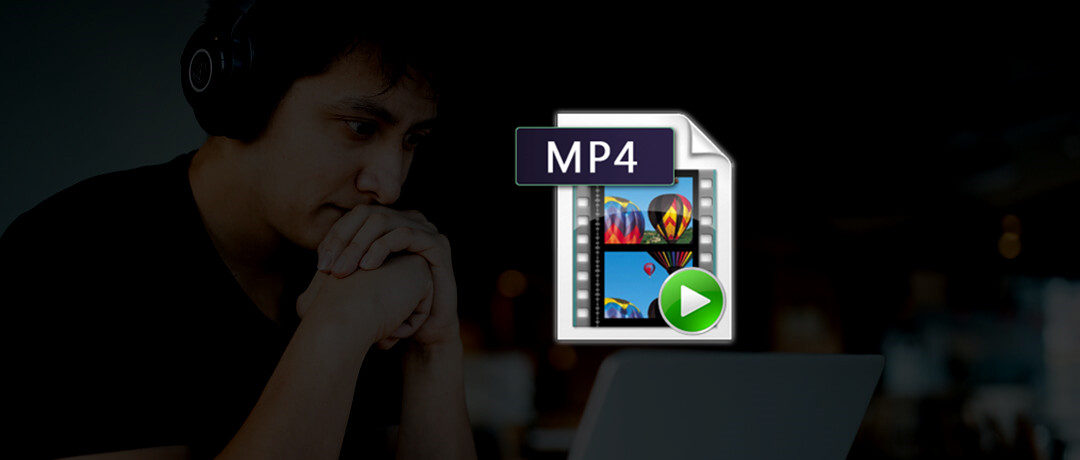 What is An MP4 File
A file with the .mp4 file extension is an MPEG-4 video file format. MP4s are one of the more common video file formats used for downloading and streaming videos from the internet. It's a highly versatile and compressed video format that also can store audio, subtitles, and still images.
MP4 files were created under the ISO/IEC 14496-12:2001 standard by the ISO/IEC and Motion Picture Experts Group (MPEG). Because of this, MP4 is an international standard for audio-visual coding.
Initially created in 2001, MPEG-4 Part 12 was based on the QuickTime File Format (.MOV). The current version—MPEG-4 Part 14—was released in 2003. MP4 is considered a digital multimedia container format—essentially a file containing a bunch of data that's been compressed, The standard specifies how the data is stored within the container itself, but not how that data is encoded.
With the high degree of compression(H.264, H.265) used in MP4 videos, this allows the files to be much smaller in size than other video formats. Reducing the file size doesn't immediately impact the quality of the file, either. Almost all of the original quality is retained. This makes MP4 a portable and web-friendly video format.
What file formats does MP4 support?
MP4 is a container format that can store video, audio and other data. So, what formats does MP4 support?
Video formats: H.264/MPEG-4 AVC, MPEG-4(A)SP, MPEG-1, MPEG-2, H.265/HEVC, VC-1/WMV, Real Video, Theora, Microsoft MPEG4 V2, VP8, VP9, MVC
Audio formats: MP3, AAC, WMA, Opus, AC-3, DTS, LPCM, ALAC, DTS-HD
Caption/subtitle formats: MPEG-4 Timed Text
How to Play MP4 Files
Because MP4 is a standardized file format for video, almost all video players support MP4. To open a file, all you have to do is double-click your video, and it will open with your operating system's default video viewer. Android and iPhone natively support playback of MP4 as well—just tap the file, and you'll be watching your video in no time.
Windows and macOS users can play MP4 files without having to install any third-party software. Windows uses Windows Media Player by default; in macOS, they're played using QuickTime.
In fact, MP4 has the widest range of compatibility with devices and programs. It is based on QuickTime file format, but quickly becomes more popular than QuickTime format and others like AVI, WMV and MKV, because of its unique features. Currently, MP4 is natively accepted by computers, tablets, phones, game consoles, TVs and more devices manufactured by Apple, Microsoft, Samsung, HTC, Google, Huawei, Amazon, Lenovo and other brands. Besides, it is widely accepted by various media players, video editing software, and broadly used over the web. In stark contrast, other formats are supported by extremely limited devices and programs. For example, MKV, WebM, and 3GP are recognized by certain Android devices, but won't be played on Apple devices directly.
There is no other format that can equal the compatibility of MP4. This is why the average monthly searches for DVD to MP4 are up to 12,100, far higher than those for DVD to AVI (6,600), DVD to WMV (140), DVD to MOV (140), DVD to MKV (4,400), etc. And we'll see such kind of imbalance when comparing video to MP4 conversion with video to others, and MP4 download with other type of video download.
Advantages and Disadvantages of MP4
Below are the specific pros and uses of the format:
• One of the key advantages of the MP4 format is that it can be used on multiple platforms, thus making it easier to use and distribute.
• It has a high degree of compression while producing smaller file sizes, thereby making it ideal for video streaming or compressing high definition audio-video files.
• An MP4 file can contain metadata and Extensible Meta Data Platform, including subtitles, images based on JPEG standard or PNG format, among others, and PDF.
• Support for metadata means that the file can be integrated with 3D graphics, menus or user navigation options, and other user interaction features.
• There are a lot of open-source players such as VLC Media Player that provide complete support for this format. It is even used on Linux operating systems.
• It is also versatile. Files that only contain audio are coded with the m4a extension, and MPEG-4 visual bitstreams are encoded in the m4v extension.
The following are other drawbacks of the format:
• Audio can drift out of sync with the video in some cases because of issues with codecs or codec-player compatibility.
• Because a single file can contain audio and video, as well as different metadata, playback or editing can require a lot of computing resources.
• It is still a lossy format. A higher degree of compression and smaller file size would result in losses in audio and video quality.
• The popularity of MP4 format, coupled with its portability, has also enabled the illegal distribution of copyrighted audio-video files.
Why You Need to Convert MP4
While few, one of the downsides of using this format has to do with the process of editing these types of files. It is not infrequent for MP4 files that are imported to cause the video software to crash. Most NLEs, including Lightworks, now can handle MP4 files. But this may not always be the best path to take. MP4 with H.264, HEVC codecs were designed to deliver video and they are highly compressed formats. They weren't ever meant to capture or edit it.
Therefore, while the MP4 format may sit at the top of the list in a number of areas, it can hardly be referred to as the best video format for editing. You can work with Long-GOP (H.264, HEVC encoded MP4) video, if you stuff your computer with RAM and it has enough processing power, but this is always going to be second-best to working with a codec that is designed for editing.
To make your editing process simpler and less resource-intensive, you're recommended to transcode MP4 to Apple ProRes or DNxHD codecs. Once you've converted, your edits will fly. These codecs are so efficient that you can play multiple streams with a fraction of the effort you need for a single stream of H.264, H.265 - based MP4 video. As an example, on my Macbook Air, playing any HD Long-Gop clip will cause the fan to come on at full power within seconds, but with ProRes, I can play a clip - in much higher quality - with no sign of the fan.
Useful Tools You May Need to Convert MP4:
DumboFab Video Converter - An one-stop video processing software to handle MP4
• Accept all MP4 files with different encoded video/audio streams
• Convert MP4 to DNxHD, Apple ProRes, etc. high-quality codecs for smooth editing.
• Convert MP4 videos in 3 Steps without causing any quality loss
• Easy editing experience: cut, crop, merge, addd subtitles, effects...
Other Useful How-to Guides
This article shows you the details steps to convert DVD to MP4 for free with VLC on Mac (macOS Catalina) as well as Windows (Windows 10 included) system.
This post offers pictorial instructions to convert Blu-ray to MP4 for free with Handbrake, also a more efficient and fast Blu-ray to MP4 ripping method is introduced.