Home
>
Blu-ray Ripping Tips
>
Rip Blu-ray to MP4 Free with Handbrake
Posted by Jason Eatock - Nov. 02, 2020 | Contact Author

How to Convert Blu-ray to MP4 Free with Handbrake on PC/Mac
You have a couple of your favorite movies on Blu-ray discs on hand and you want to carry them with you for a train journey. Here comes the problem, there is not enough space in your suitcase, which is crammed with your clothes, toiletries and travelling license etc. Then what can you do for that? To make your Blu-ray movies compatible with all types of media players and devices, the best solution is to convet Blu-ray to MP4. Having your files in digital format after Blu-ray to MP4 conversion not only prevents them from physical damage but also facilitates them playing anywhere, anytime. To handle all your queries on how to convert Blu-ray to MP4, we have shortlisted the best two methods.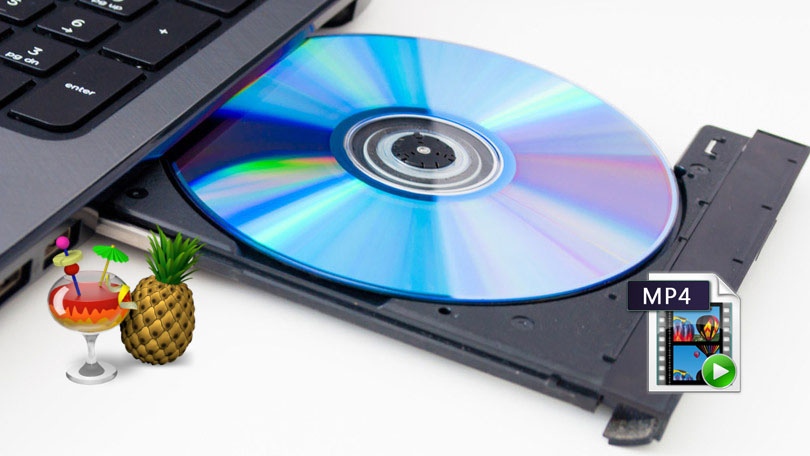 ※ Note: Handbrake cannot handle Blu-ray discs with copy protection. I've tried a couple of times and found it's quite oblivious that Handbrake does not support protected Blu-ray ripping and it always gives you problems in ripping. However, when it comes to unprotected or home-made Blu-ray ripping with Handbrake, it is OK to do so. This is simply because Handbrake can convert the Blu-ray video, aka, M2TS file. To rip any copy protected Blu-ray freely, you need a more powerful alternative.
Click the links below to jump to the part you are most interested in.
Part 1: Tutorial - Convert Blu-ray to MP4 Free with Handbrake
HandBrake is a well-known free and open-source transcoder that available for Linux, MacOS and Windows users. Currently, Handbrake can rip protected DVD with some help from third-party software like VLC. When it comes to the Blu-ray discs, Handbrake converts neither encrypted physical Blu-ray Disc nor decrypted commercial Blu-ray movies in BDMV file structure. That means you can also use Handbrake to convert unprotected Blu-rays to MP4 videos or smartphones, tablets, smart TVs, etc. with customized settings.
To rip unprotected Blu-ray to MP4 using Handbrake, the first thing you actually need is an external Blu-ray drive. Then download the latest version of HandBrake (1.3.3) from its official website, install and run it on your computer. The process of ripping Blu-ray with Handbrake on Windows and Mac is almost the same. Here we take the Windows process for an example.
Step 1: Insert your Blu-ray disc into BD drive that have connected to your PC. And the run Handbrake and choose your Bluray drive from the sidebar that appears. Handbrake will take a moment to scan the titles on your Blu-ray. Wait until this process is finished. It should only take a moment.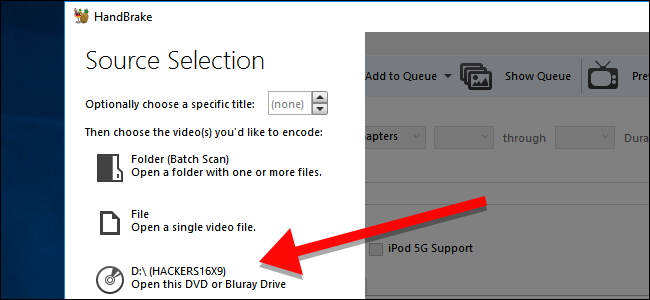 Once your Blu-ray is open, head to the Title dropdown box and choose which title you want to rip. By default, Handbrake will choose the movie, but if you want to rip any special features or deleted scenes, you can change the target you want to rip here. You can also change which chapters you want to rip, if you only want part of the movie.
Step 2: Choose Your Quality Preset.
Next, you'll need to decide the quality of your output file. The higher quality the movie, the more space it will take on your hard drive. If you're technical, you can use the Picture, Video, and Audio tabs to adjust these settings, but most people only need to click one thing: a Preset.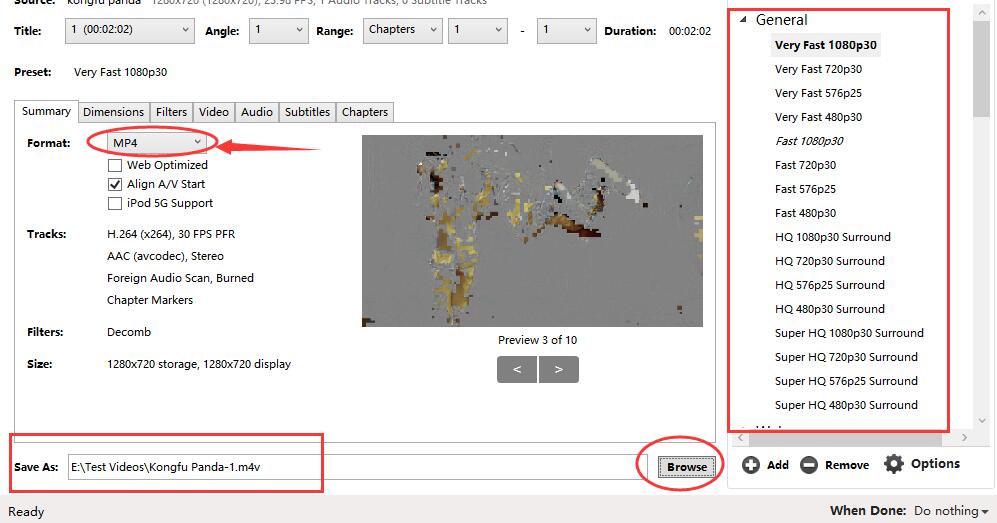 Along the right side of the Handbrake window, you'll see a selection of Presets (if you don't see it, drag the corner of Handbrake's window and expand it until you do). There are presets for nearly anything you could need: Apple TV, Android phones, PlayStation, and lots more. If you're watching on your computer, use one of the "General" presets - "Fast" and "Very Fast" will be low quality but small in size, while "HQ" and "Super HQ" will have higher quality but take up more space.
The default output format is MP4, so for ripping Blu-ray to MP4 free with Handbrake, you don't need to change the container format in the Summary Tab.
Under the Preset window, you can change the desination of the output file by Click Browse.
Step 2: Once you've chosen your Title and Preset, click Start Encode at the top of the window to start converting Blu-ray to MP4 for free using Handbrake. Then, grab a snack. You'll see a progress bar along the bottom that will let you know how much time you have left in the rip. Higher quality rips will take longer, so you'll want to let your computer run for a while.
Note: If you really want to use Handbrake to decrypt the Blu-Ray discs with copy protections, you'll need to add intermediate step. The software you'll need is called MakeMKV. Basically what it does is decrypt the Blu-Ray file into a GIANT MKV file (as large as 41 GB or so), which you can then use in Handbrake as a source as other video files, and then set the MP4 as the output format.
However, combining the steps eliminates the true advantage; by making YOU wait for the encode to conclude before changing disks. If you are ripping a single disk at a session, yes, there is an advantage to linking MakeMKV and handbrake directly. As soon as you add a second disk to rip, though, your time spent on the ripping process increases. MakeMKV can rip disks as fast as your drive can read, and you can queue the resulting MKV files in handbrake just as quickly. My recent experience with ripping the entire Star Trek TV franchise BD sets, which had over 170 disks, was spread out over a few days, a couple hours at a time, while handbrake worked non-stop on compressing the episodes for over a week.
Part 2: Best Way - Rip Any (Copy-Protected) Blu-ray to MP4
The fact is that almost all the Blu-ray discs that your purchased are copy-protected. Therefore you're recommended to get a professional Blu-ray ripping tool to complete the Blu-ray to MP4 conversion. If you're interested in backing up your Blu-ray or DVD collection and don't want to be held back by time restrictions or slow processing, DumboFab Blu-ray Ripper will be your best choice.
It isn't free, but you get a lot for you money, and can even handle all Blu-ray/DVD discs that are encrypted, region-locked or unplayable. It can create videos files for playback on virtually any device too, with handy preset profiles so you can watch your favorite movies on a phone or tablet.
DumboFab Blu-ray Ripper - Batch convert Blu-ray to MP4 without Quality Loss
• Digitalize new and old Blu-rays to any popular format at your choice
• Convert Blu-ray to MP4 to prevent accidental disc scratch and damage
• 1:1 full disc copy or directly copy main movie from your Blu-rays
• Auto detect correct title (main movie)
• Super fast seed thanks to its full support of hardware acceleration
Follow the steps below to convert Blu-ray to MP4 or other format/codec without damaging video quality.
Step 1: Insert your Blu-ray discs into your BD dirve and then launch DumboFab Blu-ray Ripper. Click Load disc button to load the source Blu-ray movie.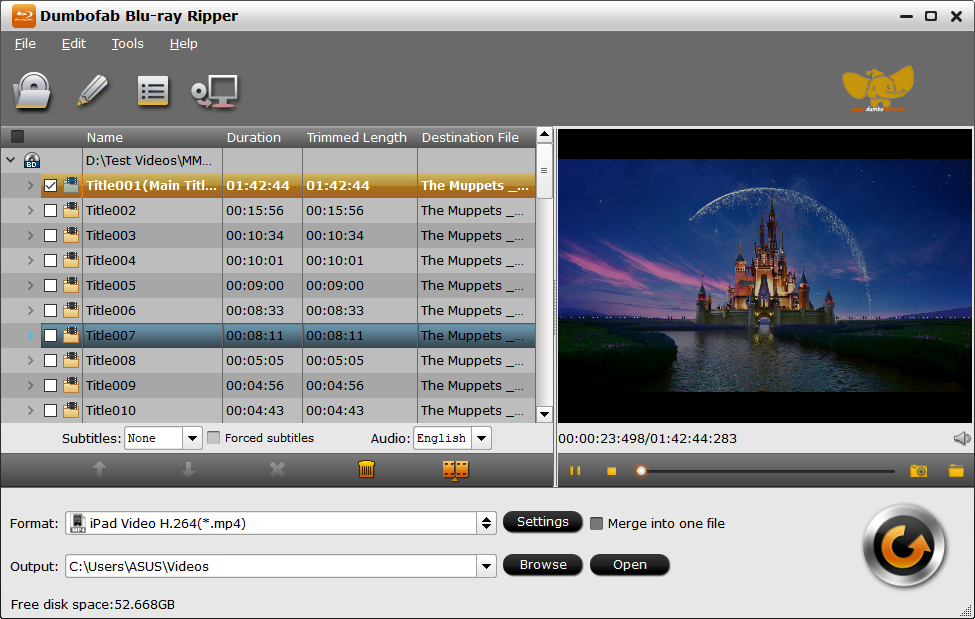 Step 2: In the Format window, choose H.264 MP4 or H.265 MP4 from Common Video category. Or you can ignore the video format, and select the device profile according to your device model.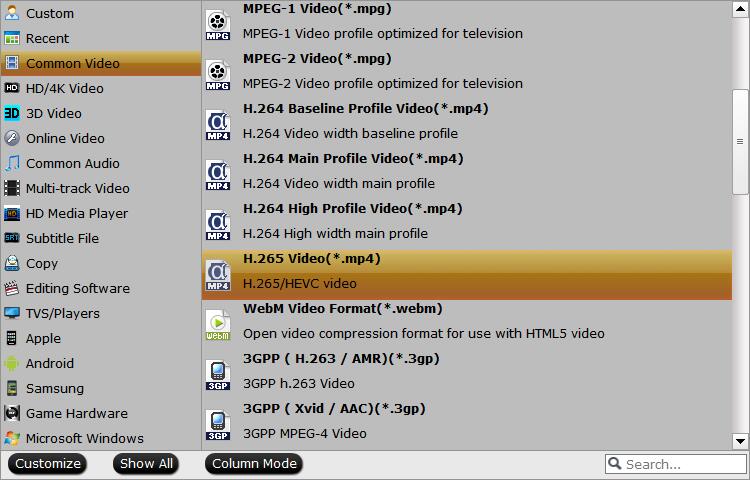 If you want to convert Blu-ray to MP4 with multiple audio tracks and chapter makers, you're recommended to select Multi-track MP4 from Multi-track Video category.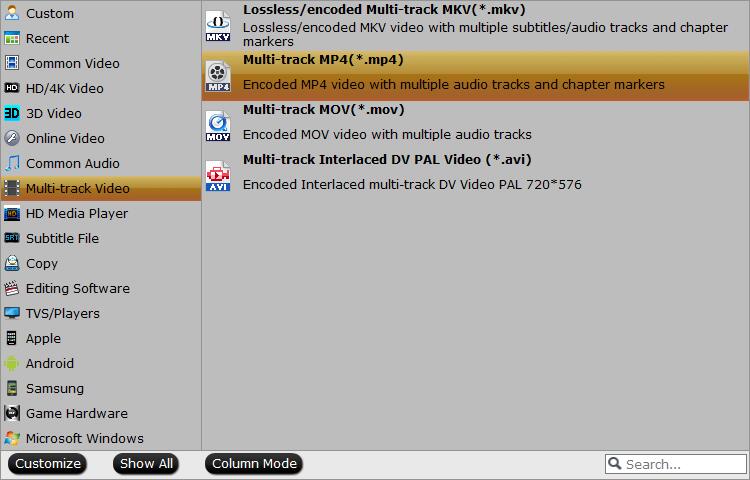 Step 3: Hit Convert button to start converting Blu-ray to MP4 videos.
Disclaimer: DumboFab Blu-ray Ripper software does not advocate ripping copy-protected Blu-rays or DVDs for any commercial purpose and suggests referring to the Blu-ray and DVD copyright laws in your countries before doing so.
Final Words:
Equipped with leading Blu-ray/DVD decryption algorithm, DumboFab Blu-ray Ripper is an intuitive and insanely fast BD/DVD copying and converting tool. It can convert video clips from proprietary encrypted Blu-ray/DVD discs to into MKV files with multiple video/audio tracks with all meta-information and preserve chapters. Additionally DumboFab Blu-ray Ripper can rip BD/DVD to MP4 and MOV with multiple audio streams. What's more, it can convert BD/DVD from hard discs to virtually any popular video and audio format so that you can freely watch movies on with your favorite player or your favorite devices. All in all, DumboFab Blu-ray Ripper is the best choice to backup, rip and convert BD/DVD discs that you own into free and patents-unencumbered format that can be played everywhere..