Home
>
Blu-ray Ripping Tips
>
Rip Blu-ray to MKV Losslessly
Posted by Jason Eatock - May 24, 2021 | Contact Author

Rip Blu-ray to MKV with Chapters, Menus, Audio, and Subtitle Tracks
For the same reason you want to back up DVDs, the physical Blu-ray discs are also easy to get scratched, broken or lost. When you convert a Blu-ray to digital format, you may want to keep all the content of the Blu-ray if possible. And among the container formats, MKV is the format that will contain all the video, audio, subtitle tracks, chapters, and menus of a Blu-ray without quality loss. Moreover, MKV provides better compatibility than some other formats like ISO image or Blu-ray BDMV folder. If you're looking for ways to transcode a Blu-ray to MKV and don't want to lose video quality, you've come to the right place. In this post, we will show you top 2 ways to rip Blu-ray to MKV without re-encoding.
Part 1. Reasons for ripping Blu-ray to MKV
1. Blu-ray to MKV backup can Reserve All Blu-ray Content
If you have ever encoded Blu-ray movies into MP4, AVI, or MPEG format, and been slightly frustrated with the loss of Blu-ray extra elements, then you can switch to MKV as the Blu-ray backup format. MKV is able to contain all detailed chapter information, sub-chapters, titles, multiple audio and video streams, subtitles, attachments and custom metadata.
2. MKV Container Is as Universal as MP4 with High Quality
Since MKV supports any type of video/audio tracks and subtitles inside, and is quite efficient for storage and streaming, it's widely used on video transmitting. Usually, common Blu-ray rippers can help rip a 20-50 GB Blu-ray movie to a digital file in hundreds of MB, but you will get much quality loss. Only some seasoned Blu-ray to MKV backup tools balance well on video file size and Blu-ray ripping speed.
3. Ripping Blu-ray will Remove Blu-ray Copy Protections
Blu-ray disc is equipped with a variety of protections to prevent Blu-ray content from illegal use. The most popular encryption techs include AACS, BD+, ROM-Mark, MKB, region code, etc. Blu-ray rippers can help you free your Blu-ray movies from copy protections and regional settings.
Part 2. How to Backup and Convert Blu-ray to Lossless MKV with DumboFab Blu-ray Ripper
DumboFab Blu-ray Ripper does a very good job in backing up and transcoding Blu-ray and DVD collection, including your copy-protected discs with lightning speed. With it, you can easily convert a full Blu-ray into a lossless MKV file within 5 minutes. The MKV file can store all original subtitle and audio tracks (incl. HD audio) and preserve the chapter structure of the source movie, so you may select your wanted chapters to play with your media players at will. Check more features below.
● Backup & rip Blu-ray to MKV video, M2TS and Blu-ray (BDMV) folder with original quality and super-fast speed;
● Convert Blu-ray to H.264, H.265, MP4, AVI, WMV, MOV, FLV, and 350+ output profiles;
● Flexibily select the subtitle/audio tracks, add subtitles, crop, trim, and edit the MKV video;
● Support almost all encryptions on new/old/tough/damaged Blu-ray and DVD discs;
● Adjust resolution, bit rate, codec, etc to produce result files with excellent quality & smaller size.
Free download DumboFab Blu-ray Ripper to rip Blu-ray to MKV without quality loss. You can also rip Blu-ray to MP4 and other digital formats.
After downloading and installing the Blu-ray ripper, just follow the steps below to rip Blu-ray to MKV. Here we take the Windows version for an example. The Mac version shares the same process. A Blu-ray drive is necessary for ripping Blu-ray discs.
Step 1. Open up DumboFab Blu-ray Ripper and add Blu-ray content.
Insert your Blu-ray discs into your BD dirve and then launch DumboFab Blu-ray Ripper. Click "Load disc" button to load the source Blu-ray movie.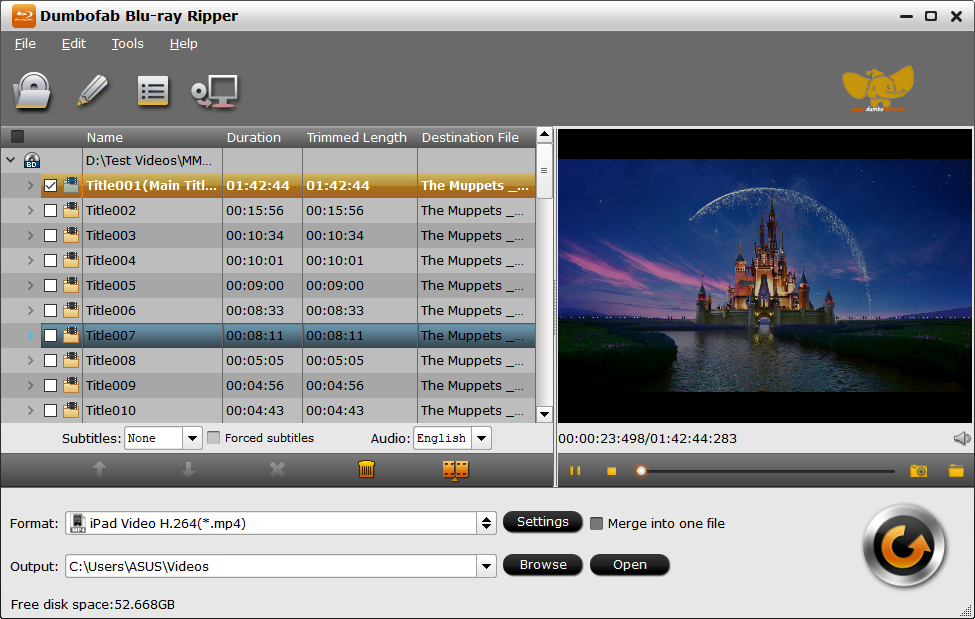 Step 2. Choose MKV as Target Format
Click "Format" bar, move mouse cursor to "Multi-track video" category and then select Lossless/encoded Multi-track MKV as the output format.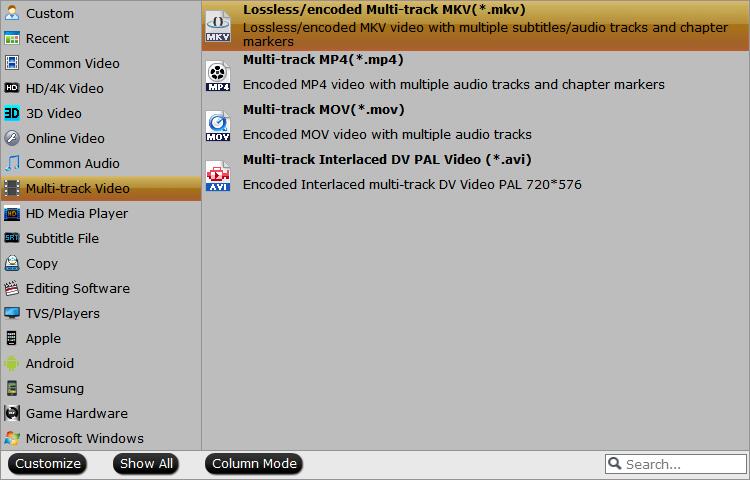 Tips: DumboFab Blu-ray Ripper transfers video from Blu-ray/DVD to MKV container in two ways, lossless output and encoded output. Both the two ways enable users to preserve wanted audio tracks and subtitles streams in the source movie.
Actually, all audio & subtitles tracks in a source file are checked to be saved in the MKV container by default, if there are some tracks you don't like, you can click Settings button and go to Multi-task Settings window to uncheck and remove them under Audio tab and Subtitle tab.
Step 3. Start Blu-ray to MKV ripping
Click "Browse" button to select a destination folder in the dialog box that opens, and click OK. If you do not have other advanced and personalized settings, just hit "Convert" to beging Blu-ray to MKV ripping with lossless quality. The rip will go from about 150fps to 350fps based on the computer you have (higher configuration, faster speed).
Part 3. How to Rip Blu-ray to MKV with MakeMKV
MakeMKV is the first choice of many users when it comes to extracting MKV from a Blu-ray without quality loss. This tool is specially designed to convert Blu-ray and DVD disc to MKV format. It will preserver all video and audio tracks, chapters information, and all meta information. It works fast because it doesn't transcode video, just extract. Of course the disadvantage is that it will export a super large MKV file.
Now you can download MakeMKV from its official site and learn how to covnert Blu-ray to MKV with MakeMKV.
Step 1. Insert target Blu-ray into your BD drive. Launch MakeMKV and click the Blu-ray to hard drive button to import the Blu-ray.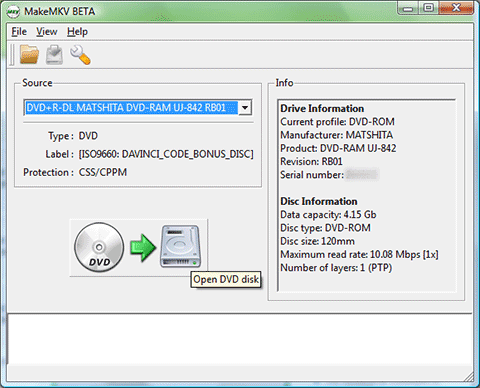 Step 2. Select the titles, audios, and subtitles you want to preserve.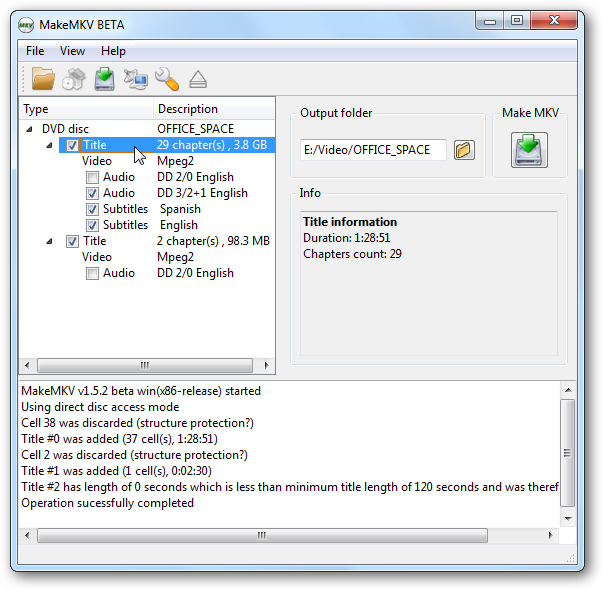 Step 3. Specify an output folder to store the resulting MKV file.
Step 4. Hit Make MKV button to begin ripping Blu-ray to MKV.
While ripping Blu-ray with MakeMKV, you may encounter errors like Blu-ray failed to open, backup option greyed out for Blu-ray, A/V out of sync, crashes, missing beginning, etc. This is because MakeMKV doesn't support some copy protections. In this case, you can give DumboFab Blu-ray Ripper a try. Among all the Blu-ray rippers, DumboFab Blu-ray Ripper is the strongest one to decrypt Blu-ray.
Part 4. DumboFab vs MakeMKV: What's the Differences?
The Similiar Features
Both MakeMKV and DumboFab Blu-ray Ripper can re-encode and remux Blu-ray and DVD to lossless/uncompressed MKV converter keeping all the audio and subtitle tracks, chapter markers. Many Blu-ray Rippers can convert Blu-ray and DVD to MKV but few of them can rip Blu-ray and DVD to multi-track MKV.
The Different Features
Different Input Sourse Support:
MakeMKV not only can rip Blu-ray and DVD, but also can transcode video to MKV.
DumboFab Blu-ray Ripper only can accept Blu-ray and DVD media files and convert, backup, remux them.
Different Output Support:
As its name shows, MakeMKV only can create MKV files from Blu-ray, DVD and video while one one hand, DumboFab can output multi-track MKV/MOV/AVI/MP4 and normal SD/HD MP4, MKV, WMV, FLV, TS and more; on the other hand, it also can output device presets such as iPhone, iPad, Samsung, Android, TV, AviD, etc.
More Editing Features in DumboFab:
DumboFab Blu-ray Ripper has many other video editing features while MakeMKV only can transcode video. With DumboFab, you can add external subtitles to Blu-ray and DVD, extract SRT subtitle from Blu-ray and DVD, remove/replace audio from Blu-ray and DVD video, split a whole Blu-ray and DVD video to several parts, trim Blu-ray and DVD video, merge two DVD video into a single file.
Comparison Chart between DumboFab Blu-ray Ripper and MakeMKV
DumboFab Blu-ray Ripper

MakeMKV

SUPPORTED SOURCE

Blu-ray Discs,Blu-ray Folder,Blu-ray ISO Image File

Yes

Yes

DVDs, DVD Folder, DVD IFO File, DVD ISO Image File

Yes

Yes

OUTPUT FORMATS

M3U8

Yes

No

3D MP4/MKV/MOV/AVI

Yes

No

H.265,H.264,DivX,XviD, MPEG-4

Yes

No

MP4, WebM, AVI,WMV,

Yes

No

M4V, F4V, MOV, FLV

Yes

No

3GP,VOB, TS, DV,

Yes

No

Lossless MKV: with multi-audio tracks/chapter markers

Yes

Yes

Encode MP4/MOV: with multi-audio track

Yes

No

MP3, AAC, FLAC,OGG

Yes

No

WAV, M4A, DTS, AMR,

Yes

No

OTHER FUNCTIONS

Add SRT subtitle.

Yes

No

Merge & Split Video

Yes

No

Trim & Crop Video

Yes

No

Adjust Video frame rate

Yes

No

Adjust Video codec, bitrate

Yes

No

Adjust Aspect Ratio

Yes

No

Adjust Audio codec, channel

Yes

No

NVIDIA HEVC Encode Acceleration

Yes

No

Extract SRT Subtitle

Yes

No

Price

$29.95

$50