Home
>
Blu-ray Ripping Tips
>
Convert Blu-ray Disc into Digital Files
Posted by Jason Eatock - July 2, 2023 | Contact Author

How to Convert Blu-rays to Digital Files with High Quality
The Blu-ray, especially UHD 4K Blu-ray, provides the best quality video and audio you can get in your home theater. But if you don't want to leave your Blu-rays idle to gather dust and become obsolete and would like to prolong Blu-ray lifespan, it's time to throw the physical discs away and embrace the digital trend. Turning physical Blu-ray disc into digital files can give a Blu-ray a second life. And after you convert Blu-ray to digital movie files like MP4, H.264, HEVC, etc. video, you can:
● Freely watch Blu-ray movies on iPhone, Android, PC/Mac, or upload digital Blu-ray copies to web or cloud services.
● Easily manage and access the MP4, MKV, movie videos on the hard drive anytime and anywhere without the hassle to bring piles of discs or disk drives.
● Get rid of Blu-ray won't play on PC problem due to faulty media player, different regions, wrong connection, TV settings, etc.
● Save a digital copy in case the discs are damaged or the disc drives are gone...
So, why not convert your Blu-ray collection to digital files to free your movie library from physical discs? If you're looking for ways to get the job done, you've come to the right place. Here we'll introduce top 2 Blu-ray to digital converter software that can convert commercial Blu-rays to high-quality digital copies for streaming, storing and playing with ease. Also we will introduce a popular Blu-ray to digital service if you don't want to digitize your Blu-ray collection on your own.
Way 1. Convert Blu-ray to Digital with DumboFab Blu-ray Ripper
If you're interested in digitizing your Blu-ray collection and don't want to be held back by copy protections, time restrictions and output formats limitations, DumboFab Blu-ray Ripper will be your best choice. It supports all Blu-ray encryptions, covering AACS, BD+, BD-J, Region Code, Cinavia, and other special encryption schemes. And it's contantly updated to support the newly-released Blu-rays.
This reliable Blu-ray to digital converter has the ability to convert Blu-rays to almost all digital video and audio formats, including but not limited to ripping Blu-ray to MP4, MOV, (multi-track) MKV, AVI, H.265, H.264, etc. If you don't know what settings to use to rip Blu-ray to digital video files for your devices, not to worry, as there are more than 200 pre-configured device profiles for iPad, iPhone, Apple TV, iTunes, iMovie, Android, game console, and more.
What's more, it also allows users to 1:1 clone Blu-ray to BDMV folder and a single M2TS file to make an exact digital copy of Blu-ray. It keeps menu, subtitles, audio tracks, and all Blu-ray data. You can also rip Blu-ray to a lossless MKV file with all or selectable audio and subtitle tracks.
Thanks to the multi-core CPU and hardware acceleration tech on Intel QSV, NVIDIA (CUDA) NVENC and AMD, it can result in about 5X faster conversion speed compared to other Blu-ray to digital conversion software. On an advanced computer, it needs 10 minutes only to convert a Blu-ray to an MP4 digital file.
Besides its conversion features, DumboFab Blu-ray Ripper also comes with a built-in video editor that allows users to crop, trim, merge, apply effects, add external subtitles and more. And you can flexibily select desired subtitle, audio tracks and adjust resolution, bitrate, codec, etc to produce optimal file size.
Now, you can free download DumboFab Blu-ray Ripper on your PC or Mac. Then follow the steps below to learn how to transfer a physical Blu-ray disc to a digital file format.
How to convert Blu-ray to digital with DumboFab Blu-ray Ripper?
Step 1. Load source Blu-ray.
Insert your Blu-ray discs into your BD dirve and then launch DumboFab Blu-ray Ripper. Click Load disc button to load the source Blu-ray movie. The Blu-ray to digital converter will fast scan your Blu-ray, bypass Blu-ray copy protection, and detect the correct main movie title for you. BDMV folder and ISO image are also well accepted.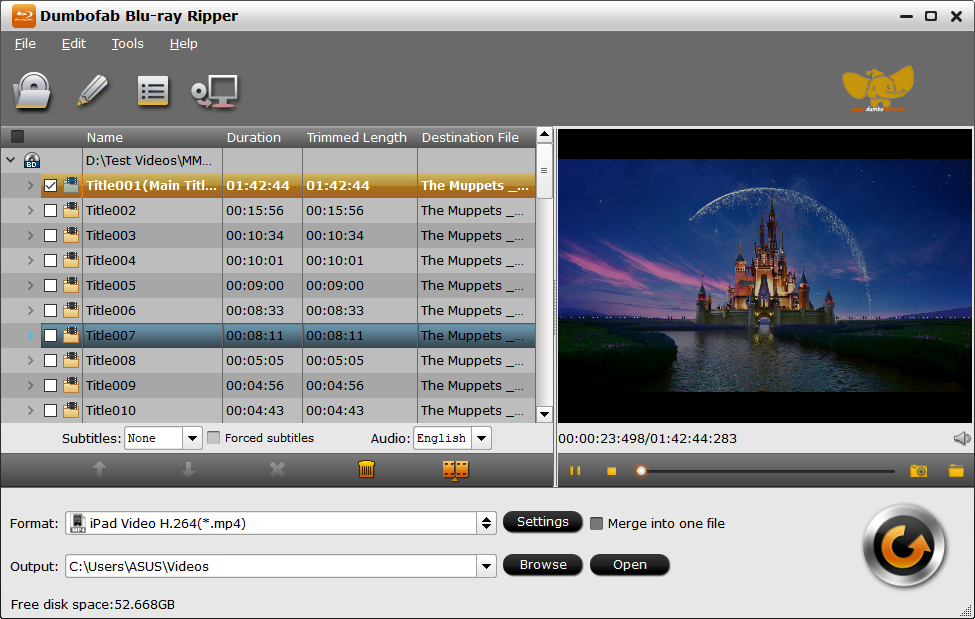 Step 2. Set the output digital video file format.
In the pop-up output profile window, you can see all popular formats devices divided into various categories.
Which is the best format for Blu-ray disc to digital?
● To save a digital copy of Blu-rays on the computer, you can backup Blu-ray disc to MP4, AVI, WMV, MKV (Windows 10 already supported);
● To play Blu-ray movie on Apple TV/iPhone/iPad/Mac and other Apple devices, choose to digitize Blu-ray to MP4, MOV, M4V;
● To watch Blu-rays on Android/Xbox/PS4, convert Blu-ray to MP4, H.264, 3GP, WebM, MKV;
● To copy Blu-ray to hard drive or storage medium with all intact Blu-ray videos/audios/subtitles, copy Blu-ray to MKV, BDMV folder or a single M2TS file.
The most commonly-used Blu-ray movie digital format is MP4, owing to its wide compatibility, good compression and excellent quality. So here we take Blu-ray to MP4 as an example. Click "Format" bar and move mouse cursor to "Common Video" category, then select one of the H.264 MP4 profiles as the output format.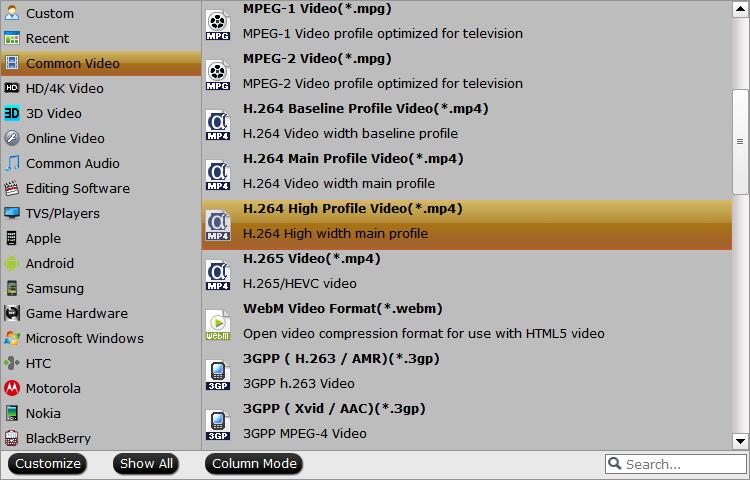 Step 3. Start the Blu-ray disc to digital conversion.
Click "Browse" to set a folder to store the converted files from DVD, and then hit "Convert" button to begin converting Blu-ray to MP4 digital copy.
Before creating a digital copy of Blu-ray movie, you can click the "Settings" icon to adjust the video/audio settings, for instance, adjust output file bit rate, aspect ratio, frame rate, sample rate, etc.. You can also click "Edit" to add subtitles, adjust the volume, crop & expand the video to remove black bars, trim the video to rip episode from Blu-ray if the TV series are combined into a single file.
Way 2. Convert Blu-ray to Digital Free with MakeMKV
When it comes to ripping Blu-ray, MakeMKV is the top choice for individuals seeking a free Blu-ray to digital converter tool on Windows, Mac and Linux. It can cope with Blu-rays protected with latest versions of AACS and BD+ and rip Blu-ray to MKV with all video and audio tracks, chapters information, and all meta information. It works fast because it doesn't transcode video, just extract.
But as its name indicates, MakeMKV can only export MKV files, which may not be suitable for users who require other formats. And, there is no compression, which means you'll get a high-quality but large-size digital copy. A lossless MKV file from a Blu-ray will take about 25-50GB. So make sure the hard drive on your computer has enough free space.
How to convert Blu-ray to digital with MakeMKV?
Step 1. Download and install MakeMKV from the official website.
Step 2. Insert the Blu-ray disc you want to rip into your computer's built-in Blu-ray drive or an external drive.
Step 3. Open MakeMKV and you should be able to find the Blu-ray disc under "Source". Select the disc and click the "Open Blu-ray disc" button to open it.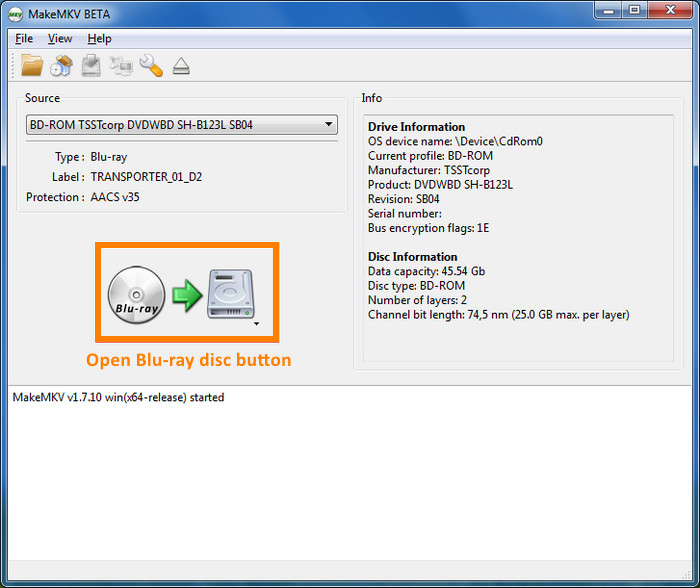 Step 4. When MakeMKV displays a list of the titles on the disc, you need to check the boxes next to the titles you want to rip as well as the audio and subtitle tracks you want to keep. Look for the longest title with the highest number of chapters, as this is usually the main feature.
Step 5. Select the "Set output folder" button to choose the destination folder where you want to save the ripped files.
Step 6. Click the "Make MKV" button to start the Blu-ray ripping and digitizing process. The time this Blu-ray ripper takes to rip the disc will depend on the speed of your Blu-ray drive and the size of the files you're ripping.
Once the ripping process is complete, you'll have a folder with the ripped files in the destination folder you selected earlier. The files will be in MKV format, which can be played back on most media players.
That's it! You should now have a digital copy of your Blu-ray disc that you can play on your computer or transfer to other devices.
Way 3. Convert Blu-ray to Digital with VUDU's disc to digital service
VUDU's disc to digital service is best for users who have a small collection of Blu-rays and want to convert Blu-rays to digital files without Blu-ray drive. With this service, you can get digital copies of your Blu-rays and DVDs simply by scanning the barcodes on your discs and watch them on any VUDU-enabled device.
Vudu To Go, the in-home service of Disc to Digital, isn't supported after December 31, 2019. But you can still use In Mobile Disc to Digital which can help scan discs on your phone and tablet. Please be noted that not all discs are eligible for Disc to Digital conversion. You can search for title availability at https://www.vudu.com/content/in_mobile_disc_to_digital.html.
Disc to digital services are not a good choice for those who would like to digitize large Blu-ray collection. If you want to create high-quality disc to digital copy without extra fee each time, full control on the output video, and freedom to use the digital copies anywhere, you're recommended to get a Blu-ray to digital converter software like DumboFab Blu-ray Ripper.
How to convert Blu-ray to digital on Android/iPhone with VUDU disc to digital service?
Step 1. Visit vudu.com/disc on your Android or iPhone, scroll down and tap the Convert Disc button.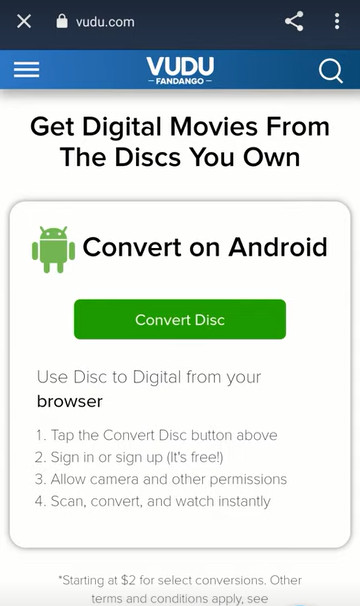 Step 2. Sign up if you don't have an account. And then, sign in.
Step 3. Allow app permissions.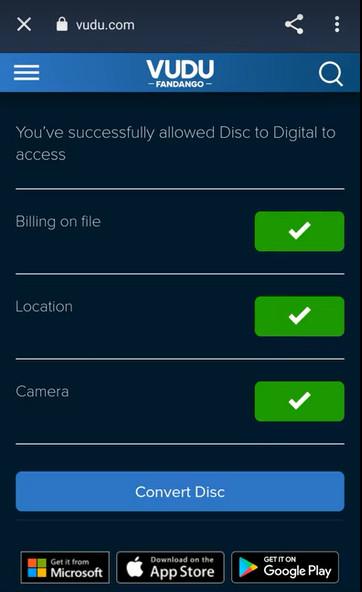 Step 4. Scan the UPC barcode on your Blu-ray case. And then pay for Blu-ray to digital conversion (Blu-ray to HDX: $2 per disc), and then watch instantly.
Comparison of the 3 Blu-ray to Digital Methods
With factors to consider when making digital copies of Blu-rays on your own, we made an overview of the 3 best Blu-ray to digital converters and service. Check the chart below and choose the best one for you.
DumboFab Blu-ray Ripper

MakeMKV

VUDU

OS

Windows, Mac, Linux

iOS, Android

Price

Free for 5-min videos
Paid for unlimited use

Free

$2.5/disc plus tax

Conversion Speed

Ultra fast

Fast

Fairly slow

Supported Blu-rays

All Blu-rays regardless of copy protection and region code

Limited

Limited

Output Quality

HD, original, upslcaled

Original

HDX

Output Formats

MP4, MKV, AVI, MOV, HEVC, H.264, BDMV Folder, M2TS, etc.

MKV

MP4

Quick Edits

Yes

No

No

Overall Evaluation

The most cost-effective option. Support homemade and commercial Blu-rays. Work fast. Give users full control over the output.

Free but can only export MKV file.

No need for a computer and optical drive, but the service is only available in the US and Mexico and has many limitations.
Conclusion
DumboFab Blu-ray Ripper is our top recommendation as it offers a range of pricing options, supports various Blu-ray types, provides a wide selection of output formats, and performs conversions at a fast speed. It is a cost-effective solution that allows users full control over the output.
VUDU is a convenient service option, but it is limited to the US and Mexico and has some restrictions on supported Blu-ray titles. But it comes with a high price and a long wait time.
MakeMKV is a free software that supports both unencrypted and some encrypted Blu-rays, but it can only export to MKV format.
Consider your specific needs and preferences when selecting the best Blu-ray to digital converter option for you.