Home
>
Resource
>
DVD Ripping Tips
>
Rip DVDs with Subtitles
Posted by Chris Ellison - June 1, 2023 | Contact Author

How to Rip DVD with Desired Subtitles or Forced Subtitles
Summary: Here is a detailed guide on how to convert DVD with preferred subtitles or forced subtitles only to MP4, MKV, WMV, AVI, MOV, etc. on Windows 10/11 and Mac for better understand the movie.
Subtitles are texts used to display dialogue or commentary in movies, TV shows, video games, and so on for better understanding, so as to help people who are hearing-impaired, who cannot understand the spoken language or who want to learn foreign language. Therefore, many DVD collectors are fond of keeping preferred subtitles when ripping DVDs to digital files.
Actually, you can easily rip DVDs with desired subtitle if you have a brilliant DVD subtitle ripping tool. In this article, we will introduce such a kind of tool which can help you rip a DVD with desired internal subtitle track, or with translated forced subtitles only, or with added translated forced subtitles. Keep reading.
Recommended Tool for Ripping DVD with Subtitles
DumboFab DVD Ripper is what you need to convert DVD with subtitles to MP4, MKV, MOV or other digital formats. It is widely recommended by editors and users for its powerful DVD decrypting ability, fast Blu-ray ripping speed, high-quality output, and a wide range of output profiles. Below are the specific features that add a ton of value:
● Rich subtitle fuctions: It allows you to select desired built-in subtitle track, forced subtitle or add external SRT subtitle files you download online or create by yourself.
● Support any DVD: Convert homemade discs, burned or bought DVDs with almost any DVD encryption like Disney X-project DRM, CSS, region code, RCE, APS, Sony ArccOS, UOPs, etc., support navigation algorithms used in DVDs from Paramount, Disney, Sony, etc.
● 400+ output profiles: It can convert DVDs with subtitles into variety of digital formats, including MP4, AVI, WMV, MOV, MKV, etc. as well as device-specific formats such as iPhone, iPad, and Android. It also offers customizable output settings for video and audio quality, resolution, bitrate, and more.
● User-friendly: It has a user-friendly interface that makes it easy for users to navigate and rip DVD with subtitles on PC without any technical knowledge.
● Ultra-fast ripping speed: It can rip a DVD very fast with Intel QSV, nVIDIA, AMD hardware accelerated, up to 30x real-time faster. Also, intact quality reserved.
How to Rip DVDs with Desired Subtitle using DumboFab DVD Ripper
Note: Before ripping, you'll need to download and install DumboFab DVD Ripper on your Windows or Mac computer. The guide below takes the Windows version for example to show you how to convert DVDs with subtitles. The steps on macOS is the same.
1. How to Rip DVDs with Desired Inner Subtitle
A commercial DVD disc always has several different built-in subtitle tracks. If you bought some French, Germany, Spanish-language DVDs which are foreign movies to you, you might want to rip these DVDs to MP4, AVI, MPEG, MOV etc yet still reserving its English subtitles to help you understand the movie, at this moment you could select English subtitle track and rip the DVD. Below are the simple steps on how to rip a DVD with desired internal subtitle track.
Step 1. Load source DVD
Input the DVD disc to DVD-ROM. Launch DumboFab DVD Ripper and click the Load DVD button to import the original DVDs.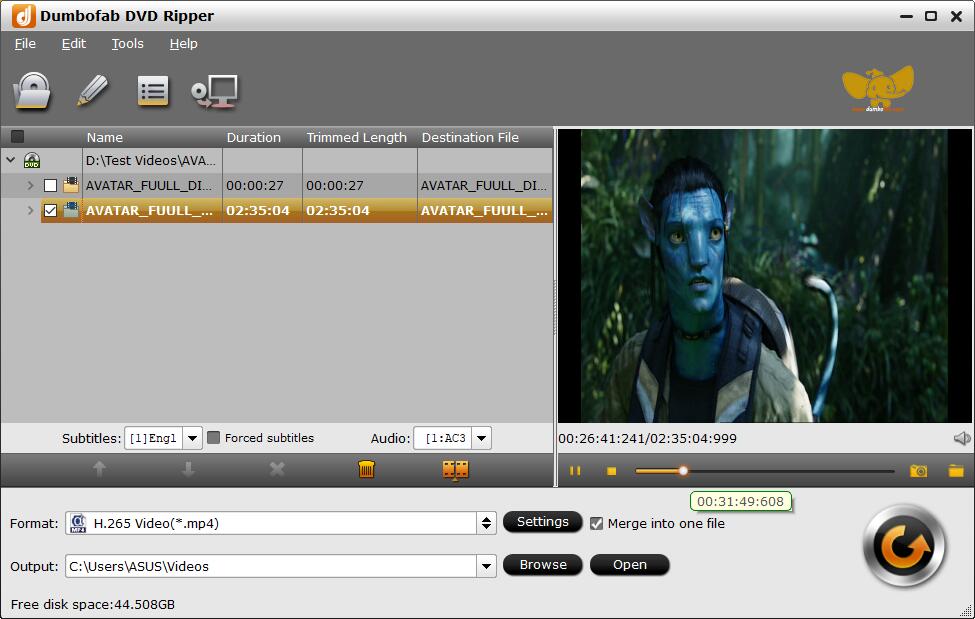 Step 2. Select desired subtite track
Under the movie title lists on the main interface, select one your desired subtitle from Subtitle drop-down list. You can also choose a desired audio track track from the Audio drop-down list.

Step 3. Select an output format
From "Fomrat" drop-down list, you can select the output video format like MP4, MKV, MOV, WMV, M4V, etc. for the ripping DVD movie. Numerous video/audio formats and 400+ optimized device profiles are provided.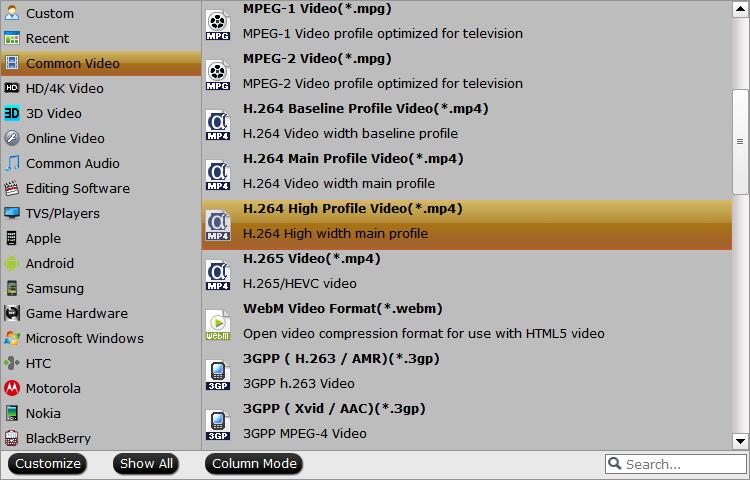 Step 4. Start ripping DVD with subtitles
Finally, click the Convert button to start the DVD ripping process with the subtitles you like. After the conversion completes, you can click "Open" to get the ripped media files and just enjoy your movies!
2. How to Rip DVDs with with Forced Subtitle
Forced subtitles only appear in a movie when a foreign, alien, magic spell, or unknown language is spoken, or a sign, flag, or other texts in a scene is not translated in the localization and dubbing process. They play a crucial role in understanding the plots. If you don't want the whole movie to have subtitles, but just portions that require translation with subtitles appear on the screen, DumboFab DVD Ripper can also help you get the job done. Below are simple steps on how to rip DVD with forced subtitles only.
Step 1. Click "Load DVD" button to load the source DVD disc.
Step 2. Once the disc is successfully added, you can click "Format" drop-down list to select an output format.
Step 3. Select desired subtitle from "Subtitle" drop-download list, then tick off "Forced subtitles" option.
Note: By doing so, you could disable the traditional subtitles while still preserving the subtitles that translate foreign language speaking parts periodically throughout the film to help you understand what they are saying.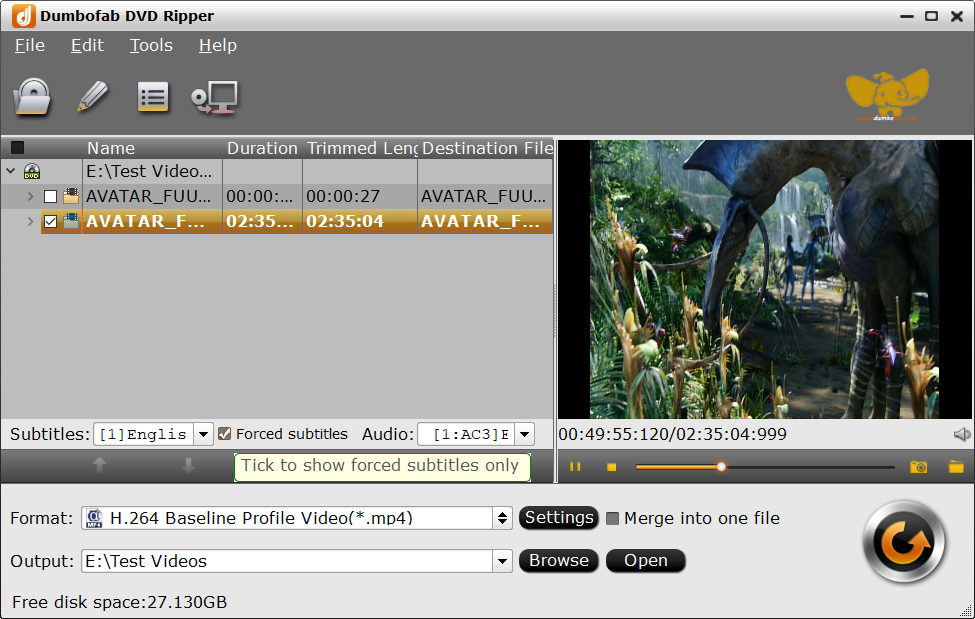 Step 4. Destination folder, ripping speed, output quality, output video audio parameters, etc. can be reset according to your needs. All things done, hit "Convert" button to set off the DVD ripping with forced subtitle.
3. How to Rip DVDs with External Subtitle
What if you cannot catch and understand the alien subtitles or the subtitles are not the version you like in the DVD? Fear not, DumboFab DVD Ripper also support importing external *.srt, *.ass and *.ssa formatted subtitles into DVD video. Therefore, even if the foreign language DVD movie do not contain any language subtitles you understand, you can download a SRT , ASS or SSA subtitle file in your first language of the DVD movie from a safe and reliable subtitle download site (such as opensubtitles.org) and add subtitles to the DVD video. Below are the simple steps to rip a DVD with external subtitle.
Note: Before ripping, you'll need to get the external *.srt, *.ass or *.ssa subtitle ready. You can download these types of subtitles from online subtitle downloading sites like YIFY Subtitles, OpenSubtitles, Podnapsi, etc.
Step 1. Open DumboFab DVD Ripper and then click "Load DVD" button to load the source DVD.
Step 2. Choose an output format for your output video.
Step 3. Click the pencil-like "Edit" button to enter Video Editor window. Select the "Subtitle" tab and tick on "Enable".
Step 4. Click "Browse" button to import the target .srt, .ass or .ssa subtitle file you downloaded or created.
Step 5. Hit "Convert" button to start ripping the DVD with exteranl subtitle.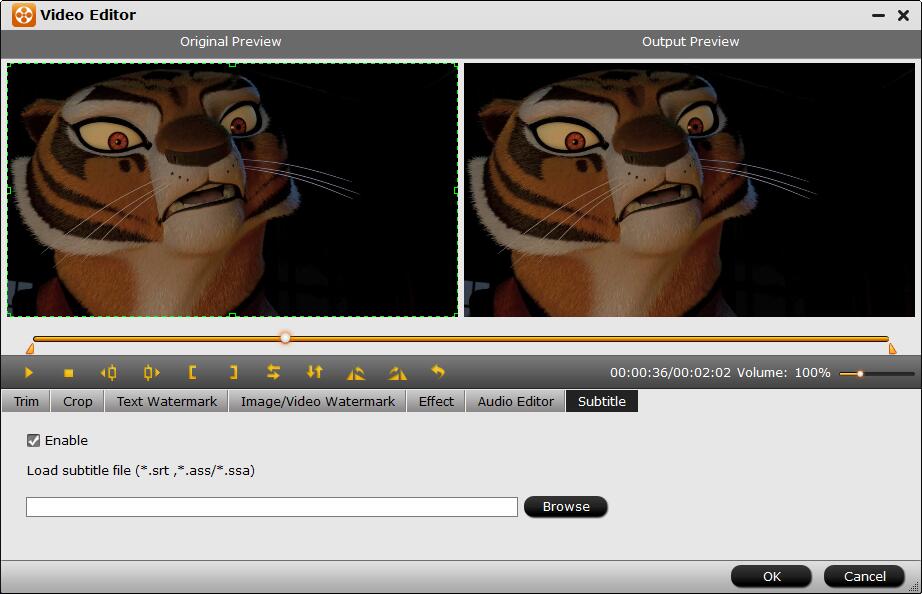 FAQs about Ripping DVD with Subtitles
#1. Is it possible to use VLC to rip DVD with subtitles? If so, how?
Yes. VLC proves itself a solid choice with its simplified interface and powerful DVD decoder feature. It offers an easy way to transcode video/DVD with subtitles to MP4 H.264, H.265, WMV, WebM, and more. However, VLC just supports ripping CSS and regional discs. You can't decrypt and rip a sophisticatedly-protected DVD with VLC.
Below are the steps to rip DVDs with subtitles using VLC:
Step 1. Launch VLC, click Media, choose Convert / Save.
Step 2. Navigate to Disc tab, choose target DVD. Find Subtitle track and choose which subtitle you want to rip DVD with. Then, hit Convert / Save.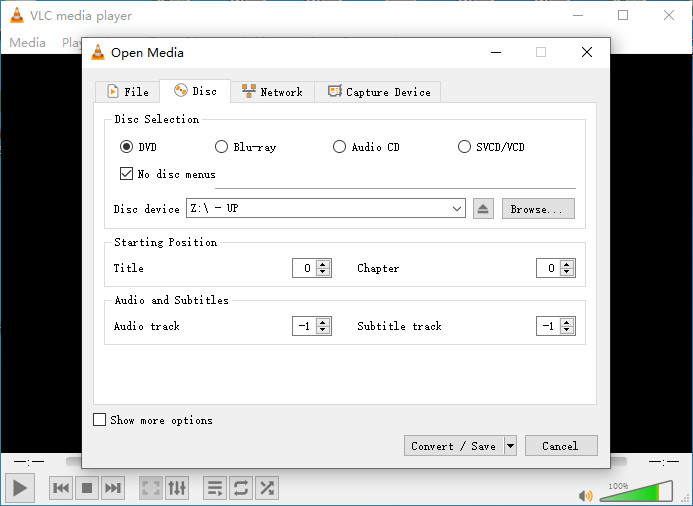 Step 3. Click setting icon and choose an encapsulation format that supports subtitles. Besides, you can also click Subtitles tab and turn on subtitle capture. Then hit Save.
Step 4. Specify destination file and hit Start. Then, VLC will start ripping DVD with subtitles.
#2. Can I rip DVD with subtitles with Handbrake?
Yes. You can use Handbrake rip DVDs with subtitles to MKV, MP4 or WebM. However, there is no more DVD decryption feature built-in Handbrake since version 0.9.3. But you can still rip some protected discs, if with VLC libdvdcss installed. By loading the libdvdcss library in the application folder, Handbrake will dynamically read CSS and region-locked DVDs and then re-encode them with subtitles.
See the steps below to convert DVDs to MP4, MKV, WebM with subtitles using Handbrake:
Step 1. Open HandBrake and import the source DVD.
Step 2. Choose the title and chapters you want to rip.
Step 3. Choose output preset.
Step 4. Hit Subtitles, and then you can select desired subtitle track or add external subtitle.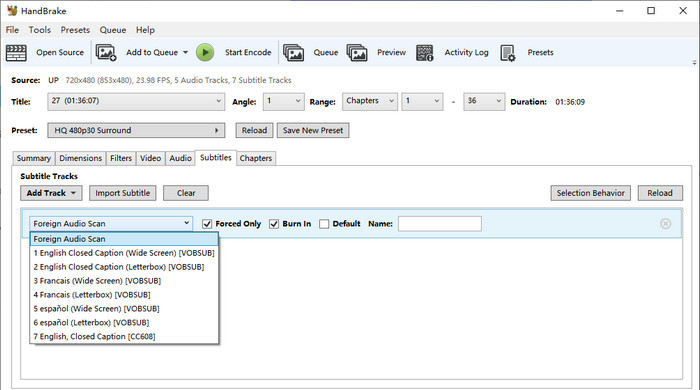 Step 5. Hit Start Encode. Then, HandBrake will begin ripping DVD with subtitles.
#3. How to extract subtitles from a DVD?
Extracting subtitles from a DVD may be quite time-consuming. But if you own a program like DumboFab Blu-ray Ripper, you can get the job done easily and effortlessly. Below are the simple steps on how to extract srt subtitles from a DVD using this tool.
Step 1. Download, install and launch DumboFab Blu-ray Ripper on your PC or Mac.
Step 2. Insert the DVD disc into your DVD drive and then click "Load Disc" button to load the DVD.
Step 3. From the "Format" drop-down list, select "Subtitle File" > "SRT Subtitle(*.srt)" as the desired output file format.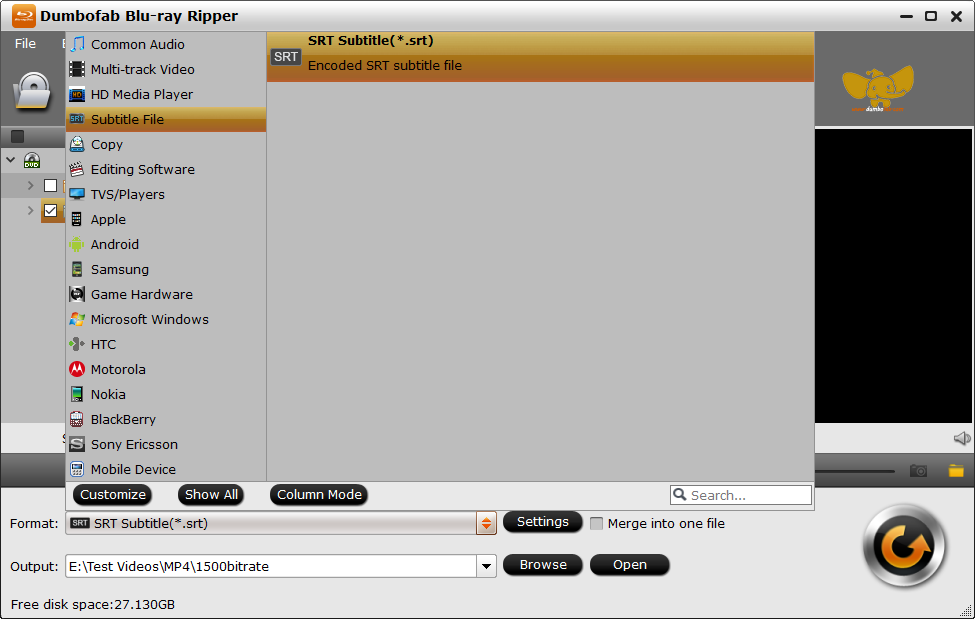 Step 4. Click "Settings" to open "Multi-task" Settings window to select subtitles by language. Check any language you'd like to keep. You can either keep native-language subtitles only or multiple subtitles in different languages.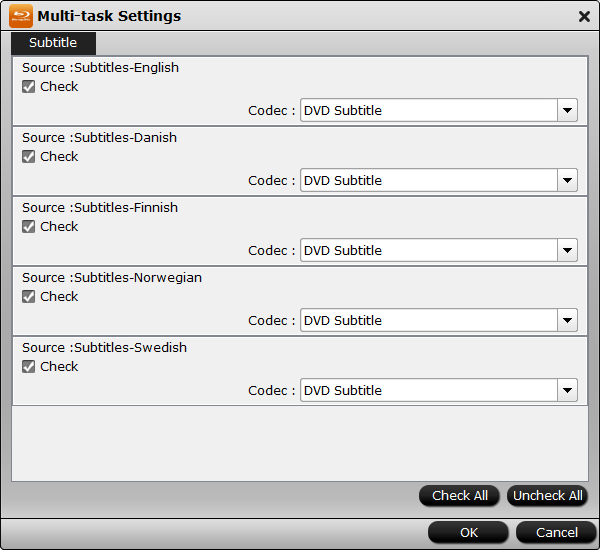 Step 5. Tap "Convert" button to start extracting SRT subtitles from DVD.