Home
>
Adobe Help
>
Fix "Can't edit Hero 8/7/6 HEVC video in Premiere Pro"
Posted by Jason Eatock - Aug. 16, 2020 | Contact Author

Transcode GoPro HERO8, HERO7, or HERO6 4K HEVC Files for Premiere Pro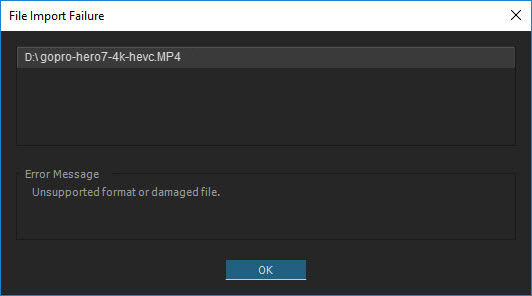 HEVC codecs are on the list of native video formats for import supported by Adobe Premiere Pro, many users are still getting error messages when they try to add the GoPro GoPro HERO8/7/6 HEVC video into Premiere Pro (the latest Premiere Pro 2020 included). And below are 2 typical questions quoted from forums:
"GoPro Hero 6 H.265 (HEVC) Choppy Playback in Premiere Pro - I have about an hour worth of Hero 6 footage from my Maui trip. It was shot in 4K 60 FPS, which uses the H.265 (HEVC) codec. The playback seems to be somewhat choppy, even though I have the Preview window set to 1/8 resolution. My computer is no slouch either (although it was primarily built as a gaming computer about 2 1/2 years ago, which was before I got into editing)."
"Can't edit hero 7 in adobe premiere pro - my files from new hero 7 are killing my adobe premiere. never had this with the hero 5. did some searching and it looks like it might be the HEVC codec (can any one confirm?). found someone where ther suggested using handbrack to convert allmy files before editing. is this the most efficient solution? does gopro not have an app for converting?"
Then, what's the matter? Well, there are different complex reasons for "can't add GoPro HERO8, HERO 7, HERO 6 footage into Premiere Pro".
One the one hand, the problem may be caused by the HEVC codec. Since the HERO6 Black, GoPro has used a new codec for compressing and encoding vides. It's most commonly known as HEVC (for High Efficiency Video Coding) or H.265. It's a non-performant format that is difficult to edit with and requires much computing power to process. According to a growing mass of user reports, Adobe Premiere Pro including the latest Premiere Pro 2020 is hard to read H.265/HEVC 10-bit Videos shot in Dlog-M according. This is actually a known issue cause by long-GOP codec.
On the other hand, it may be related to the video decoding. You may be heard about video encoding. To play GoPro video on your PC or mobile, the Operating System or player software should be able to decode the video. To edit GoPro HERO7/6 video, Premiere Pro needs to be able to decode the HEVC firstly, and then get the raw data for editing. Sometimes the video decoding fails, seemingly unrelated to incompatible codec issue, leads to the result taht you cannot adding GoPro H.265 4K files in Premiere Pro.
In fact, it might take a lot of time to find the exact reason. You can head over to our article [Fixed] HEVC/H.265 Not working in Adobe Premiere Pro to try two possible solutions - "Download and install HEVC codec" or "Upgrade your Adobe Premiere Pro". If you're still unable to solve your problem after trying the two methods. Transcoding HEVC videos always works for such GoPro video importing issues. And this is the easiest and most efficient solution to solve GoPro HERO8/HERO7/HERO6 HEVC and Premiere Pro incompatible issues, especially if your files are in 4K HEVC and you don't have a high-end computer.
The reason that "you cannot add GoPro Hero 8/7 footage into Premiere Pro" is complicated.
The Easiest Solution: Converting GoPro HEVC to MPEG-2 or ProRes for Smooth Editing
When it comes to transcoding GoPro videos for Premiere, someone recommend H.264 as the target format. That's really not a great idea becasue H.264 is also a format that requires heavy lifting by your CPU and may led to laggy playback issue. For a smooth editing, the most friendly codec is MPEG-2 or ProRes.
To do the conversion job, you can adopt DumboFab Video Converter for help. This program is an easy-to-use yet professional 4K HD Converter that features high efficiency and seamless conversion. With it, you can easily and quickly transcode GoPro 4K HEVC to lossless MPEG-2 and ProRes codec, which can be used in Premiere Pro CC, CS6, CS5 without any problem.
DumboFab Video Converter - The One-click Way to Convert HEVC to Adobe Premiere Pro Supported Format.
Accept HEVC videos from GoPro, DJI, iPhone, Canon camera, etc.
Output media in file formats natively supported by Adobe Premiere Pro, Final Cut Pro, Sony Vegas, Avid, etc.
Simple edit: cut, crop, merge, rotate, flip videos; add effect, text/image watermark to videos, etc.
30X faster conversion speed than any conventional converters
3 Easy Steps to Convert GoPro HEVC to MPEG-2 for Prermiere Pro
Step 1. Open the best 4K HEVC Converter, you can directly drag and drop source GoPro HEVC files, or click Add Video button on the toolbar to load HEVC files.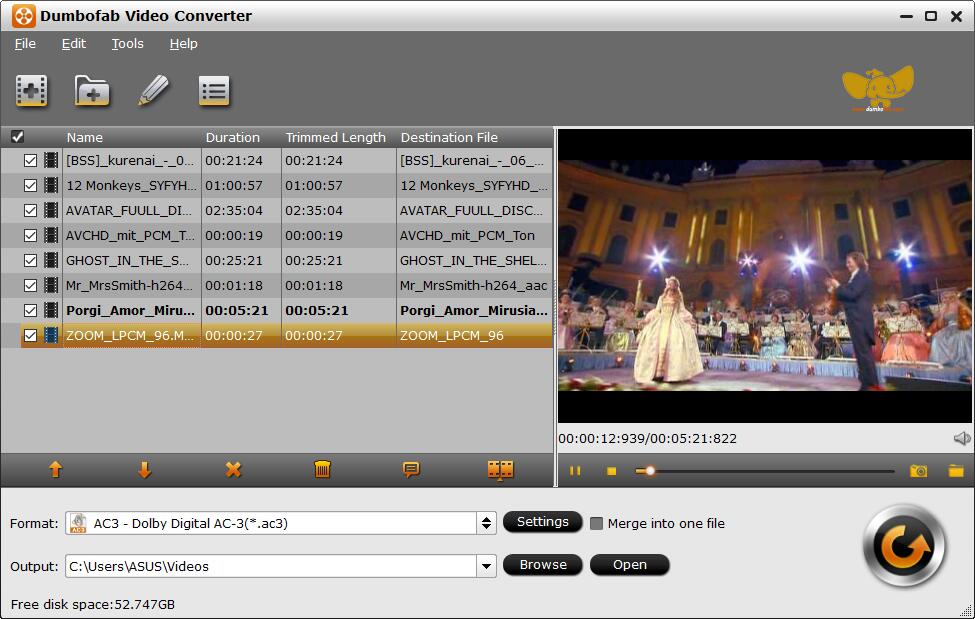 Step 2. Click Format pull down list, move mouse cursor to Editing Software and select MPEG-2 (*.mpg) or Apple ProRes 422 (*.mov) as the output format.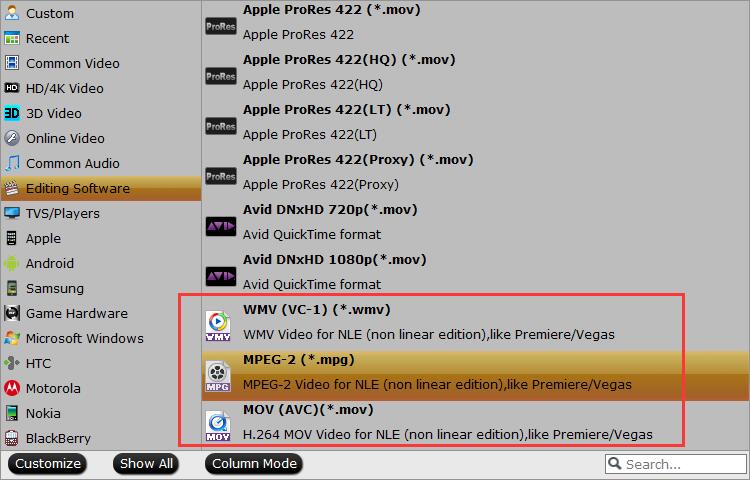 Step 3. Hit Convert button in the lower right corner and the conversion will begin in no time. Once done, Adobe Premiere Pro should be able to import the converted GoPro HEVC footage without any trouble.
Final Words:
Transcoding GoPro HEVC is undisputedly the best solution to fix "can't import GoPro 4K HEVC videos to Premiere Pro CC" issue. DumboFab Video Converter offers a super easy way to convert HEVC to Premiere Pro CC supported formats. It is also praised by fast performance and high quality it delivers. More than a video transcoder, it acts as an entry-level video editor available to cut, crop, merge, split, rotate videos; add watermark, subtitle, effects for recording and more. If you are a newbie, DumboFab can be your ideal choice to process HEVC videos.