Home
>
Video Processing Tips
>
Convert TS to MP4 Free
Posted by Jason Eatock - Dec. 09, 2020 | Contact Author

How to Convert TS to MP4 Free Without Quality Loss
The TS file extension is a common one for video files that have been copied from an HDTV broadcast and then posted on the Internet. As an MPEG format, there are a variety of players and methods to play back TS files. However, this format does not support all devices like your mobile phones, iPad, etc. Since MP4 is the most widely used digital multimedia container format recognized by nearly all devices, players, and editors, therefore, converting TS to MP4 is a good idea.
In this article, we will list the top 4 TS to MP4 transcoders (some are free) and show you the detailed steps how to use them to convert TS to MP4 on Windows (10) and Mac within clicks. Read on to learn more.
Click the links below to jump to the method you are most interested in.
Method 1. Re-encode TS to MP4 with DumboFab Video Converter
There're many TS to MP4 converters in the market. If you are seeking the best video output quality, fastest video conversion speed, and the most formats supported, DumboFab Video Converter will be the best TS to MP4 converter out there. It isn't free like the tools below, but you get a lot for your money. This tool works smoothly on both Windows (Windows 10) and Mac's latest system (macOS Big Sur). And it is also very intuitive and easy to use thanks to its sleek and modern user interface. Its features include but are not limited to:
◉ Convert TS video to MP4 for iPhone, iPad, Android, Windows Phone, and other devices with optimized presets.
◉ Transcode TS to MP4 as well as other formats such as MKV, HEVC, AVI, WMV, MOV, M4V, MPG, FLV, etc.
◉ Finish conversion at fast speed, owing to the support for advanced GPU Acceration.
◉ Edit videos by trimming, merging, cropping, adding subtitle, etc.
How to convert TS to MP4 with DumboFab Video Converter
To begin with, you need to download and install DumboFab Video Converter Windows or Mac version on your computer. After this, you can move to the following steps to convert your TS file to MP4. Here we will take the Windows version for example.
Step 1: launch the TS file converter on your Windows or Mac, click Add Video button to import the TS files to the program. Alternatively, you can directly drag and drop the videos to the program, and the files will be loaded to the converter automatically.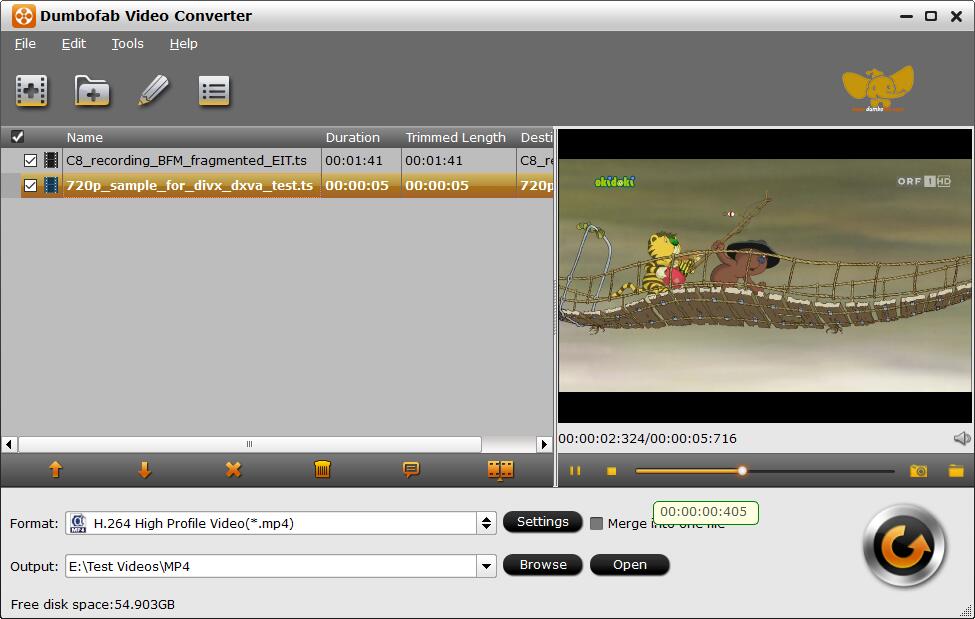 Step 2: From Fomrat drop-down list, you're recommended to choose H.264 encoded MP4 from Common Video category as the output format because MP4 is is the most popular video format for almost all devices and media players. You can also choose H.265 Video(*.mp4) or the device profile as the output profile per your needs.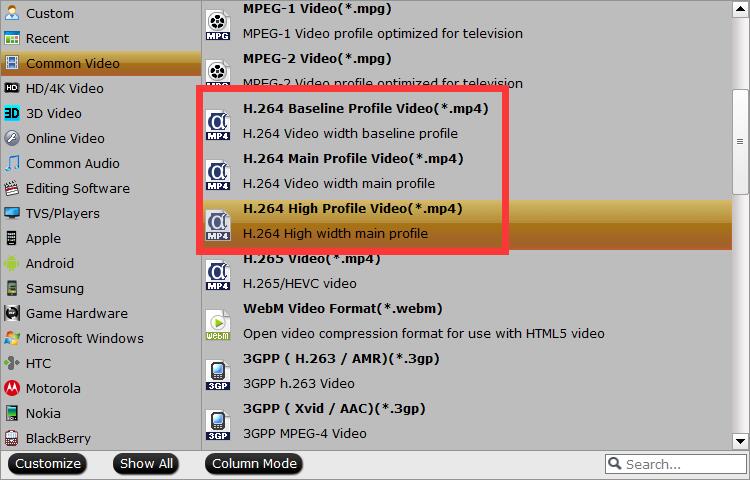 Tip: This TS converter comes with various powerful editing tools. So, you can adjust the video contrast, brightness, saturation. Or you can merge several TS clips and split a large TS file. Moreover, you can click Settings button to adjust the resolution, bit rate, codec, etc to produce optimal MP4 file size.
Step 2: Click Browse to specify the output folder where you want to save the converted TS video, and then press big Convert button to begin the conversion from TS to MP4.
Method 2. Free Convert TS to MP4 with VLC
VLC is undoubtedly the most installed media player for desktops currently. That's because VLC can play virtually any video format, including TS videos. And this open-source app VLC can also convert TS to MP4 quickly.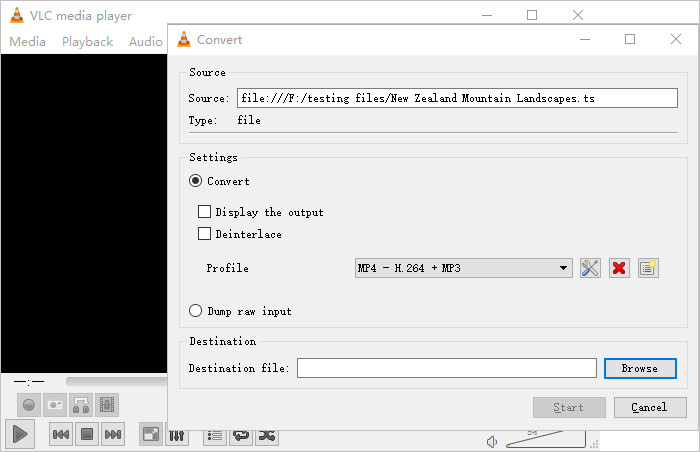 Step 1: Download and install the VLC original version. After that, run it then click the "Media" > "Convert/Save".
Step 2: On the Open Media window, click the "+Add" button to browse and import TS files. You can also select the Disc tab to import VLC files from DVD, Blu-ray, or other external storage devices.
Step 3: Now click the "Convert/Save" button to open the Convert window. The program will select MP4 format by default.
Step 4: Finally, click the "Browse" button to set your file name and destination before clicking the "Start" button to begin converting TS videos to MP4.
Method 3. Decode TS to MP4 Free with FFmpeg
FFmpeg is a very powerful command line tool that can transcode video and audio files. You can use it to convert TS to MP4 on Windows, Mac and also Linux machines. Now, let's show you how to carry out this work on Windows.
Kindly Note: This method is quite different from abovementioned ways and difficult for newbies. For more details about downloading FFmpeg and using FFmpeg to convert videos, edit videos or do other tasks, please refer to http://www.hongkiat.com/blog/ffmpeg-guide/.
Step 1. Download FFmpeg zip file. Then, create a folder named FFmpegTool in C drive. Unzip the file you just downloaded and move all files into FFmpegTool folder.
Step 2. Go to "Run" on your PC, and then enter cmd. Then, you will see a command line window. Next, enter cd\. Now type cd FFmpegTool, which command will permit you to enter into the FFmpegTool folder.
Step 3. Enter cd bin to access the content in the bin folder, and then enter ffmpeg.exe.
Step 4. Enter the command below to convert TS to MP4 using FFmpeg. ffmpeg -i yourvideoname.ts -c:v libx264 outputfilename.mp4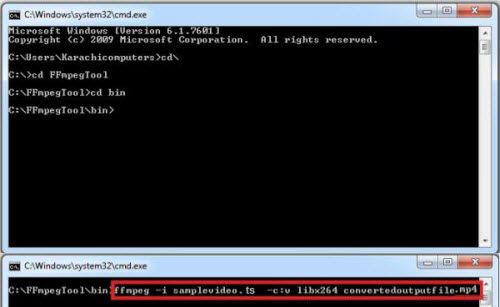 Method 4. Free Convert TS to MP4 with Handbrake
HandBrake is a free and open-source converter, which can convert video from any format. It works well on both Windows PC and Mac. To converting TS to MP4 without losing quality, you can check the operating steps below.
Step 1. Open HandBrake and choose the TS file from your folder on your computer.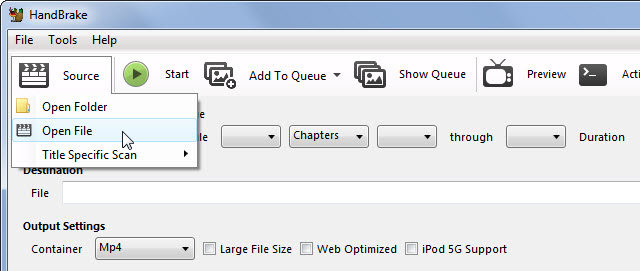 Step 2. Choose a destination of the converted file by clicking "Browse."
Step 3. Choose the output file format. In the window, select MP4 as the output format. Here, you can make an adjustment to the video and audio.
Step 4. Click "Start Encode" to begin converting TS to MP4. Then you can get an MP4 file.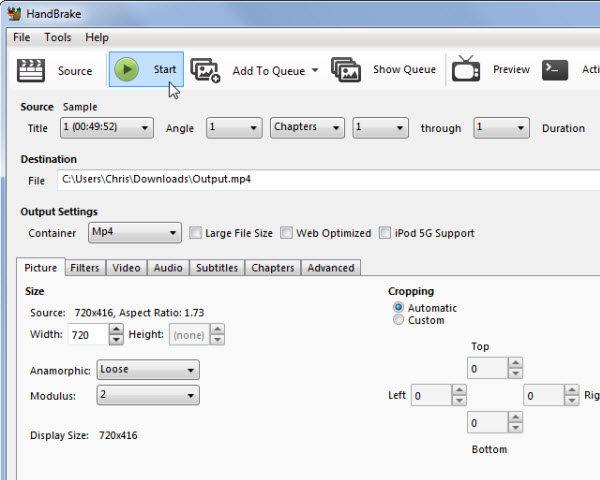 Although Handbrake is free and clean, it is very difficult to use for beginners and always comes across errors, such as, handbrake freezes while encoding, source file not supported, video audio out of sync.
Conclusion:
This article presents you 4 solutions to convert TS to MP4. Using these free TS to MP4 converters, you can complete the task efficiently. Among these converters, DumboFab Video Converter has been accepted by most people because of its stunning features like unlimited upload size and formats, fast conversion speed, simple interface and powerful video editing functions.