Home
>
Video Processing Tips
>
Convert WebM to MP4 with VLC
Posted by Jason Eatock - July 06, 2023 | Contact Author

How to Use VLC to Convert WebM to MP4 on PC/Mac
WebM is an open, royalty-free format designed for sharing video on the web. Nowadays most web browsers such as Google Chrome, Firefox, Opera, Safari and Edge have built-in support for the WebM format. Although WebM offers smaller sizes at the same quality as compared to MP4, it seems less compatible with our common devices and professional video editing tools.
If you failed to play WebM videos on your PC, iPhone, Android, HDTV, QuickTime or Windows Media Players, or facing problems when editing WebM files in Vegas Pro, Premiere Pro, Final Cut Pro etc., it's highly recommended to convert Webm video to MP4 H.264 to eliminate any playback or editing incompatibilities.
There are many ways to convert WebM to MP4 on your computer, but if you're looking for the most straightforward option, VLC is easy and free. Besides, you probably already have VLC on your computer (and if you don't, you should). Here, we'll show you the quick and easy way to encode/re-encode videos in WebM format to MP4 format with VLC on Windows and Mac.

A More Efficient and Easier Way to Convert WebM to MP4
If VLC's confusing interface, slow processing and endless errors don't meed your needs, there is a more powerful alternative - DumboFab Video Converter. This converter supports 400+ inuput and 500+ output formats, with the latest codec library to encode and encode all kinds of videos.
Powerful, concise in design yet using hardware acceleration, it is the easiest and fastest method to convert any 1080p/4K WebM to MP4 without quality loss. Users can use the MP4 profile for H264, H265 and MPEG-4 videos. For advanced users, there are codec settings to tweak with (you can easily customize the video setting, incl. codec, resolution, bit rate, frame rate, etc at your disposal. ). And all the jobs can be done in just three clicks without any learning curve.
See How to Convert WebM to MP4 with DumboFab Video Converter ⇊
How to Convert WebM to MP4 with VLC Media Player
Despite the fact that VLC is widely known for its flexibility: almost any type of video format imaginable can be played on the media player, you may be astonished at its quite capability of converting video files from one format to the other. With the fully-fledged media player, you can open and convert any video file like WebM, MOV, HEVC, H.264, VP9, MPEG2, MP3, MKV, WMV, etc, with no need for extra codec packs.
To get started, you need to download and install VLC on your Windows or Mac computer. You can search VLC media player in your system to check whether it is installed previously. After installing, you can follow the steps below to convert WebM to MP4 using VLC:
Step 1.< Open VLC and go the menu to select the Convert/Save option to open a new Open Media window. You can use the shortcut key Ctrl+R to open that window.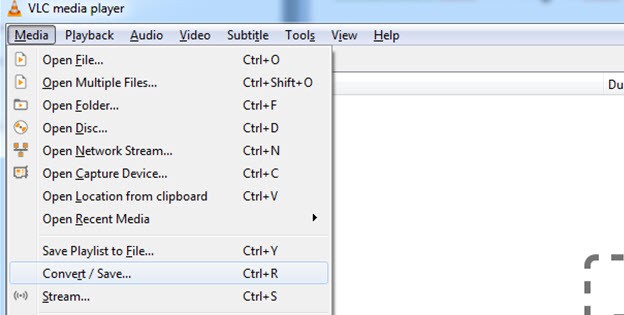 Step 2. Click the add button to import WebM video files.
Step 3. Click the Convert/Save button at the bottom of the current window.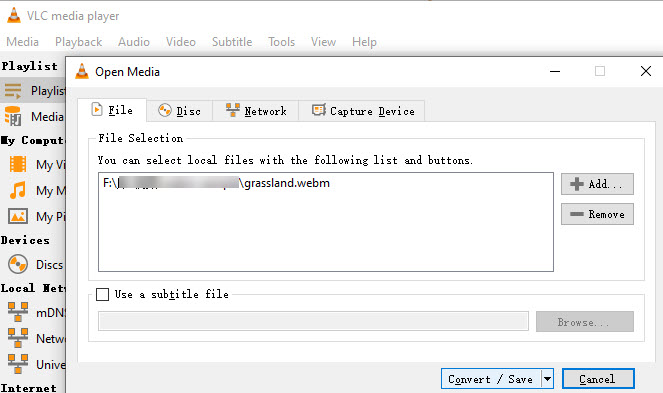 Step 4. Find the wrench icon and click the drop-down menu. Select Video – H 264 + MP3 (MP4) profile. If you'd like to convert WebM to other formats or devices, you can click the drop-down list to select your desired one. You're able to cutomize video details like video / audio codec, subtitles through Edit selected profile button besides the drop-down list.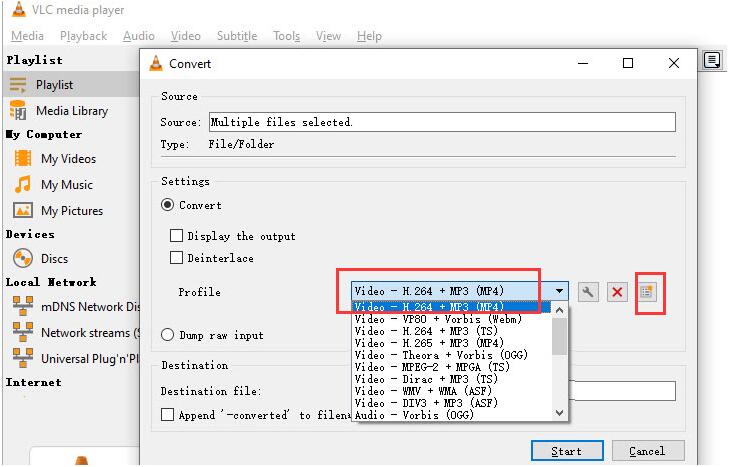 Step 5. When you're done, hit Start to convert WebM to MP4.
Step 6. Once it begins, you can see a progress bar along the bottom. Technically, VLC is "streaming" the video to a file on your hard drive, so it will take the entire runtime of the webm video to convert it. Once the video is done (or if you want to stop it early), click the Stop button.
After converting WebM to MP4 in VLC, many users report audio missing or audio out of video sync issues. If you also experience VLC no audio issues, below are 4 ways to fix the error. Besides spending hours to fix endless VLC errors, you can also resort to a lightweight video processing tool, DumboFab Video Converter, to convert WebM to MP4 with audio kept while keeping the original quality. Jump to Method 3 to save your time and effort.
Part 2. How to Fix No Audio Issue After VLC WebM to MP4 Conversion
Method 1: Enable Audio Stream in Codec Settings
One possible cause of the no audio error after VLC conversion is that, the audio stream may not be ticked in codec settings.
To make sure the Audio option is enabled, follow the steps below:
1. Click the wrench icon to edit the selected profile.
2. Enable Audio stream.
In the newly opened Profile edition window, click the Audio codec tab, and you shall see a box in front of Audio. Make sure it is ticked.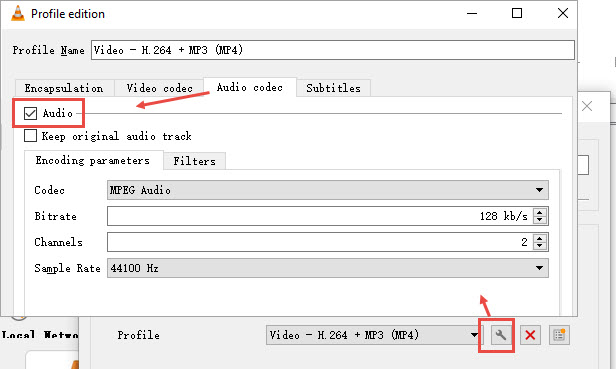 3. Save the settings, browse the output path and start converting as you normally do.
Now you shall be able to convert WebM to MP4 in VLC with sound preserved.
Method 2: Change Audio Sample Rate in VLC
When the bitrates of the original file is not corresponding to that of your audio setting, VLC might produce a converted file without sound. If method 1 doesn't work, the VLC audio missing issue may be fixed by making sure that the conversion audio bitrates match.
To make sure the bitrates match source file before converting, first of all you need to check the soure audio information.
Use VLC to open the video file you intend to convert. Go to Tools > codec information > codec details, and check the audio sample rate. In this case, it's 44100 Hz.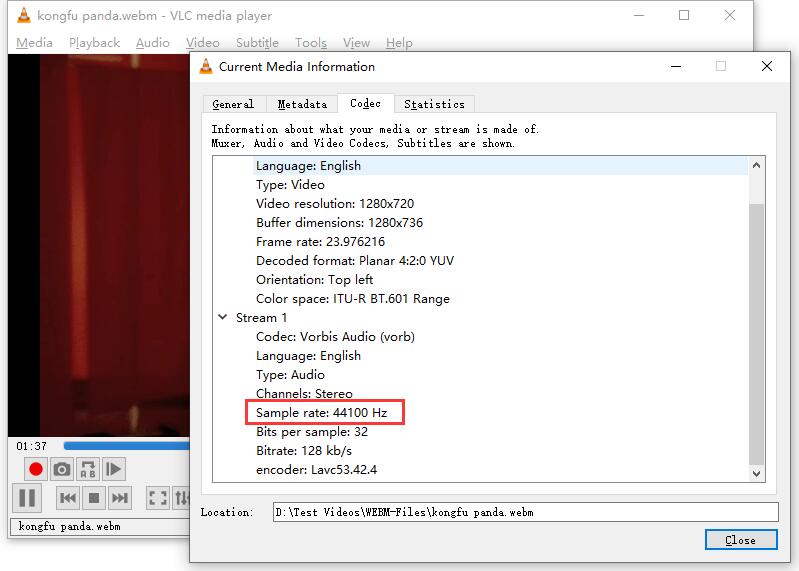 In the Profile section, click click the first wrench button to edit selected profile. Click Audio codec tab, and change sample rate from whatever number to the one that matches source file. In this case, it's 44100 Hz.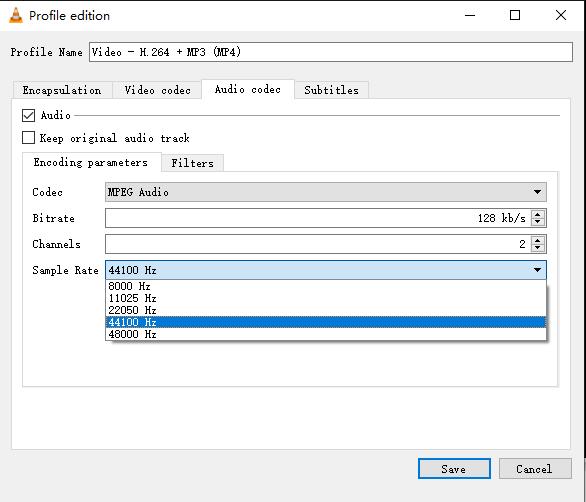 Tried the above 2 solutions but still no sound after converting WebM to MP4 with VLC? Plus, even if you have fixed the VLC no audio problem, you might face with the side effect of the video and audio being out of sync.
If you are tired of fixing back and forth with endless VLC errors relating to video conversion, you can take into consideration another solution to rule out your trouble once and forever.
Method 3: Fix VLC WebM to MP4 No Audio with a Professional Tool
VLC as a focused player might not be able to deal with video processing tasks nicely. You can handle the job to an all-in-one video processing software DumboFab Video Converter. With powerful converter built-in and full support of hardware acceleration, this lightweight tool is powerful and easy to use.
Free Download DumboFab Video Converter to convert WebM to MP4 stably without error and force A/V sync.
How to Convert WebM to MP4 using DumboFab with 3 simple steps
Step 1. Run DumboFab Video Converter, click Add Video button add WebM file. You can add multiple clips to convert them at once.
Step 2. From Fomrat drop-down list, choose an H.264 encoded MP4 profile from Common Video category as the output format because the H.264 encoded MP4 profile is widely supportd by almost all devices and media players. You can also choose H.265 Video(*.mp4) or the device profile as the output profile per your needs.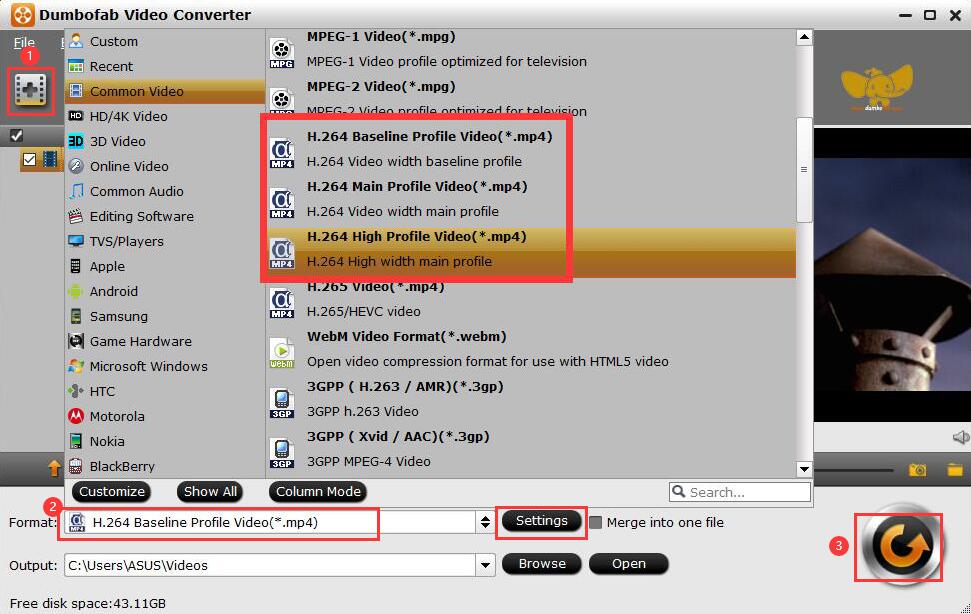 If you are familiar with codecs and prefer to take more control over the conversion process, you can click the Settings button to go inside the Codec Settings.
For instance, you can choose between AAC or MP3 as the audio codec for the MP4 video. You can also change video resolutions, aspect ratio, compression quality, and bitrate mode.
Step 3. Tap Browse button to set the destination folder and click RUN to start WebM to MP4 encoding process.
Final Words:
As we said earlier, this isn't the most robust way to convert a WebM video to MP4 video, but if you just need to do a quick convert with the tools you already have on your computer and don't need to fiddle with codecs or video quality—and don't want to pay for a better conversion tool—VLC can do it just fine.
If you're experiencing VLC conversion issues when converting WebM or other videos, then you're recommended to choose a professional video encoder like DumboFab Video Converter to get the conversion task done.