Home
>
Resources
>
Rip Blu-ray
>
Rip Blu-rays for Plex
Posted by Chris Ellison - Last Updated: June 9, 2022 | Contact Author

How to Rip Blu-rays for Plex and Add Blu-ray to Plex
How to fast rip Blu-rays for Plex server in 3 simple steps? DumboFab Blu-ray Ripper is the best software to choose.
Plex gives us one place to find and access all the media that matters to you. From personalized media to free and on-demand Movies, live TV, and shows, to music, we can enjoy them all in one app on almost all devices anytime and anywhere. Therefore, many people want to add Blu-rays to Plex. But to do this, we need to digitize and rip Blu-rays for Plex in advance.
"I started up again collecting physical Blu-Ray movies. I have an external USB 3.0 Blu-Ray burner that I could use to rip them into a format that Plex can use. I use Windows 10 x64. I know Plex can't handle Blu-Ray ISO but I am trying to make it as close to a disc as possible. What software is good for this pourpose? I want to be able to keep the subtitles (and be able to turn them off and on), rip to the best possible quality, and have extras ?deleted scenes, featurettes, etc) so they show up in Plex? I certainly do not mind if I need to pay for this kind of application."
If you're looking for an easy and quick solution to copy and get Blu-rays to Plex with best quality in a smaller size, you've come to the right place. In this article, we will also share you with the best software for ripping Blu-ray to Plex and what file format you should use for ripping Blu-rays for Plex.
Part 1. What is the Best File Format for Plex Media Server?
There are many file formats that are supported by the Plex Media Server. There are specific formats for both video files and audio files. The formats that can be direct played, however, is dependent on the client that is streaming the media file. The best solution would be to have Plex direct play as much of your content as possible, especially for movies.
Among all the Plex supported file formats, the MP4 container is chosen as the recommended specification since it has the widest support. Web browsers can natively play mp4 files. There is a known specification that allows for the widest support among media players. Videos satisfying the following standards can usually be directly played with Plex:
● Container: MP4
● Video Encoding: H.264 (level 4.0 or lower)
● Audio Encoding: AAC
● Resolution: 1920×1080 or smaller
● Video Framerate: 30fps
● Video Bit Depth: 8
Part 2. What's the Best Software for Ripping Blu-ray to Plex?
MakeMKV and DumboFab Blu-ray Ripper, which one to choose?
When it comes to ripping Blu-ray discs, MakeMKV is always the first choice. However, MakeMKV just extracts the video and audio from Blu-ray, that explains why it is fast and why the output file is very large. Moreover, the ripped MKV files is not an ideal format for streaming and playing thru Plex.
DumboFab Blu-ray Ripper covers the best format for Plex and it can fast convert Blu-ray to Plex format with best quality in a smaller file size. Now, let's check more details about DumboFab Blu-ray Ripper.
● It can convert Blu-ray to MP4 (best format for Plex media server), MOV, MPEG, WMV, MKV, and more mainstreaming formats.
● It allows you to select desired subtitle and audio tracks during the Blu-ray to Plex ripping process.
● Plex doesn't support ISO image, DVD discs and Video_TS folder. Never mind. DumboFab Blu-ray Ripper can also convert them to Plex compatible format.
● It also support 1:1 clone Blu-ray to BDMV folder or a single M2TS file. And it can also help you remux Blu-ray to lossless MKV with multiple audio and subtitle tracks.
● It can handle copy-protected Blu-rays and DVDs. No need to install 3rd-party software.
● It rips Blu-ray and DVDs at ultrafast speed thanks to the support for Intel/NVIDIA hardware acceleration, multi-core CPU, and Hyper-threading tech.
● It allows adjusting output video/audio parameters, including change resolution, codec, bit rate, frame rate, aspect ratio, etc.
● It comes with some video editing features: trim, crop, merge, deinterlace, add external subtitle...
DumboFab Blu-ray Ripper is the best Blu-ray Ripper for Plex. Let's download it to have a try!
Part 3. How to Rip Blu-ray to Plex with DumboFab Blu-ray Ripper in 3 Simple Steps
Free download and install DumboFab Blu-ray Ripper on your PC or Mac, then follow the step-by-step instruction below. Here we take the Windows version for an example. The Mac version shares the same process. A Blu-ray drive is necessary for ripping Blu-ray discs.
Step 1. Load the Blu-ray you want to import to Plex.
Insert your Blu-ray discs into your BD dirve and then launch DumboFab Blu-ray Ripper. Click "Load disc" button to load the source Blu-ray movie. You can also load DVD, ISO image file and Video_TS and BDMV folder into it.
Optionally, you can select preferred subtitle and audio track from the corresponding drop-down Audio or Subtitle lists.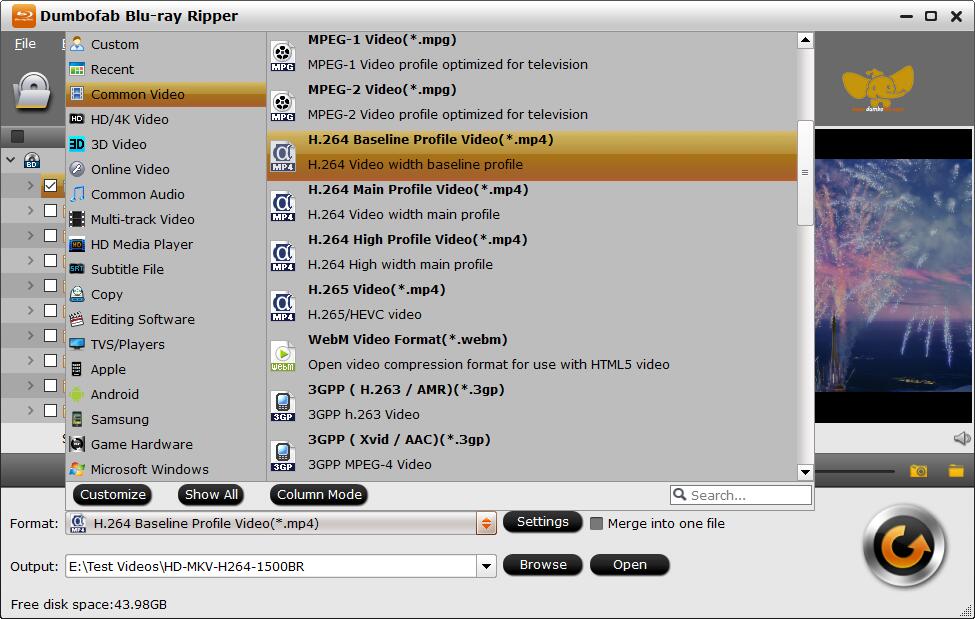 Step 2. Choose an output format that Plex supports.
Click "Format" bar and then select an H.264 MP4 (h264+aac) profile from "Common Video" category.
Click the "Settings" icon, you can adjust video audio parameters. Here you're recommended to change Bitrate(kbps) from original "medium quality" to "1500~2000" and click "OK" to confirm. This can help you generate a result MP4 video with excellent quality and smaller file size.
Please note: Adjusting these variables have some effect on the re-encoded video quality. Remember the file size and video quality is based more on bitrate than resolution which means bitrate higher results in big file size, and lower visible quality loss.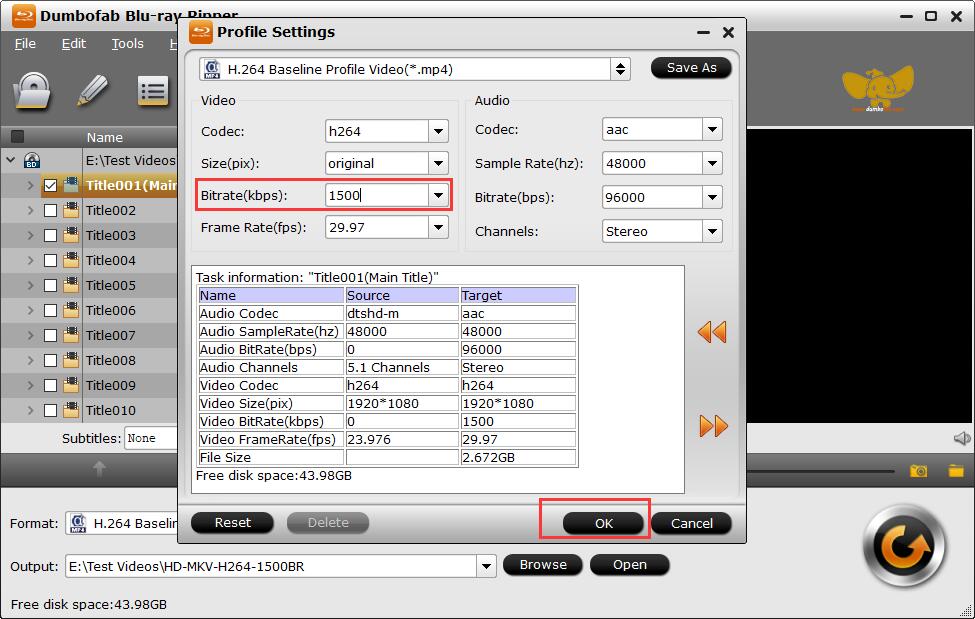 Step 3. Get Blu-ray ripping started.
After everything is ready, you can hit the the big Convert button to rip Blu-ray for Plex at lightning speed with best quality.
Part 4. How to Add Ripped Blu-ray Movies to Plex
Step 1. Download and install Plex Media Server. When the installation is finished or when the server is run for the first time, a browser will pop up and ask you to either sign in or sign up.
Step 2. Run Plex and click "Add Selection" and "Movies" to add the ripped DVD digital MP4 video to Plex.
Step 3. Install Plex app on any of your devices to stream and watch the DVD movie video anytime and anywhere you want.
Tips: In the Plex server you can set Plex to scan your library automatically when Plex detects changes in the directory. This way, when you save new Blu-ray rip files in the source location, Plex library will be automatically scanned and updated. That is to say, with this function you don't need to add Blu-ray movies to Plex manually in the future.