Home
>
Resource
>
DVD Ripping Tips
>
Solutions to Fix Handbrake Won't Rip DVDs
Posted by Chris Ellison - May 19, 2023 | Contact Author

Handbrake Won't Rip Your DVDs? Find Working Solutions Here
Summary: This article will show you the practical ways to fix the issue that HandBrake won't rip DVD with detailed steps.
When it comes to ripping DVD for free, Handbrake is always the first to recommend. However, various problems may occur when we use HandBrake to rip DVDs, and you may meet the similiar problems quoted as below:
● Handbrake won't rip the entire DVD. It only rips part of the movie.
● Handbrake crashes while scanning disc or reports "No valid source or titles found".
● Handbrake rips out a distorted video off my DVD or all the rips are a garbled mess.
● Handbrake libdvdcss not working or libdvdcss randomly stops working.
Why does Handbrake fail to rip your DVDs? Is there some working solutions to solve the problem? If you're facing the "Handbrake won't rip DVD" issues, you've come to the right place. Here we will show you 8 possible solutions to help you fix the issues. Keep reading.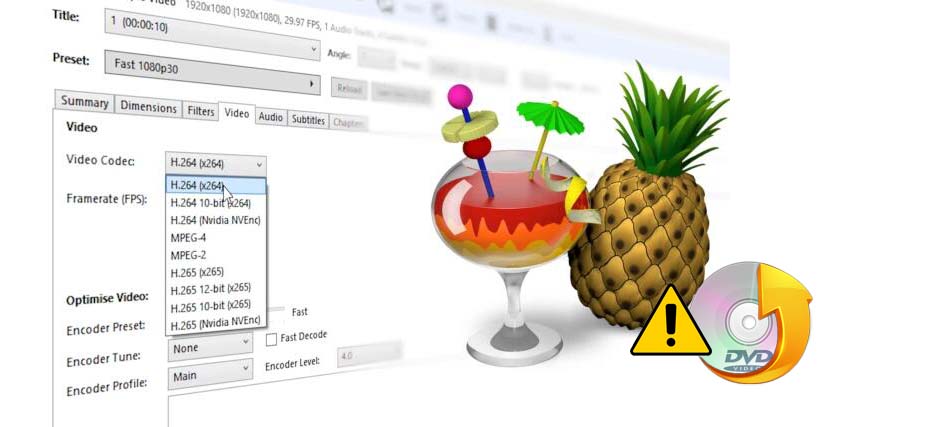 Why Handbrake Won't Rip DVDs or Can't Rip The Entire DVD?
In fact, there are many reasons that result in Handbrake won't rip DVD errors. It could be the DVD scratched, CPU overloaded, or DVD with subtitles that are unsupported by HandBrake. And wrong Handbrake settings may also cause Handbrake not ripping DVDs. But, the most common one is that your DVD contents are copy-protected, and HandBrake can only rip unprotected DVDs on its own. If you fail to rip DVD with Handbrake because of one of the reasons, you can first check and try the following methods.
Possible Solutions to Fix Handbrake Won't Rip DVDs
Solution 1. Check if DVD is damaged
For DVD is scratched, there are some operations that we can take to rescue it. And here is a WIKI guide which will help you a lot with fixing a scratched DVD.
Solution 2. Shut down third-party software
For CPU overloaded, disable any third-party software in the background when ripping DVDs with Handbrake to avoid high CPU usage.
Solution 3. Disable unsuported subtitle
If the subtitles inside the DVDs are not supported by HandBrake, you can choose to disable them in the Subtitles feature.
Solution 4. Try Handbrake hardware encode
If you're using an old computer, try the Handbrake hardware encoder for the DVD ripping.
Solution 5. Download libdvdcss for Handbrake
For DVDs are copy-protected (the most common reason), you'll need to get some help from third-party software named libdvdcss. HandBrake can't handle DVD copy protection schemes on its own. If you want to use HandBrake to rip encrypted DVDs (actually, almost all store-bought DVDs are copyright-protected), you should firstly download libdvdcss. libdvdcss is a part of VideoLAN project capable of reading and decrypting DVDs locked by region codes 1, 2, 3, 4, 5, 6 and CSS. And here are the detailed steps about how to install it into your HandBrake application.
How to Install libdvdcss for HandBrake
1. Download and install HandBrake
HandBrake is a cross platform program. The current version 1.6.1 is available for Mac (macOS High Sierra 10.13 and later), Windows (10 and later) and Linux. As an open-source DVD ripper, it won't cost you a penny. Simply go to HandBrake.fr download center - the only official place to download HandBrake DVD ripper - to get a copy fit for your computer and install it following wizard.
The old releases of HandBrake are available here.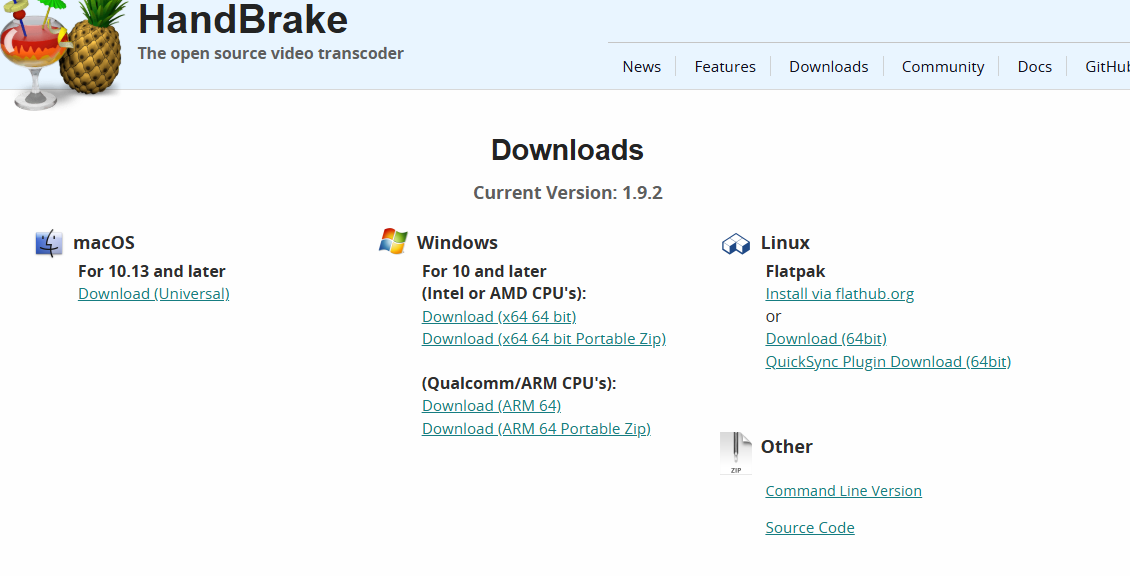 2. Download libdvdcss if you want to rip copy-protected DVD with HandBrake.
Libdvdcss is part of the VideoLAN project. The latest version of libdvdcss is 1.4.3, and users can download and install libdvdcss from VideoLAN official site: http://www.videolan.org/developers/libdvdcss.html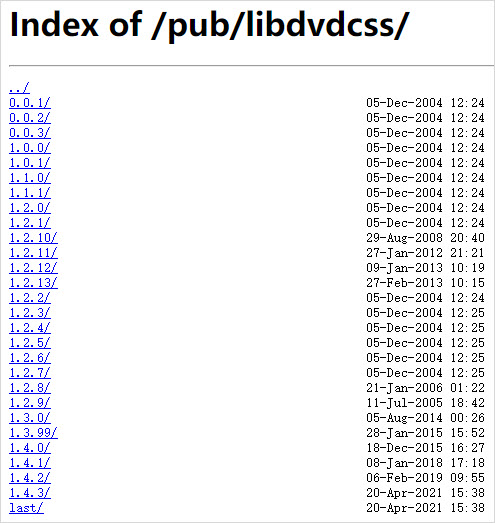 ● Download libdvdcss on Windows
Below are the steps on how to download and install libdvdcss/libdvdcss2.dll on Windows (11/10/8/7).
① libdvdcss-2.dll download on Windows (11/10)
libdvdcss.dll for Windows 32 bit | libdvdcss.dll for Windows 64 bit
② You don't have to rename libdvdcss-2.dll as libdvdcss.dll. Just cut and paste the downloaded libdvdcss 2 file into your HandBrake program folder. If you didn't manually set the installation path before, it normally is "C:\Program Files\HandBrake".
③ And that's all for installing HandBrake libdvdcss on Windows (10/11).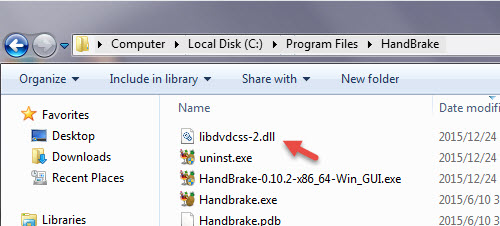 ● Download libdvdcss on Mac
On Mac OS X Yosemite or older, you can download the libdvdcss package file and double click it to install. But if you use Mac OS X El Capitan or later, you need to install libdvdcss via Homebrew.
⑴ Open Terminal window and enter command line ruby -e "$(curl -fsSL https://raw.githubusercontent.com/Homebrew/install/master/install)" to install Homebrew. Then, you are required to enter Admin password to install Homebrew.
⑵ After you finish Homebrew installation, run the command brew install libdvdcss in Terminal window. Moments later, the libdvdcss will be installed on El Capitan or later.
Note: Using the Apple's Hardened Runtime, HandBrake 1.3 and higher versions can load only dynamic libraries that are signed with a valid Apple Developer ID certificate. However, HomeBrew libdvdcss is not signed. So, you'll get a scrambled DVD rip file when you use HandBrake 1.3 and later to rip a DVD on Mac. In this case, you can either install an older version or install a HandBrake alternative to rip your DVDs.
With libdvdcss installed, HandBrake now can rip DVD with copy protection.
Solution 6. Tell HandBrake exactly which title to rip
DRM DVD is always encrypted with multiple random titles and Handbrake can't tell which one is correct. When it scans the whole DVD disc, it may select the wrong title or crash in the middle. This problem happens most often with 99-title DVDs (such as Disney movie DVDs). In this case, you can play the DVD through a DVD player, find and take down the correct title, and then tell Handbrake the correct title. Below is how to do this.
① Launch HandBrake and insert the source DVD.
② Under the Souce Selection window, type in the correct DVD title number into the field of "Optionally choose a specific title".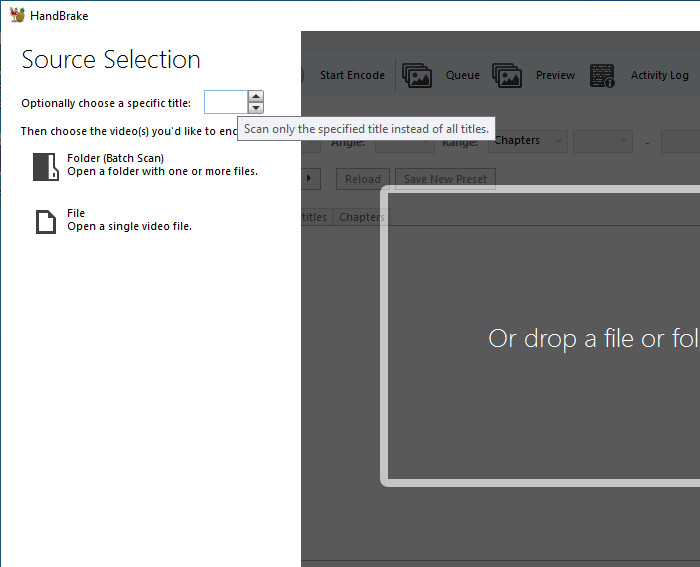 ③ Click the "Folder (Batch Scan)" to select your DVD's VIDEO_TS folder. Then, HandBrake will scan the specific title only.
④ Choose the preset and encoding settings you wish to use.
⑤ Click the "Browse" button to specify save path and file name.
⑥ Click the "Start Encode" button to begin ripping the selected title.
Solution 7. Try to disable libdvdnav
In most cases, libdvdnav is more reliable for reading DVDs. But it may make mistakes when rip certain discs, especially homemade DVDs, and thus result in Handbrake won't rip DVD issues. Click Preferences and select Advanced. Under the Advanced Options, check check the box for "Disable libdvdnav". (libdvdread will be used instead) Then hit "Ok", and try to rip the disc.
Note: If it works and Handbrake can rip the DVD properly, remember to switch it back once Handbrake is finished (if you don't set the settings back to libdvdnav, you may see Handbrake won't rip the next DVD).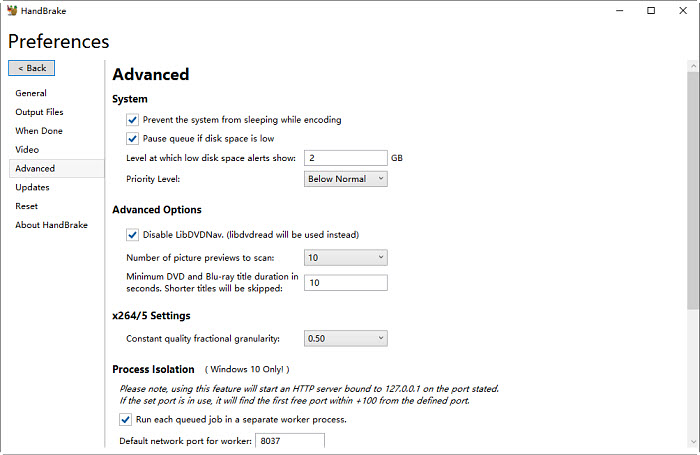 Solution 8. Try a Handbrake alternative
If you've tried all the methods above and none of them worked, then we would suggest you choose a HandBrake alternative which supports ripping any copy-protected DVD contents. And here, we sincerely recommend DumboFab DVD Ripper as the best option. With it, you don't need to download libdvdcss or other additional tools to access copy-protected DVDs. It can handle this kind of protected DVDs on its own and can auto check the right DVD main title to rip. Below are the specific features that add a ton of value:
● Support homemade discs, burned and bought DVDs with almost any DVD encryption like Disney X-project DRM, CSS, region code, RCE, APS, Sony ArccOS, UOPs, etc., support navigation algorithms used in DVDs from Paramount, Disney, Sony, etc.
● Easily rip (protected) DVD to MP4, AVI, WMV, MOV, H.264, MPEG, FLV, iPhone, iPad, Android, and 400+ preset profiles.
● Flexibily select the subtitle/audio tracks, add subtitles, crop, trim, and edit the movie before ripping DVDs.
● Make 1:1 DVD copy to Video_TS Folder or single VOB file, back up full title, main title, rip and convert as you need;
● Finish DVD conversion at ultra-fast speed with the support for Intel QSV, NVIDIA (CUDA) NVENC, AMD, M1 (Pro/Max/Ultra), and multiple core tech.
How to Fix Handbrake Not Ripping DVD Errors with this Handbrake alternative
First, download and install DumboFab DVD Ripper on your Windows or Mac computer. Then follow the detailed guide below to rip any copy-protected DVD to MP4, AVI, MOV, etc.
Step 1: Input the DVD disc to DVD-ROM. Launch DumboFab DVD Ripper and click the Load DVD button to import the original DVDs you want to put into Plex.
Step 2: From "Fomrat" drop-down list, you can select the output video format for the ripping DVD movie. Numerous video/audio formats and 400+ optimized device profiles are provided.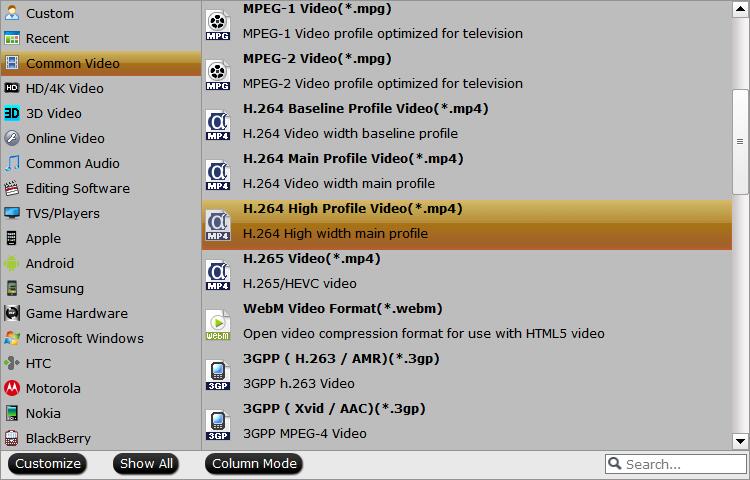 Step 3: Click "Browse" to set a destination folder to store the ripped DVD movie video, and hit "Convert" button to start converting DVD to digital copy at a superfast speed with best Handbrake alternative.