Home
>
Video Processing Tips
>
Convert HEVC/H.265 to H.264 Free
Posted by Chris Ellison - June 3, 2021 | Contact Author

How to Convert HEVC/H.265 to H.264 with Lossless Quality
H.265 codec, also referred to as High-Efficiency Video Coding (HEVC), is video compression standard that was designed for the newest generation of high-resolution video. Compared to H.264, this newer standard offers from 25% to 50% better data compression at the same level of video quality. Additionally, H.265/HEVC supports resolutions up to 8192×4320, which includes 8K UHD as well. Despite of this, H.265 is still less common than its predecessor (H.264) in the industry. That's why many people are looking for ways to convert H.265 to H.264 from time to time. In this article, we will share with you the top two H.265 to H.264 transcoders and illustrate how to change HEVC to H.264 without quality loss. Also we'd like to share you with the pros and cons of H.265 compared with H.264.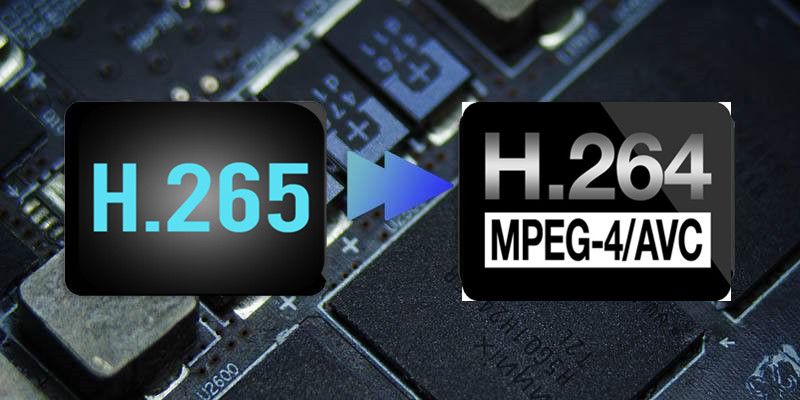 Click the links below to jump to the part you are most interested in.
Part 1. H.265 vs. H.264: Which One Is Better? Why We Need to Convert HEVC to H.264?
When you examine the technology behind these two codecs, you can easily conclude which one wins in our article on H.264 vs. H.265. You've guessed it — it's HEVC!
H.265 is more advanced than H.264 because of various reasons. The biggest difference here is that H.265/HEVC allows for further reduced file size of your live video streams. This significantly lowers the required bandwidth.
Then, another perk of H.265 is the fact that it processes data in coding tree units. Although macroblocks can go anywhere from 4×4 to 16×16 block sizes, CTUs are able to process up to 64×64 blocks. This enables H.265 to compress information more efficiently.
Additionally, H.265 also has an improved motion compensation and spatial prediction than H.264 does. This is quite helpful for your viewers in that their devices will require less bandwidth and processing power to decompress all information and watch a stream.
However, bear in mind that H.265 is still less common than its predecessor (H.264) in the industry. Below are two disadvantages of H.265 compared with H.264:
1. H.265 is not that compatible as H.264. For instance, GoPro 4K HEVC videos are not friendly to many editor apps. Namely, H.265/HEVC is not widely applied in many product fields so far, except a few devices and media players like iPhone 6/later, Windows 10, VLC, etc.
2. H.265 may be superior to H.264 in the next 5 or 10 years along with the popular application and streaming of 4K UHD resolution, but right now if your gadget's resolution is up to 720p/1080p, H.264 is more suitable.
In conclusion, if you want to deliver the best quality video in the smallest possible format, then you should go with H.265/HEVC. However, HEVC is highly acclaimed esp. in the era of 4K 8K Ultra HD while H.264 still dominates now, which makes H.265 to H.264 conversion sensible.
Part 2. How to Convert HEVC/H.265 to H.264 with DumboFab Video Converter
DumboFab Video Converter is the top recommended H.265 to H.265 encoder and decoder for Windows 10, 8.1, 8, 7, etc. And it has a Mac version compatible with macOS Big Sur and lower. Its features include but are not limited to:
● Transcode and Process HEVC/H.265 footage from any Device & Source in whatever resolution or bitrate.
● Convert H.265 to H.264 encoded MP4, MOV, M4V, MKV, etc. with original quality.
● Convert HEVC to H.264 MP4 for iPhone, iPad, Android, Windows Phone, and other devices with optimized presets.
● Finish conversion at fast speed, owing to the support for the world's most advanced Intel QSV, MMX-SSE, Nvidia CUDA/NVENC, Hyper-threading and AMD 3DNow! Tech.
● Edit videos by trimming, merging, cropping, adding subtitle, etc. Versatile parameter settings are accessible.
[Guide] How to decode H.265 to H.264 with DumboFab Video Converter
Step 1. Load source HEVC videos.
Launch DumboFab Video Converter on your PC or Mac and then click "Add Video" button at the top left corner to browse and select target H.265 files. You can also simply drag and drop source video files into the main screen of this video converter.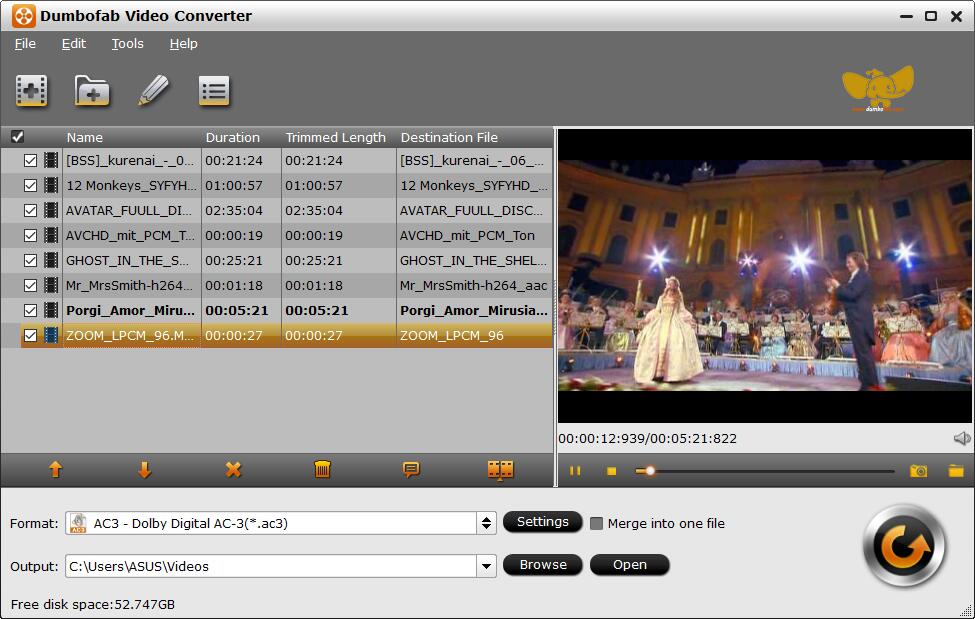 Step 2. Choose H.264 video as output.
In the Format bar, move mouse cursor to Common Video category and select H.264 High Profile Video(*.mp4) as the target format. Or you can ignore the video format, and select the device profile according to your device model. As the best HEVC converter, DumboFab Video Converter also provides:
Edit options: Cut video clips, crop video frame, rotate or flip video, add effects/subtitle/watermark to video, adjust video brightness/contrast, etc.
Video Toolbox: Merge video clips, split large video into small clips, get snapshots from video, and more.
Video Quality-Size Set: Click "Settings" button next to Format icon to adjust video/audio parameters to achieve desired output results before changing HEVC/H.265 to H.264.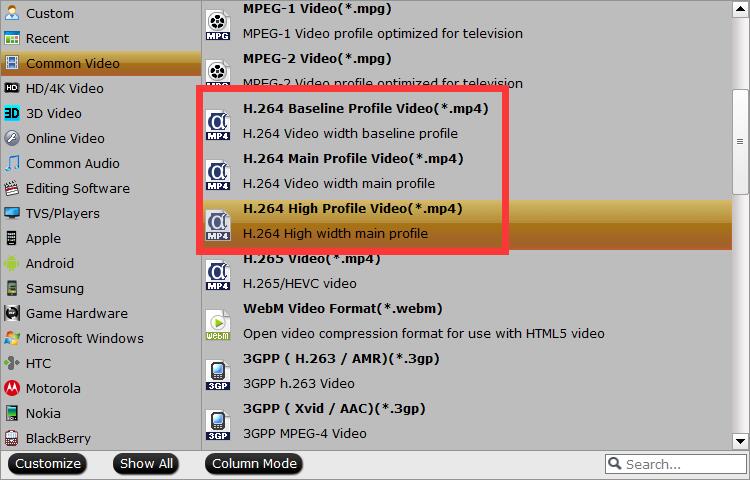 Step 3. Start the conversion.
Click Browse to specify a destination folder to save the converted video file. When you have finished everything, simply click "Convert" button to perform HEVC to H.264 conversion in no time.
Part 3. How to Transcode HEVC to H.264 Free with Handbrake
HandBrake is an open source video transcoder available for Windows, Mac, and Linux. It allows you to change video in H.265 and other formats to MP4 and MKV with H.264 codec.
[Guide] How to convert H.265/HEVC to H.264 for free with Handbrake.
Step 1: Download Handbrake (latest version 1.3.3) from its official website. Install and open it.
Step 2: Click "Open Source" button to load folder with one or more H.265/HEVC video files, or choose a single H.265/HEVC video file.
Step 3: Next click "Browse" button to set a target folder to store the converted H.264 video.
Step 4: Choose "MP4" or "MKV" as the output video container.
Step 5: Then hit "Video" tab to select "H.264 (x264)" video codec as the output and adjust other video settings like frame rate, bit rate, etc.
Step 6: Hit "Start" button on the top left to start converting H.265/HEVC to H.264 for free with Handbrake on Windows 10/8/7 or Mac.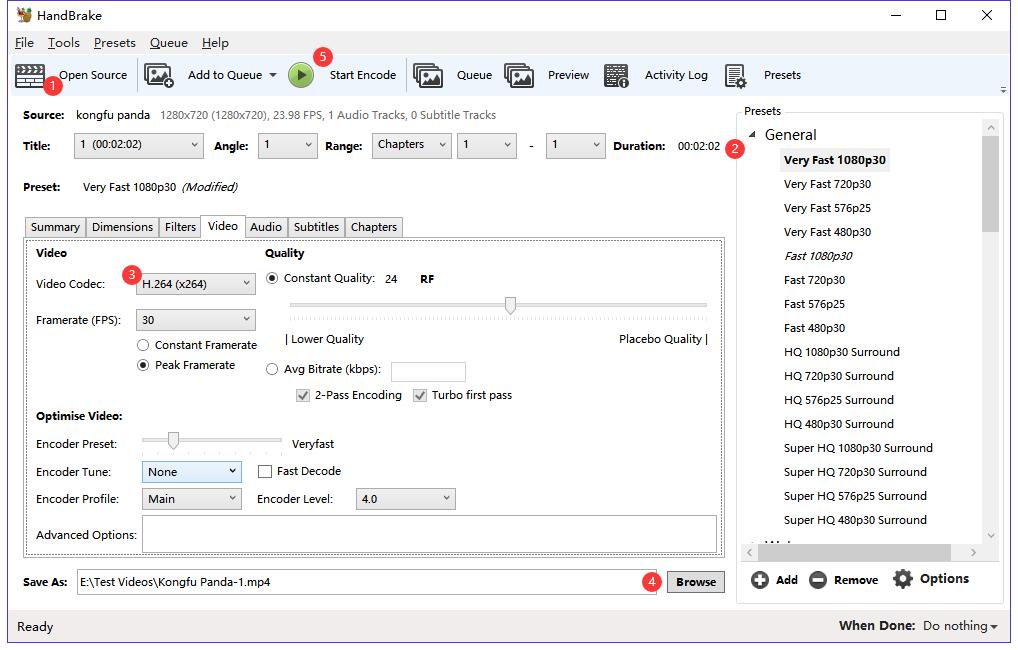 You may be using free Handbrake to transcode H.265 to H.264, but if you meet problems using Handbrake, turn to its best alternative - DumboFab Video Converter.